ALPS Mountaineering Lightweight Series Self Inflating Air Pads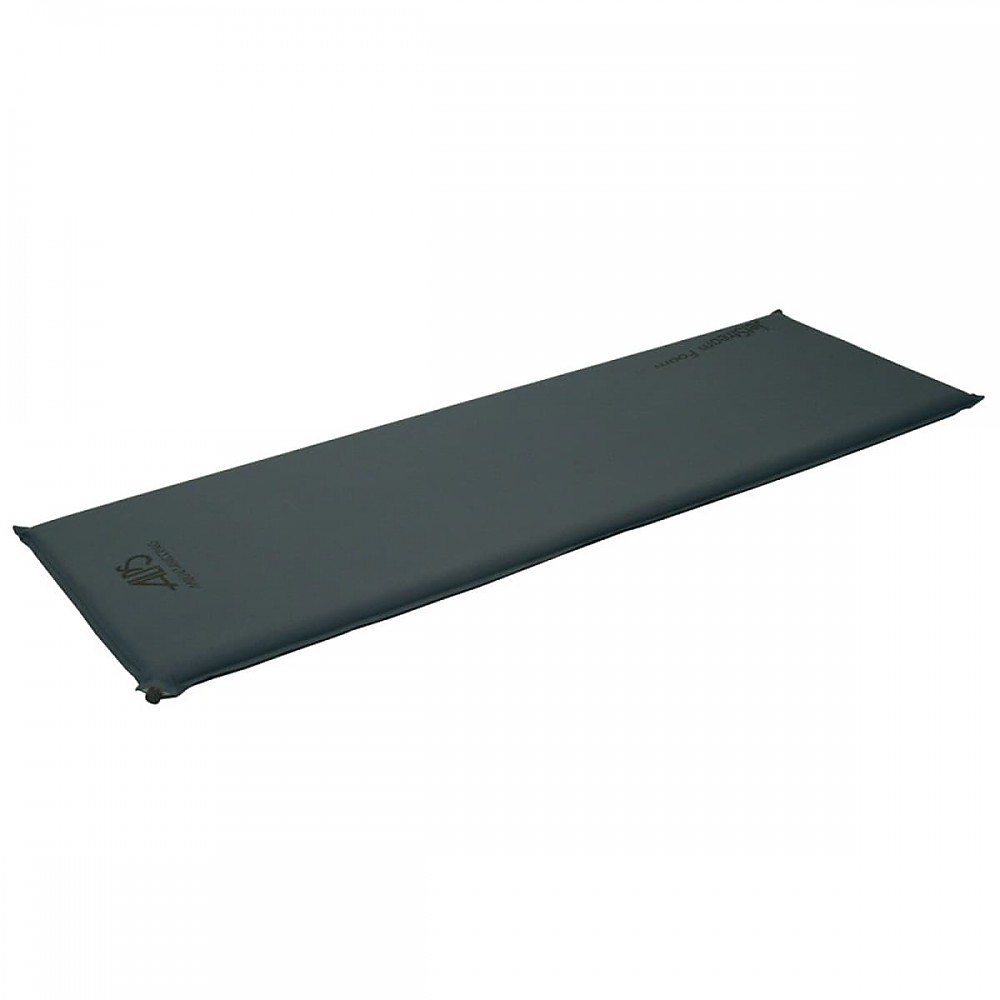 Version reviewed: XL
This review is for the XL size of the air pads...bought as a bit of "giving-in" to the need for a more supportive sleeping pad. I originally thought I would use it for only car camping when we may sleep in a tent or in a wooden lean-to...however, despite its humongous size (30 x 77 x 3 ), it actually goes canoe camping with me as well! It certainly is too large for backpacking, but is a very comfortable pad, if you can manage to bring it along.
Pros
Thicker pillow area than smaller pads
2 valves for inflation
Inflates quickly
Thick foam padding
Cons
It is really quite large even when rolled up
It can be tough to roll it up to get it back in its storage bag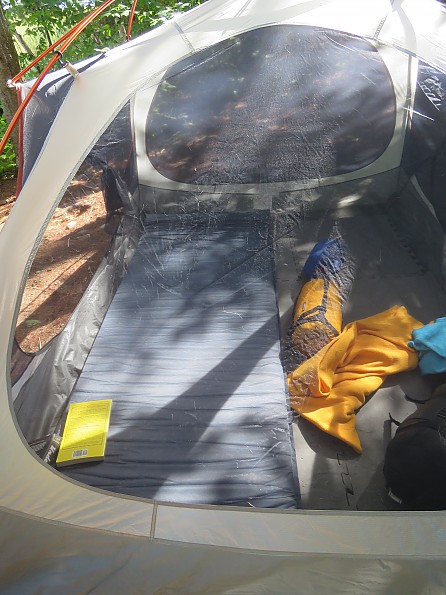 Right after unrolling it...

This is rather a luxury to take camping, but the more I use it, the more I appreciate it. It is 3 inches thick when inflated, is easily and quickly inflated with self-inflating valves (though I often add a bit more manually), and prevents many of the aches and pains that I previously felt with a more compact pad. The foam is a good dense, but still soft, open cell foam made of polyurethane.
The pad is durable (I am on the second season of frequent camping with it), and is a rip-stop top, and an abrasion resistant bottom. I do use a fleece "sleeve" to cover it, that I made, to protect the pad from my dog's claws.
The pad is 8 x 31 inches when rolled up ,and weighs 6 lbs.
This photo shows the rolled bag next to my 75 lb. mutt.
There are two valves, and a more padded pillow area at one end. The valves are brass (non-corrosive),and though the pad is frequently used around water (and I do not have a dry sack into which it will fit!), the valves show now signs of wear or degradation.
Rolling up the pad can be a bit cumbersome. We have found that you need to kneel down and kneel on it as you roll to expel the air. Once you get it rolled up, it can be a tight squeeze to get it back into its cylindrical storage sack. It came with two elastic straps, that seemed much too tight, so we never really used those. I get it rolled up, close the valves, and quickly slide it into the bag. It does come with a repair kit.
As I stated in the review intro, I did not think I would logistically be able to get this pad into my canoe when I am loaded for canoe camping, but, it actually fits quite nicely into my solo boat. It would not fit as well in the tandem canoe, since with two of us ,and two dogs, and all our gear, we are pretty tight. 
This pad has made camping much more comfortable for my aging bones! I do not think I would have paid full MSRP ($130) for it, but on sale, it seemed like a good opportunity. My initial shock at the size of the box when it was delivered has been tempered by the increased comfort I feel when camping.
Source: bought it new
Price Paid: $75

Warm pad that is both comfortable and lengthy. This product is best for weekend trips and maybe a 3-5 day trip.
Pros
Comfortable
Lengthy
Easy to set up
Doesn't slip around during the night
Cons
Not the lightest
Small bit of fraying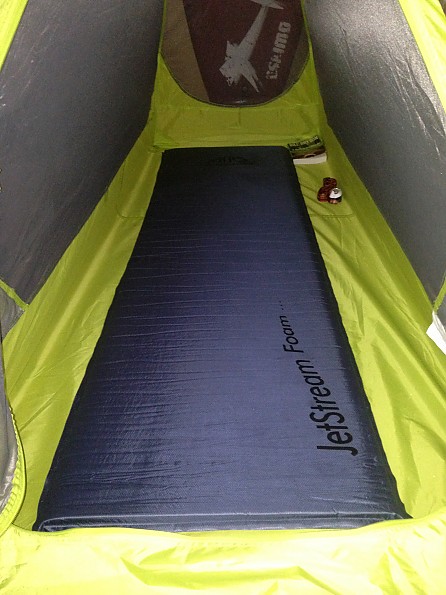 The Alps Mountaineering Lightweight Series is the Lightest of the six series (Lightweight Series, Comfort Series, Outfitter Series, Lightweight Double Series, Ultra-Light Series, and Armor Series) of sleeping pads that AM has to sell.
Made of Jet Stream Polyurethane open cell foam, it boasts a "Short" weight of 1 lb 9 oz and a "Long" weight of weight of 3 lb 14 oz; these are their two most popular sizes of air pad in the Lightweight Series. The Short dimensions are 20'' x 48'' x 1.5''; the Long dimensions are 25'' x 77'' x 1-2''depending on how fully you blow the pad up and will easily fit in my 6'10" tent. I am 6'0'' 150 lbs and I have no problems sleeping on my side, back or front (I prefer to sleep on my back when backpacking). 
Ease of use gets a 10/10. Literally all that is required to inflate this air pad is to twist the one valve at the front and let physics take over. Within about three minutes, the air pad will be fully inflated. You can also expedite this process by self-inflating this pad. I've managed to self-inflate this mad in under a minute using my own breathing.
With no moving parts, not much can go wrong with this pad except for maybe the valve. The valves are made of non-corrosive brass so you don't have to worry about rust. The only problem that I could foresee with the valves is over-use, but that's true of any valve over time.
The top of the pad is made of lightweight Diamond Ripstop fabric, and the bottom is made of Polyester Tafetta fabric that makes for a lightweight, bendable and warm sleeping pad. Inside is Alps Mountaineering Jet Stream Polyurethane Open Cell Foam that provides an R-Value of 3.6.
Another thing I think is very noteworthy is the fact that Alps Mountaineering provides a stuff sack, compression straps, and a small repair kit with ALL their pads, something most sleeping pads do not. I have found that I don't even use the compression straps, stuff sack or repair kit to save an extra bit of weight. It also comes with a small instruction paper that tells you how to set up the pad for the first time. First time inflating takes around 15 minutes, but after that the 3 minute set-up time is pretty accurate.
Durability-wise, the pad holds up great. The only problem I've had in the year that I've owned it is some fraying of the ends of the fabric, but that can be easily snipped off and I haven't had any other problems with the pad. I have a friend who has even cut the pad and resealed it with no problems. AM obviously does not recommend this because doing so voids the warranty, so if you want a shorter pad, go with the short.
I have used this pad in conditions ranging from heavy rain to snow, super humid conditions, and beautiful nights and is not worse for wear. I have used this pad on long-distances treks (80 miles) to car camping and weekend trips and has performed consistently from day one out of the package. 
I would recommend this pad to anyone for a variety of conditions. Well made pad at a great price that will not break your bank as will other products of similar construction and R-Value. Sure you can go lighter and warmer, but for a price up in the $100-130 range.
Source: bought it new
Price Paid: $44.79 USD

For an entry level item, it stands up well. Not as sleek and sexy as the bigger names, but certainly a capable offering.
Pros
Solid
Durable
Reliable
Comfortable
Attractive subdued color
Great price point
Excellent insulation
Cons
Little heavy compared to the premium pads
Bulkier when packed
I've had mine since Christmas now, and I've used it in a number of weather conditions and locations.
Like most ALPS products it measures up well when you look at it from an overall performance angle. It's a warm, comfortable pad (enhanced, as all self-inflators are, by blowing some extra air in before locking the valve shut), of decent size, thickness, and weight. Nothing ground-breaking here, nothing revolutionary.
Inflation time is on par with other makes/models. Deflating/packing is also completely up to par with other self-inflating pads and isn't too difficult. The carrying case is light but sturdy and worth keeping around. The elastic bands are  generous but easy to misplace — I'm short one now.
The weight is a smidge higher than an equivalent Therm-a-Rest pad, and it's bulkier, but this is to be expected from ALPS.
The pad itself is a very nice subdued deep navy color on the top, with a charcoal grey on the bottom. Not the flashy signal-colors of the Therm-a-Rest line. While this could be an issue in the dark, that's what headlamps are for.
The pad has held up solidly for the last eight months, and has seen action family camping, backpacking. I've even broken it out to sleep in the coolest room of the house (directly in front of the fan, naturally) when the temperatures held out in the 90s for almost two weeks. My niece has also tried it on her first backpacking trip — she's sold on them and is getting one of her own.
Source: bought it new
Price Paid: approx $40

I love this pad except there is a small tear in the cover from something. I have no idea what I did to tear it. It is small and it doesn't affect the ability to sleep awesome.
It's very comfortable and great in warm or cold weather. I camped this spring in below 30 degree weather and was snug as a bug in the rug.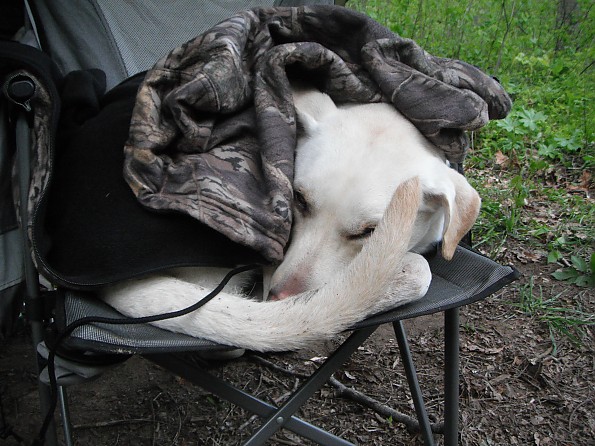 Source: bought it new

WOW! What a great self inflater, and the price was unbelievable.
I got the "regular" size, 20"x 80" I think. Very comfortable with not even having to blow in anymore air. Just open valve and let it inflate for a half hour or so.
Hints: 1. Leave it inflated with the mat open when storing it, I leave mine behind the couch with the valve open.
2. When you need to deflate it, lay on it till you loose most of the air. Then close valve and start rolling from bottom. Roll as tight as you can and keep releasing air as it builds up. When I get to the top I roll it back out and start rolling again even tighter.
As I'm rolling this time I gently press the roll with my knees to press out more air again releasing air as it builds up untill I get to top. This takes about 5 minutes to do the entire process and it is smaller than when it came shipped.
Price Paid: $29.99

The ALPS Mountaineering lightweight pad is great. Really, really comfy. When you lay it out and open the valve... FWOOSH! Here comes a good night's sleep after a long day's trek.
The only con I have with it is that even packed it's still pretty big. And lightweight it isn't (2-3lbs). Well, it's not heavy, but it sure isn't in the lightweight category. Of course I did opt for the Large, and being 2" thick adds to the pack size. I got the large cause I like comfort, and heck if pack size and weight were really the most important things than we wouldn't have sleeping pads in our packs.
My gear style is 'simplistic and off clearance' if there is such a category. I have seen people drop big money on sleep pads and with options like these, I can't see why.
Price Paid: $30

Got this off steepandcheap.com for a great price. It works great, just a basic sleeping pad. Self-inflating and pretty warm. The weight is nothing to brag about (about 2 lbs), but it is better than sleeping on the ground.
Price Paid: $25

Lightweight, works.
Pros
It does everything you need it to.
Cons
It's tough to really find something this does not do. Perhaps a little more friction so it doesnt squirm out from under you, but you're sleeping outside, it's pretty efficient.
As long as you don't sleepwalk too much this will take care of you.
Source: bought it new
Price Paid: MYOB i got a good deal

It's not that light, but it's super comfortable.  I used to have a Z-lite, and there was not much cushion between the ground and me. This is so much better.
Price Paid: ?? It was a gift.

Your Review
Where to Buy
Help support this site by making your next gear purchase through one of the links above. Click a link, buy what you need, and the seller will contribute a portion of the purchase price to support Trailspace's independent gear reviews.
You May Like
Specs
Seat
Short
Short MC
Regular
Long
X-Large
Price
MSRP: $24.99
Historic Range: $14.97-$89.95
Reviewers Paid: $25.00-$75.00

Size
11 in x 15 in x 2 in
20 in x 48 in x 1.5 in
25 in x 60 in x 2 in
20 in x 72 in x 1.5 in
25 in x 77 in x 2 in
30 in x 77 in x 3 in
Weight
6 oz
1 lb 9 oz
2 lb 15 oz
2 lb 4 oz
3 lb 14 oz
6 lb 5 oz
Stuff Sack
3 in x 12 in
4 in x 21 in
6 in x 26 in
4.5 in x 21 in
6.5 in x 26 in
8 in x 31 in
General Use
Backpacking Seat
Fast Backpacking
Backpacking
Backpacking
Camping
Luxury Camping
Price
$24.99 USD
$49.99 USD
$74.99 USD
$59.99 USD
$89.99 USD
$119.99 USD