Camp-Tek Microburst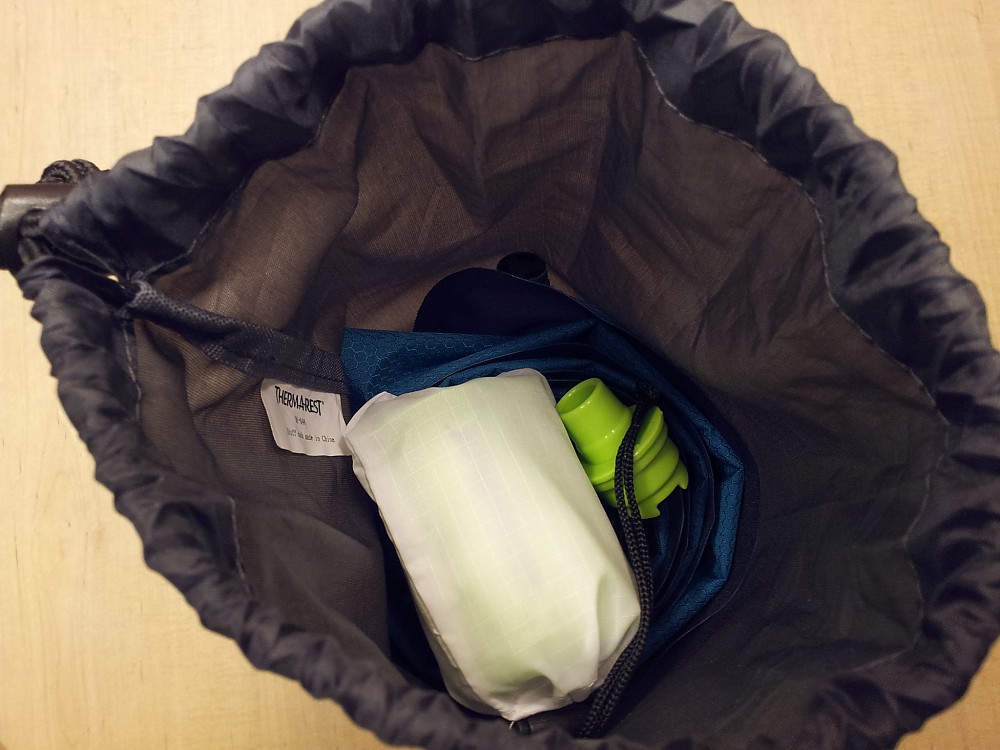 If you've ever owned a pad that ISN'T self-inflating, you've probably asked yourself why you ever bought it in the first place, despite any and all benefits it may have. Buy this, and you'll never ask yourself again.

Consisting of a one-piece plastic fan connected to a rubber nozzle, this compact fan (about the size of two golf balls, side-by-side) does the work for you. Runs on two included AAA batteries.
Pros
Effortless ease of use
Small and packable size
Durable one-piece construction
Quick inflation time (~5 minutes)
Cons
Expensive (considering your lungs can accomplish the same for free)
May make fellow campers jealous (I'd file this with the "Pros")
I mentioned this pump in my review for Therm-a-Rest's NeoAir Trekker sleeping pads. If you own one — or one similar to it — you'll know it doesn't come easy to inflate the damn thing after a long day on the trail.
I'm a young guy, with two working lungs, and I'll admit — it's admitting defeat a little to go and buy something like this. Sucked up my pride, decided to give one of these a try, and bought it directly from their website for the full retail price (something I almost never do — I'm a king of sales, clearance racks, and eBay auctions).
SIZE, WEIGHT AND PACKABILITY
If you think a NeoAir Trekker packs down small, well, this will amaze you even more than one of those does.
These things are SMALL.
About the size of a couple golf balls.
It tips the scale at a not-so-whopping 2.3 ounces (with batteries).
It comes in its own drawstring stuff sack, which — hey — free stuff sack. You can't go wrong with that. A little redundant, considering I wound up just packing it inside the Trekker's included stuff sack, but a nice touch, regardless. Use it for quarters for showers, or whatever other reason you can find. 
ITEMS INCLUDED (Except for the yogurt, which is mine...buy your own!)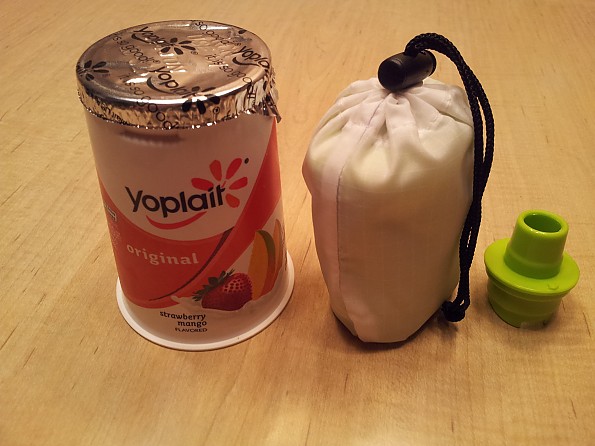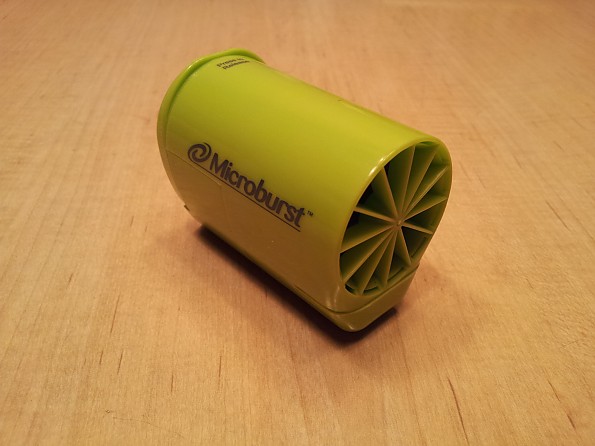 COMPATIBILITY
This pump is designed for use with the intake valves on Therm-a-Rest and Big Agnes sleeping pads.
Also included is a plastic adapter you can connect to the rubber nozzle to make it compatible with WarmLite sleeping pads. If your camping/backpacking buddy uses a WarmLite, I'd say pack this along and be a good pal, and if not, well, spare yourself the weight and bulk and leave it at home.
Again, hey — free adapter — that you can't really begrudge a thoughtful company.
BATTERIES AND BATTERY LIFE
The markings on the inside are a little small and difficult to read (I've read that some folks actually mark them with a bold magic marker to make them more visible) but once you know where the plusses and minuses are all going, there's no need.
It runs on 2 included AAA batteries.
Free batteries? Camp Tek is making it rain when it comes to the freebies. I'll admit, it's nice when I don't have to make an extra run to the store for things like this. No complaints, there.
They claim one set of AAA batteries will inflate 25 regular-sized sleeping pads. 
HOW IT WORKS
Operation is stupid simple, and they've even put a little thought into it to make sure this pump doesn't decide to start running while it's still in your pack. 
Press down on the casing to pop open the door.
Folding the hinged door down automatically engages the pump.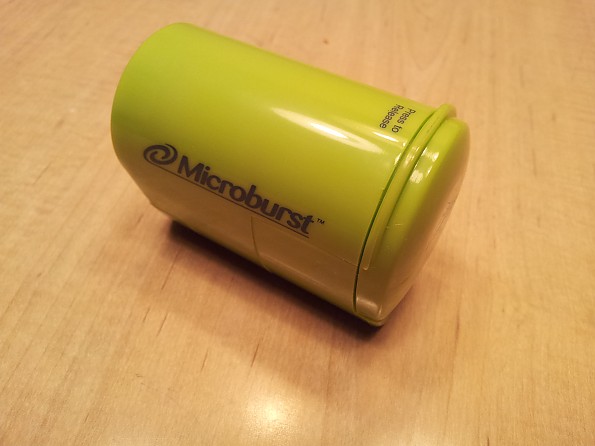 Flip the rubber nozzle into the convex position.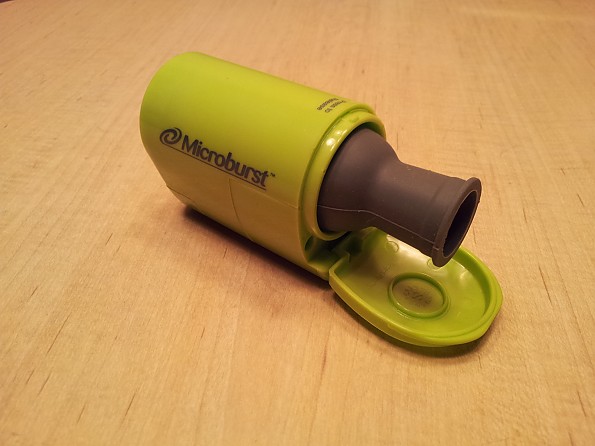 (Or, for your marches-to-the-beat-of-his-own-sleeping-pad friend, add the WarmLite adapter)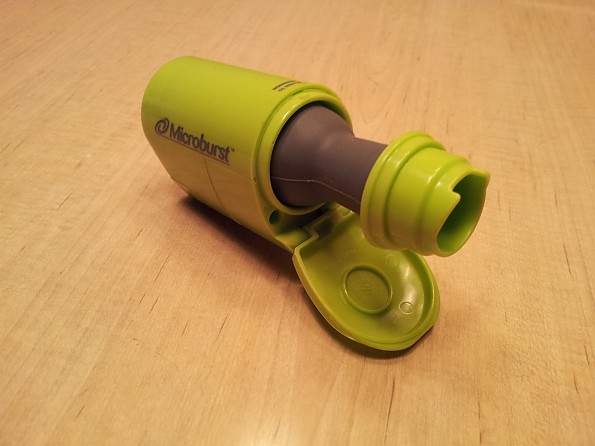 Place the nozzle over your sleeping pad's inflation valve.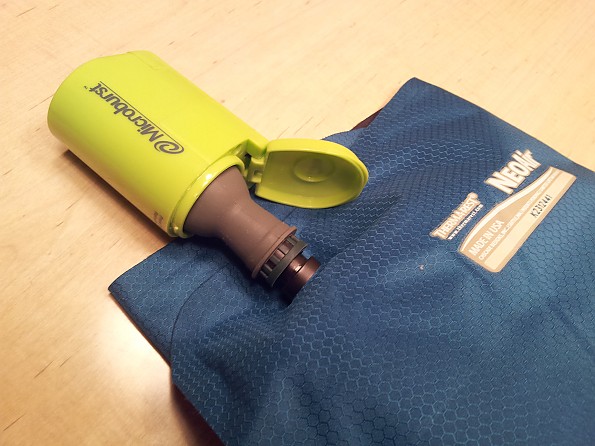 DO ANYTHING BUT INFLATE YOUR SLEEPING PAD.
Seriously.
You can finish staking-down the guy lines on your rainfly.
Hang your dining tarp.
Start cooking.
ANYTHING BUT INFLATE YOUR SLEEPING PAD.
Just come back a few minutes later, and voila! Your pad's inflated.
When you're done, remove it from the valve on your pad, pop the rubber nozzle back inside, and close the door to shut it off. 
INFLATION TIME
Camp-Tek does claim these pumps will fully inflate a pad in 3 minutes. I like my sleeping pads firm, so I usually let my pump run a little longer than that.

TIPS
I tend to let mine inflate the pad most of the way, and I use the good 'ol lungs to get it to a full firmness.

Check and replace the batteries at home to avoid having to replace them on the trail, and if you're thru-hiking, make this a task you save for the mornings. Or mark them with a magic marker, if you want to be a hero about it.

These pumps are especially handy for the winter months, when you want to keep your breath's condensation from getting inside your sleeping pad. 
PRICE AND VALUE
Sure, the $40 is a little much for the same functionality as a set of human lungs. But, as I've mentioned, it's at least five or ten minutes you can spend doing something else (especially handy if daylight is growing short) and five to ten minutes less of work your lungs have to do.
If for no other reason than making you more efficient with your time, buy this pump.
STORAGE
I usually pack the pump back in my sleeping pad's stuff sack, and that goes right into the compression bag from my sleeping bag. The "Russian Nesting Doll" approach keeps me from losing anything, keeps it all in one place, and makes it easy to pack away, pre-organized for me.
If you want to get UL about it (and if you don't require the WarmLite adapter), the pump is durable enough to be stashed without the stuff sack, too.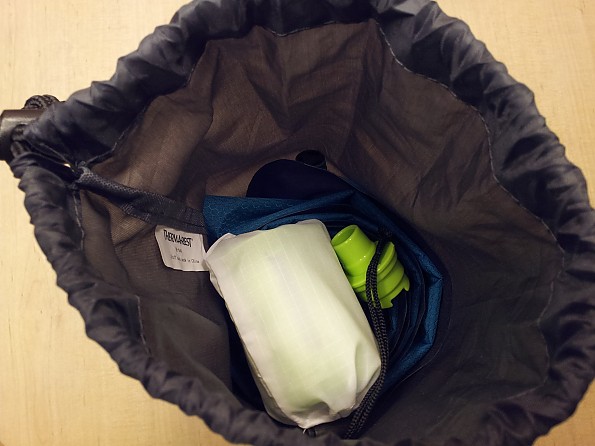 MY TWO CENTS
Despite the high price, the benefits from using this far outweigh any negatives I could try and come up with, and I'd be hard-pressed to do that.
4.5 stars, simply because I believe by making the WarmLite adapter optional, and by losing the stuff sack, they could probably bring the price down on an otherwise simple little plastic/rubber pump.
Source: bought it new
Price Paid: $39.95

This is an extremely small and extremely light option for inflating the camp pad (not mattress).
Pros
Compact
Lightweight
Blows non humidified air
Cons
Electrical, needs batteries
Fragile, not to be used as a tennis ball
With batteries it weighs 0.148 lbs and is about the same volume as a tennis ball. Amazing.
Not necessarily the choice of the hardcore adventurer, but as soon as you see someone else not huffing and puffing for a couple of minutes on their own mattress you too will probably be asking to borrow their Microburst.

I chose one of two available colors, I chose Lemon Lime rather than orange.
To assist in the start of the inflation one of a couple of more things should could be done to assist this little blower.
unroll and stretch out camp pad
clear area at inflation nipple so pump/blower will not get blocked
check inflation nipple is fully open for inflation
blow (yourself) one breath into pad to separate and open inlet area of pad,  or
just pull layers of pad apart to assist with the pump/blower getting the air going in past nipple
set watch timer to 2 minutes
Source: bought it new
Price Paid: $30

I have two different brand new Big Agnes pads. The Microburst did no more than add air nowhere near firm. They suggested I send it back and wait for their opinion. Big money for a product with bad support .after 2emails to them
Cons
Doesn't work.
Bad customer support
After trying this on brand new air mattresses — one dual core, one insulated air core — neither mattress filled enough to do more than seeing its outline. Nowhere near their claims to be firm enough to sleep on.
After several emails to them they suggest I return it and they decide what to do. Not offering free return. It may be a great product. Maybe I received a bad unit. Ordered from them directly. If you're on the road or at home, you need great customer service. So far this is not the case.
Source: bought it new
Price Paid: $39.95

I use this on a Therm-a-Rest NeoAir and have had zero problems and never did all the stuff described in another post. I just hooked it up, went to filter some water, and came back to a FIRM air mattress. I even have to let air out of my Therm-a-Rest to make it comfortable.
Pros
Light
Easy to use
Inflates well
Takes little power to run
I love it. Can't add much to what was already said.
Source: bought it new
Price Paid: $39 (?)

Your Review
Where to Buy
Help support this site by making your next gear purchase through one of the links above. Click a link, buy what you need, and the seller will contribute a portion of the purchase price to support Trailspace's independent gear reviews.
You May Like
Specs
Price
MSRP: $39.95
Historic Range: $39.95
Reviewers Paid: $30.00-$39.95

Weight
2.3 oz including batteries