Outdoor Research Alpine Bivy

Top 25 in Bivy Sacks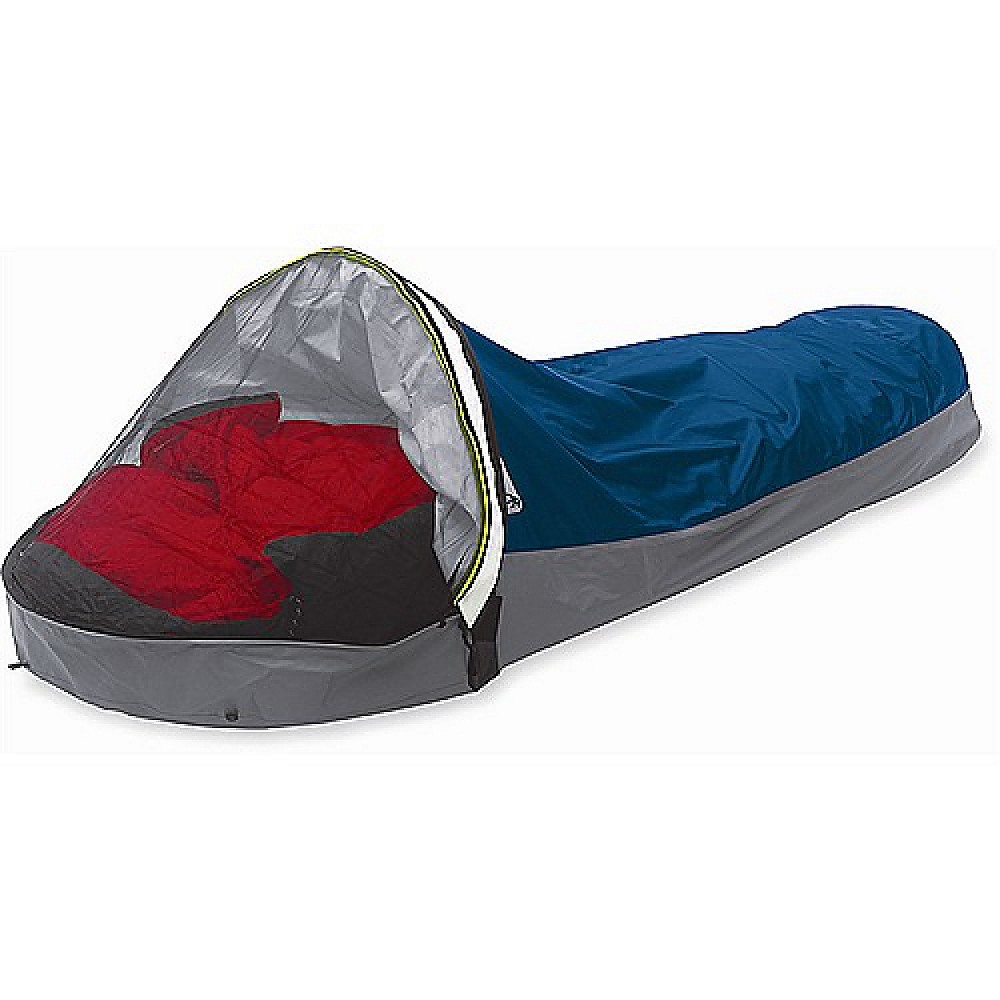 Why this bivy? I wanted to replace my three-season, two-man tent with something smaller and lighter, without sacrificing what I need to enjoy my trips. If you want rugged, solid performance in a bivy, this one is awesome. If you want ultralight minimalism, at the expense of strength, quality, and features, grab a plastic garbage sack and hit the trail.
Pros
Excellent materials and build quality
Good sizing
Lightweight (though subjective)
Convenient setup/teardown
Cozy
Cons
On this model, the lid doesn't stay open very well
Important to consider if/why you'd want a bivy sack. These are not tents, with vestibules and room to organize and ample headroom to sit up and change clothes. Bivys are little cocoons for your sleeping bag and... that's about it.
I love mine, because I knew what to expect (and was ok with) having to adapt to such a small footprint. I'm hooked, I'm warm, and I'm set up and torn down enjoying my beverage long before my mates are done fumbling with their poles.
Setup: Quick and easy. One pole and five stakes. This is waterproof everywhere, so there's no fly.
Stability: Definitely. With this small profile, big winds are no big deal (and I've been out in very big winds with this). You'll feel a little weight from heavy snow, which may be a new experience while camping.
Weather Resistance: Given the materials and build quality, this is nicely bombproof. Plus, it adds 10+ degrees to your sleeping bag temperature rating, easy.
Ventilation: This is a concern with bivys. This breathes really well, I think. With the lid open, no problem, and I've not had any problem with condensation throughout my bag. The lid closed does, of course, lead to condensation but not really more than I'd experienced in a tent. That was important.
Room: I'm 5-10" @ 180 lbs., there's room for tossing and turning. It takes a little getting used to. It's long enough to store boots or clothes or other stuffs below your feet. I've always tucked layers and headlamps and such up by my head, and there's a zippered mesh pocket there too (you'll learn how to access it over/behind you head).
Packability: Stores roughly the size of a small loaf of bread.
Other: My claustrophobic-ish friends think I'm nuts, but I've never had a problem. It's cozy! If you're worried about living eight hours in a coffin, keep the lid open or stick to a tent.  
I was initially frustrated keeping the lid open, but I found this killer hack someone did and it worked great! https://www.instructables.com/OR-Alpine-Bivy-Sack-Mod-to-Keep-the-Lid-Open/
Experience
I've camped in the PNW with this Alpine bivy 3+ years and I love it. All weather: summer, winds, cold, snow, and tons of rain. Probably 40 nights? The small footprint and heavy-duty weatherproof-ness are exactly what I was looking for. Though it doesn't need it, I made an actual footprint for it using Tyvek. When I'm out I bring my ultralight table and chair... creature comforts to offset the inconvenience of storing my pack and conducting tent-like operations, outside. Such is bivy life!
Source: bought it new
Price Paid: $230

This is my first bivy sac. I wanted to try one for its compact size and as a backcountry shelter. After much research I settled on the OR Alpine Bivy. I used it recently for a two-night outing and so far I'm very pleased. I would recommend taking the time to stake it down.
Pros
Quick easy setup
Compact for transportation
Waterproof
Bug net (star gazing)
Relatively light
Durable bottom layer
Robust zippers
Cons
When using the bug net with top open, the cover tends to fall closed over the net.
Not room for gear (that should be expected for a bivy sac, but come prepared)
Earlier this fall I slept in the Alpine Bivy for two consecutive nights on the Atlantic Coast in Newfoundland.
The first evening was beautiful, about 5deg Celsius. I slept with the cover open and watched the stars through the bug screen. What a fantastic experience. it did take a few tries to find a way to fold the cover to prevent it from falling closed, but I figured it out. Someone suggested a clothespin and I agree that would have been a great fix. I slept great and had no condensation at all.
The second evening was a true test for the bivy sack. We experienced high winds, very heavy rains, and a lightening storm that lasted half the night. With my raincoat covering my pack and boots I crawled into the bivy and zipped up tight for the evening (completely sealed and no ventilation).
I cannot stress the amount of rain and wind that evening. It was likely the remnants of a Caribbean storm that was disappearing in the North Atlantic. The next day I was surrounded by water but was dry and warm in the bivy sac. My sleeping bag had some light dampness from condensation near my feet but not enough to penetrate the sleeping bag or cause me to be chilled.
I am very impressed with the durability of the bivy and its waterproof design.
Experience
A truly waterproof design. I can guarantee that. To assist with entry and exit (and to prevent it from blowing away) I would suggest taking the time to stake it down. Bring a clothespin for the stargazing to keep the open cover in place. So far I would highly recommend this product. It can be pricey, but it is a great piece of gear to add to your collection
Source: bought it new
Price Paid: $218 CDN

A few simple steps that improve the comfort of this bag (even without these, it is still an excellent bag): 1. Stake it down. 2. Use clothespins (three) to hold the hood open when using just the insect netting (especially if not staked down). 3. Ideally, run a guy line, using the loop sewn on the bag in addition to the stakes for added loft to avoid condensation.

I would recommend this bag.
Pros
Easy setup
Insect screen
Waterproof
Cons
A one pager explaining setup and giving tips would greatly help.
Easy to set up once you figure it out. A one page instruction sheet would really help. Otherwise, a very nice, lightweight bivy that is lofty enough to not be claustrophobic!
Condensation was not an issue for me, once I started staking it and using a guy line to keep it up off of me.
Source: bought it new
Price Paid: $239

I recently purchased this bivy after nearly giving up on bivy sacks all together. My problem has always been condensation. In a chilly downpour or white-out when the only place you can go is your shelter, bivy sacks can be the worst.
However, the Alpine Bivy, I think it's more than up to the challenge. The Gore Tex breaths great and offered no condensation. The pole is a luxury worth the 2-oz price as it makes spending any amount of time inside the shelter enjoyable.
I agree with the previous review that this bivy has its faults: weight and price. If you are really wanting to count your ounces I would go with a tarp. But a tarp in winter? When you need the protection, this bivy is there. When you don't, why are you using a bivy?
The packed size is pretty nice as well and fits nicely in my low volume pack.
Bottom line: If you don't mind the hefty price, this bivy is a nice winter shelter when protection from the elements is premium.

Works well in the summer, but a lot of condensation in cold weather.
Pros
Compact
Relatively light
Durable
Cons
Expensive
Builds up condensation during cold weather
No way to keep the top open and just use the bug net
I switched to this bivy from an MSR tent to save weight. During the summer and warmer months it works great.
Two complaints. For the high cost, OR could have included a way to keep the hood open while using the bug net. Also, during cold and damp weather, condensation builds up greatly. I spent a very cold and wet night last fall and learned to bring a tent in cold weather.
Source: bought it new
Price Paid: $235

I've had this bivy tent for a few years. I've taken my Alpine Bivy on car camping trips to the Joshua Tree, Anza Borrego, San Clemente, and Grand Canyon, Lone Rock, Zion. Setup is so easy I can put my tent together in the evening without needing my headlamp as long as I have already scouted out a secure flat ground space. If you are car camping in multiple locations, and you have the space, you might even take this tent with your sleeping pad and sleeping bag inside for even easier setup.
Pros
Compact
Lightweight
Easy to assemble
Great for stargazing
Used with a cot or a hammock.
Cons
Difficult entry
Small space: shoes and gear outside
On the last day of camping at San Clemente Beach it began to pour.  My bivy kept me completely dry.
On a beautiful but windy night at Lone Rock in Utah with sheets of "heat lightening" hitting the ground, I wriggled my way into the entry for the evening and woke up sand in surprising places.
On a stargazing and meteor shower watching trip to the Angeles National Forest I regret taking a different tent because this bivy would have allowed me to stay warm in my sleeping bag in my tent while watching the stars by pulling the top back.
On one desert camping trip, someone nearby found a scorpion under their tent so I am concerned about having my shoes and gear outside of the tent. I'm a 5'2" female and have found that I have enough room to put my shoes in the bivy.  If I put my shoes near my head it makes it more difficult to exit the tent. If I put my shoes near my feet, it makes it very difficult to find my shoes without emptying the entire tent.
If you are camping in a place where wind can be an issue, please be sure that you secure your bivy so it doesn't blow away.
Source: bought it new
Price Paid: on sale from REI a few years ago.

I'm 185 cm tall slim 90 kg and have wide shoulders. Living in Australia we normally have "warm" nights from 5'C through to 10'C in winter.
Purchase of the OR Alpine was to replace my 20-odd-year-old lightweight and tight Gore-tex bivy which welled up one stormy night!
So far I have spent temp ranges from about 10'C through to 5'C at night in dry weather through to extreme storm condition in about 40 knot winds (maybe more!) with extreme rain conditions and been dry all night for the latter.
In more recent rain conditions I have decided to start using a SilTarp to keep my boots and pack dry and this has significantly aided my body not getting as wet as I enter and exit the bag. OR certainly has done some good research with this bag and though the entry might require practice, it is certainly enough for its purpose. A side entry would only allow more wet into the bag.
For me it's a bomb proof water tight accessory. I have not gotten anymore condensation than I would have reasonably expected in a tent. An optional foot flap opening might be good for Australian conditions to allow for better ventilation.
I've made one change to the bag and that was to install a small clip from a bra strap to the loophole designed for the rope attachment and this keeps the storm flap from falling on my face. The storm flap really needs some Velcro on the inside to hold it up an this will be my next mod.
It's weatherproof, no question about it, but its entrance that's one thing I disliked the most, is a bit tricky. If one wants to erect it, using pegs, the string which needs to pass through the sixth anchoring point in the middle of the pole groove is getting on your way while entering the bivy.
Let's think you are under a downpour and are trying to take a shelter inside this bivy, you are soaked wet again while entering the bivy; under such conditions I will just put on my heavy duty poncho and wait till the ferocity of the rain gets down to a manageable state.
It must be good on emergency or planned winter outings as long as there is no rain while setting it up or entering to it, snow can be somewhat manageable though. I will try it in snow cave next season. I am sure it will keep me dry.
It's expensive, but you can always find decent ones, just like mine, on ebay.
Design: bivy sack
Sleeps: 1
Ease of Setup: questionable
Weight: 2 pounds
Price Paid: $112

This bivy is made of a three-layer GORE-TEX fabric, which is EXTREMELY waterproof, windproof, and overall weatherproof. I have put a hose at high power right against the fabric, and it has never bled threw.
The only reason why I gave this bivy 3 stars is that I wanted to do long-distance ultralight backpacking. This is not good for backpacking!! It's heaver then a lot of bivies, and it's pretty much the same as all bivies in three-season use.
I recommend this to any climbers and mountaineers. I lent this to my friend who went to climb Mount Ranier. He said it was good for snowy conditions, and he expected it would work in snow caves very well.
If you are a mountaineer, or maybe a canoe camper, this would be a 5-star piece of gear for you.
Design: single pole bivy
Sleeps: 1
Ease of Setup: very easy
Weight: >2 pounds
Price Paid: $199

Your Review
Where to Buy
Help support this site by making your next gear purchase through one of the links above. Click a link, buy what you need, and the seller will contribute a portion of the purchase price to support Trailspace's independent gear reviews.
You May Like
Specs
Price
MSRP: $250.00
Historic Range: $79.95-$250.00
Reviewers Paid: $112.00-$239.00

Weight
20 oz / 564 g

Width at top of bivy
26 in

Width at foot of bivy
19 in

Length
82 in

Packed in stuff sack
12.25 x 3.5 in

Fabric
GORE-TEX Respiration Positive 3L, 100% nylon, 30D ripstop upper / lower 100% nylon, 40D ripstop with TPU lamination floor

Recently on Trailspace