Osprey
Exos 58
11

reviews

5-star:

3

4-star:

5

3-star:

1

2-star:

2

1-star:

0
Recently purchased the 2014 version of this model.
Rating:


Source: bought it new
Price Paid: $220

Summary
Recently purchased the 2014 version of this model. Initial impressions are very good. Form, fit, and feature set are just right for most trips. A full featured, well ventilated design at under 3 lbs is quite a feat!
Pros
Lightweight
Sturdy harness
Comfortable
Versatile
Full featured
Cons
sleeping pad strap too short
I recently purchased this pack. I had a ULA Circuit in my sights and almost purchased it until I saw this pack had just been released to market. I could not believe that a M size 58 L @ 2lb 10oz fully featured pack rated for 38 lbs could be possible. When I saw this pack, I had to have it. 
Osprey Customer Service
I have used and basically worn out a 2004 Osprey Aether 60. My Aether 60 weighs 3 lbs 4 oz and I thought that was light! I am sending this pack back to Osprey where they have agreed to replace worn out straps, a draw string and buckles. They are doing this under warranty! Excellent service. 
When I called Osprey and mentioned to them that the sleeping pad strap on the Exos is too short to wrap around a Zpad, or anything similar, they agreed to provide me a solution. 
Function of Exos 58
My Exos 58 weighs 2 lbs 10 oz.  There are hip belt pockets on each side, and they are big enough to hold a camera, couple energy bars, gps, etc. The full featured hood pocket is fairly large, and it has an additional pocket underneath for wallet, keys, etc. 
There are two pockets, one on each shoulder strap for small items such as goo, energy bar, etc. There are two large mesh, two-way pockets on each side of the bottom of the pack. Finally there is a large exterior stretch mesh panel on the outside/front of the pack.  This is handy for anything wet, overflow gear, etc.
On the interior there is a hydration sleeve next to the backpanel. The sleeve has a handy buckle at the top to secure the water bag. A 2L water bladder fits perfectly.  There are two ports, one on the left and one on the right for your hose. The straps and buckles are all constructed with weight saving in mind.  The side compressionstraps are about 3/8" wide, and run in a Z-pattern up the each side the full length of the pack. The sleeping pad strap is made of the same material and threads through loops to form two larger loops where your pad, tent, etc can be secured at the bottom. 
The shoulder straps and hip belt are lightly but sufficiently padded, and are constructed of a breathable foam mesh. 
The aluminum tube frame runs the perimeter of the pack.  The tubing is about 1/4" in diameter and is very sturdy. The frame also supports the trampoline mesh back panel allowing for superb ventilation and comfort. 
I have loaded my pack up with 26 lbs, and found the fit and comfort to be excellent. The weight distribution to the hips is perfectly balanced. The pack bag sits well on the frame. The M size fits my 17 1/2" torso very well, even though the specs say the M range starts at 18" torso. 
I have not had the opportunity to use the pack on the trail yet, and will provide updates throughout. 
Initial impressions are very assuring that this pack is going to be very comfortable on the trail. The one thing I am most encouraged about is the ventilation in the back panel.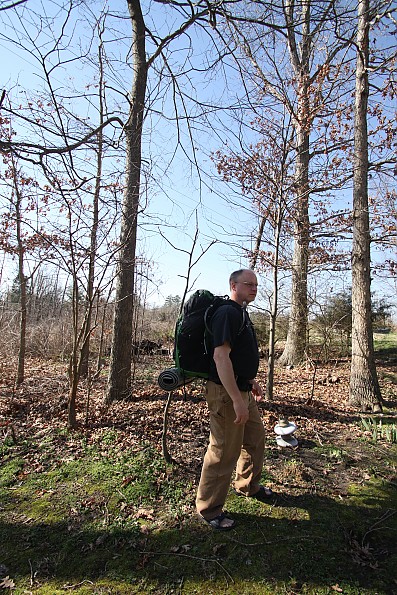 Update on the performance of the Osprey Exos 58
I took this pack on a recent overnight trip. I found the construction to be quite sturdy. The frame is stiff and supportive, yet comfortable. I intentionally loaded it up with 32 lbs. I feel that this is maximum comfort range.
Any more and the pack would struggle to control and support the load. The shoulder straps, hipbelt, and compression straps all worked well to stabilize the pack and distribute the load. I was impressed and surprised at how strong the front pocket strap is. I inadvertently picked it up fully loaded by the pocket strap and it easily supported the weight. 
The feature that stood out the most while hiking is the mesh back panel. The fit was excellent, while airflow was practically unimpeded across my back keeping me quite dry and comfortable. I will especially love this feature on summer hikes.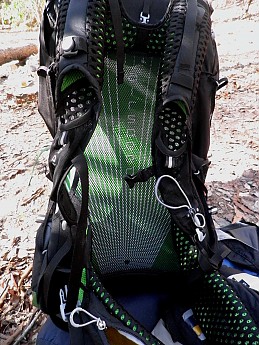 The hydration sleeve is very convenient and paired with the Osprey Hydraulics 2L bladder the fit is perfect. The ports for the hose are on left and right. I was able to thread a Sawyer mini water filter through the hole just barely, but it fit. Using the inline filter and the bladder together provides flexibility of a quick fill drinking system, and a gravity system while in camp. 
Throughout the 12 mile hike, I felt comfortable and making my usual "micro" adjustments while hiking was easy and the buckles worked smoothly. The hipbelt pockets are perfectly placed and the zippers were super smooth to operate. The side stretch pockets are very easily accessible while hiking and can easily hold a 20 oz drink bottle, tent poles and just about anything else. 
If I have a couple of issues, it would be with the top pocket. I believe that it is a bit large for the pack, and also I would like to see the top flap buckles a different color. This pack has a removable top pocket. This is a nice feature.  To accomodate the missing top pocket, you have a top flap permanently attached with identical buckles.  It is easy to confuse the flap buckles with the pocket buckles. 
So far I have seen no potential weak points where premature wear can occur. So far, I am pleased with the fit and function overall of the Exos 58 pack.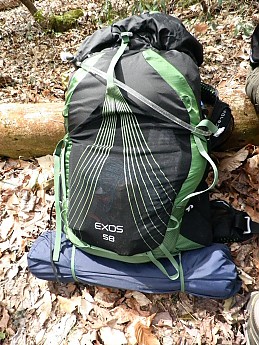 Just what I needed! A very airy back, 1oz per 1lb…
Rating:


Source: bought it new (better than old Exos models)
Price Paid: $176 with 20% off REi

Summary
Just what I needed! A very airy back, 1oz per 1lb carry range (40oz pack to 40lb max carry). Like most corporations it's hard for them to tell the truth as my 2014 medium Exos 58 was listed at 2lb 6 oz, but my two digital scales say 2lbs 10oz.

Stripped of yuppie add-ons and hood, it was to be 2lb 2oz per Osprey, but my digital deliars say 2lbs 6oz. I suppose if I take a knife to the various gimmick add-ons and straps it would be as they listed.

Nevertheless, it will have to do as I see and feel no other pack better. I used a 13oz beltless Jardine Golite Breeze for my PCT, AT & CDT thru-hikes and feel it's time to rest my shoulders and air out my back now.
Pros
Light frame
Airy frame back
Comfy straps and belt
Straps and belt are better than older Exos
Cons
4 oz heavier than listed by Osprey
Too many gimmicky add ons
$220, knock it down $44 with a 20% off REI coupon
Very comfy for a 2lb 6oz pack. I like it better than my weekend trip pack Gregory Z55. I trimmed down to 3lb 2 oz. I have long awaited for such a pack like the Exos to be 2lbs or less. I'm almost ready to retire the use of beltless/frameless rucks like the Breeze.  
I was hoping to trim down the Exos to 2lbs or less, but Osprey got me believing my pack was 2lbs 2oz stripped until I took out the deliars. I figured I could trim off 2oz easy, but didn't realize it was over 4oz heavier per their claim.
No matter, it's light enough and comfortable to carry over 30lbs, unlike all the various ultralight cottage brands that most thru-hikers use that don't have the airy back feature like the Exos or can carry over 30lbs comfortably. I've tried them all and sometimes you just have to go heavier to get the comfort you want. Otherwise just use a frameless and beltless sub 1lb ruck and keep your total pack weight under 20lbs (7lb or less base weight). 
A great pack for weekend or day trips that require…
Rating:


Source: received it as a sample, freebie, or prize (Raffle)

Summary
A great pack for weekend or day trips that require heavy loads or varied luggage.
Pros
Long-lasting
Multi-purpose
Efficiently designed
Back-friendly
I won this pack from a Timmy O'Neill slideshow raffle in Boulder, CO, and have used it for bouldering and stuck it in crashpads, been alpine sport climbing and hiked 8 miles with a rope on top without back problems, taken it traveling by plane for domestic trips, and fit a very large number of things in this back pack via the shape, efficient space, and wonderfully multi-purpose and accessible compartments. 

The back support is absolutely wonderful -- no corners stick in my back, no imbalances, great for quick loading and unloading and hiking.
My pack has withstood snow and rain and wind and months and stretching. I love it.
I love this pack! So light, so comfortable, and, tough!
Rating:


Source: bought it new
Price Paid: $219

Summary
I love this pack! So light, so comfortable, and, tough!
Pros
Lightweight
Comfort
Details
Bought mine last year to backpack into Kauai's Kalalau Valley. It performed well, very well, for a four-day trip in tropical heat. Also used at home in Alaska for alpine trips and coastal rainforest trips. So many features, so light, so comfortable!
I just bought a second pack as my son's Christmas present since he keeps stealing mine. Both of us are ultralight backpackers due to physical constraints, and this pack keeps us going out there.
This is an awesome pack. Not only is it the most comfortable…
Rating:


Source: bought it new
Price Paid: $169

Summary
This is an awesome pack. Not only is it the most comfortable pack I've ever owned, it's also lightweight and durable. I've loaded it to 55+ pounds comfortably, even on long hauls. In addition to the roomy interior pocket, it has easy external access for water bottles, rain jackets, ice axes, and sunglasses.
Pros
Comfortable
Lightweight
Durable
The best feature of the Osprey Exos is the comfort. The shoulder straps have surprisingly thin foam with lots of ventilation, and the hip belt is similar. Both combine to comfortably hold the weight snugly against your body. The back is a net that provides more than an inch of ventilation (unless you use a water bladder, in which case it can block the ventilation).  
The pack holds enough for 3-4 days in summer or a weekend in the winter. The pack has one large chamber for gear, and can be cinched down on top and on the sides to ensure a compact profile. The side compression straps are thin, yet strong, typical of the "just enough" approach used by Osprey.  
The pack has a full suite of external pockets and straps to hold your en-route gear. Two ice axe straps with quick-release bungees make for quick release. There is a stretchy front pocket that holds your rain jacket, two net water bottle pockets on the sides, and two vertical pockets on the front. I haven't really found a great use for these pockets, as anything you put in them will compete for room in the main pocket.
There are net zipper pockets on both sides of the hip belt that are great for sunglasses or lip balm, as well as a pocket good for an iPod or phone on the shoulder strap.  There is also a generous pocket on the top of the pack, with a document envelope in the interior.  
The pack has held up very well over two years of rugged use. Nothing has broken to date.
Lightweight, very comfortable, fantastic back system…
Rating:


Source: bought it new
Price Paid: £158.95

Summary
Lightweight, very comfortable, fantastic back system and lots of pockets.
Pros
lightweight
lots of pockets
very comfortable backsystem
Well to start, the back system is very good. I mean the way it is curved lets good air flow stopping your back from getting sweaty. The waist pockets are really big, lots of room I found for important things you need at hand.
The walking pole quick storage is a thing of brilliance, you compress the poles and put in the loops freeing your hands to map read etc. and all so the open back pocket, which is separate from the main pockets, is a very good idea. You put your wet tent or wet  clothes. If you lift the top hood underneath is a good size zipped pocket (for first aid, toiletries etc!) there is a whistle on the chest strap. Also on the shoulder strap there is a small pocket, i think it might be for a compass or a small mobile phone etc.
The rucksack i used before was a Golite Jam 50 liter which was great, but i noticed i was prone to a sweaty back in the summer. With the ospre exos 58 with its mesh and curved back this does not happen. You can also see the poles tucked in to the carry straps, which i can't stress how great a feature this is!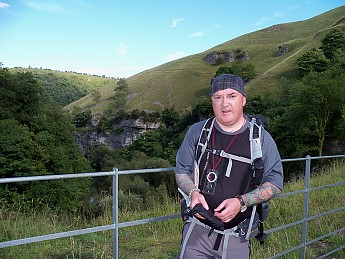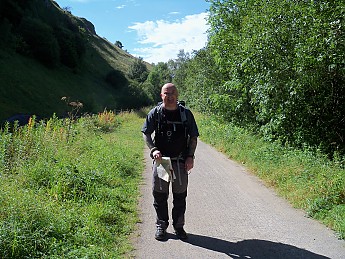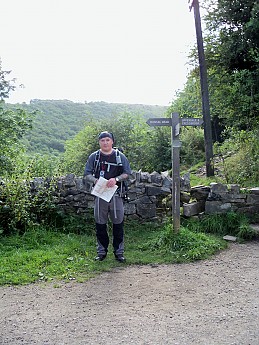 An overall great pack! Light, sturdy, feature rich,…
Rating:

Summary
An overall great pack! Light, sturdy, feature rich, and comfortable. Keeps you cool in the summer and allows you to over stuff it in the winter. You will be looking for more days to take this sweet ride on the trail.
Pros
Light
Strong
Very breathable
Full of features
Cons
Hip belt is a little on the light side.
For the weight and an almost frameless pack, you can't get a more stiff ride that keeps the gear snug. I love this pack especially during the summer months with the wide open mesh back that allows your back to breath better than any other pack on the market.
Full of features not found on many packs, i.e. trekking pole quick storage, top lid, super tight compression straps, load lifter, hip belt sinch straps, and much more.
After waiting for it to hit the retail stores, I finally…
Rating:


Design: Top loading, lightweight
Size: 58 litres
Number of Pockets: 9
Max. Load Carried: 23lbs
Height of Owner: 5'6"
Price Paid: $220

After waiting for it to hit the retail stores, I finally purchased this product. However, once loaded, this pack sagged horribly in back, making me feel like I was carrying a bag of rocks, although it was packed well.
The hiking pole attachment on the shoulder strap, cut into my arm, leaving an open wound, something I didn't need on the trail. I had about 22 lbs total in the pack, not even a large load by any standards.
I did like the many features on this pack, including the interior water sleeve, the hip belt pockets, that held everything I wanted them to, the side pockets, which made it simple to get at my water bottles and put them back in.
I love the unisex styling, as not all gals can use a women's specific pack. The hipbelt and shoulder straps were reasonably comfortable.
This pack is plenty big enough to hold anything one would need for a week long+ trip, if packed correctly. However it just isn't the pack for me.
Waited for this pack for months after I read it was…
Rating:


Design: top loading
Size: Osprey 58 large
Number of Pockets: 3 outside, two on lid, one inside pack
Max. Load Carried: 30 #
Height of Owner: 5'9"
Price Paid: $170

Waited for this pack for months after I read it was coming in January -- finally got one, but it came with a hole in the mesh right above the shoulder straps.
After much tadoo, finally got it repaired (Osprey just stitched the hole closed, I could have done that!!), but now the mesh pockets are fraying around where they are sewed to the zipper. I've used it only on 20 day hikes or so, also I see wear on the bottom where the frame is covered with fabric, even though I'm careful where to set it.
Bummer, Osprey!!!!
Great design, so well thought out. It just didn't…
Rating:


Number of Pockets: 5
Max. Load Carried: 25#
Height of Owner: 5'10"
Price Paid: $110

Great design, so well thought out. It just didn't fit me (size long). I have a 36" waist, and I thought the belt would cut me in two. Unlike a lot of Osprey packs, you can't change these belts. The pack is working great for a buddy of mine with a 32" waist.
I don't think this will be a very durable pack. I…
Rating:


Price Paid: Don't remember.

I don't think this will be a very durable pack. I used this pack for one weekend trip, with a load of 22 lbs. When I got back, I noticed that the mesh on the back was beginning to come apart at the side seams.
Comfort-wise, it was okay but not great. 
Where to Buy
sponsored links
Help support Trailspace by making your next purchase through one of the links above.
Osprey Exos 58
currently retails for:
$179.00 - $220.00
MSRP: $219.00

where to buy:
Specs
| | small | medium | large |
| --- | --- | --- | --- |
| Weight | 2 lb 7 oz / 1110 g | 2 lb 8 oz / 1140 g | 2 lb 10 oz / 1185 g |
| Capacity | 3300 cu in / 55 L | 3500 cu in / 58 L | 3700 cu in / 61 L |