Paradox Sports Develops Prosthetic Climbing Foot
Paradox Sports is pleased to introduce a climbing foot for amputees in conjunction with Evolv Shoes and TRS Orthotics. Malcolm Daly, executive director of Paradox Sports, a climber since 1968, and a below-knee amputee since 2001 didn't let a missing foot stop his climbing
Daly, founder of Trango, decided to use his knowledge of climbing equipment design to get him back on the rock. "I tried to use a regular climbing shoe on my walking foot and it just didn't work", said Daly. "It would rotate like crazy and the springiness built into it for walking wouldn't allow edging."
So Daly did what he's done before—sat down with some basic tools and an idea: make something that would mimic the performance of a real foot when climbing. His first iteration was crudely hacked out of an old SACH foot and layered up with sticky rubber, but it worked.
Bob Radocy, owner of TRS Orthotics, a manufacturer of sport specific terminal devices for upper limb amputees wanted to branch out and make some sport specific feet. He had worked with Aron Ralston to develop a special climbing hand so he had some familiarity with the needs of a climber. Buck Branson at Evolv was eager to get involved, so they agreed to make a high-performance climbing shoe that would fit on the foot made by TRS Orthotics.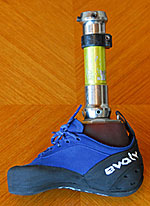 The foot is cast in 55A urethane with a birch and carbon-fiber keel. The urethane has just the right amount of resilience to work for smearing and the carbon-fiber keel keeps the whole thing stiff for edging. The Evolv "Paradox" shoe features an EVA heel for shock absorption and the renowned Trax XT-5 sticky rubber. Price has yet to be determined.
For more information please contact:
Malcolm Daly
303-909-6067
www.paradoxsports.org
mdaly@paradoxsports.org