Sierra Designs Down Bootie Contest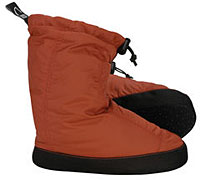 The Sierra Designs Down Bootie has developed into one of those truly indispensable pieces of gear for winter adventurers. They're like a devoted coffee drinker's favorite mug they never leave home without. In fact, if it weren't a fashion faux pas, most people would probably wear them around all the time. All social blunders aside, these bad boys rule the cold-weather backcountry for style and comfort.
Ask any number of winter backpackers and climbers what their favorite piece of gear is and they are likely to tell you, 'Sierra Designs Down Booties.' This simple, but indispensable piece of gear has developed a cult following among cold-weather backcountry aficionados.
To celebrate Sierra Designs Booties we will be giving away a pair of their Classic Down Booties every weekday in April. To win, simply upload the best photo of you with any of your Sierra Designs gear or apparel in action onto Sierra Designs' Facebook Page. Hiking, climbing, paddling, slacklining, camping and lounging photos are all eligible – any activity, trip or adventure where any piece of Sierra Designs gear or apparel became your favorite piece of gear.
At the end of April, Sierra Designs will review all of the winners and choose one contestant to win either a men's Verde 20 or women's Déjà Vu 20 sleeping bag. Both bags are part of Sierra designs Green Effect Program with 95% recycled content and feature an eco-friendly Cocona liner – creating a more sustainable sleeping bag without sacrificing any performance.