Celebrate National Trails Day on June 2
On Saturday, June 2, thousands of TRAILgating parties will spring up across the country when American Hiking Society holds its 20th annual National Trails Day, a celebration of America's trail system and its dedicated outdoor enthusiasts.
National Trails Day events include hiking, biking, paddling, trail maintenance, bird watching, geocaching, safety demonstrations, photography, dog walking, and more.
National Trails Day 2012 takes place nationwide on Saturday, June 2. Most events are free and open to the public.
Want to join the TRAILgating party?
Visit AmericanHiking.org/NTD/ to:
Last year, National Trails Day events were held in every state — from Hawaii to Maine. Thousands of Americans explored new trails on foot, bike, and horseback, while nearly 40,000 hard-working volunteers contributed 188,833 volunteer hours to construct and maintain 3,412 miles of trail.
This June, kick off your summer outdoors by attending a TRAILgating party on National Trails Day, June 2. Join American Hiking Society and its sponsors, The North Face, Milk-Bone Trail Mix, Adventure Medical Kits, Columbia, Merrell, and Gerber at a National Trails Day event near you.
If you or your community organization would like to host an event or find out more about National Trails Day 2012, contact John Michels, Trail Programs Manager, at jmichels@AmericanHiking.org or (800) 972-8608 x 208, or visit AmericanHiking.org/NTD.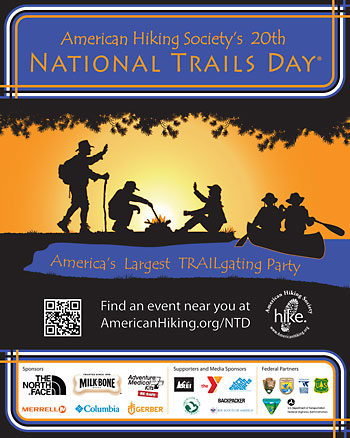 About American Hiking Society
Founded in 1976, American Hiking Society is the only national, recreation-based nonprofit organization dedicated to promoting and protecting America's hiking trails, their surrounding natural areas, and the hiking experience. It is one of the outdoor and environmental non-profit organizations that Trailspace supports.
AHS is a membership organization with programs like the National Trails Fund grant program, Volunteer Vacations (week-long trail work projects), and National Trails Day (the largest trails celebration in the country). Visit www.americanhiking.org or "like" AHS on Facebook to help support its mission to protect trails.