PCTA defends Pacific Crest Trail from threats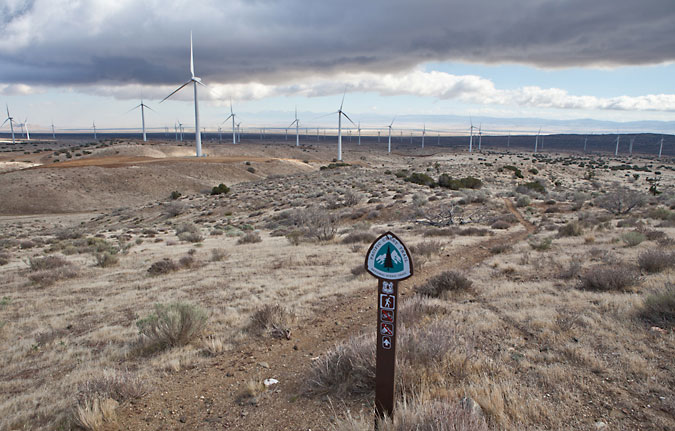 Hiking into California's San Jacinto Wilderness from the north, the Pacific Crest Trail winds its way through large boulder fields and high-desert scrub across long switchbacks that eventually bring the Snow Creek drainage into full view. High up on stately "San Jack," the north face couloirs are still filled with snow at the end of March, even in this driest of years. The view is breathtakingly beautiful, and as we walk, my mind shifts to a more peaceful state.
That's the PCT experience we must protect, though at times, it can feel like an illusion.
Turn around on the same trail and the view of San Gorgonio Pass is strikingly different. Interstate 10 relentlessly hums as it crosses the desert floor. Windmills turn day and night, converting the reliable breeze into electricity for Southern California homes and businesses.
While it sure would be nice, it's naive to think that the PCT could wind its way for 2,650 miles across three states without intersecting roads and power lines or coming close to civilization.
But as the trail takes us into some of the best wild and scenic places in the country, it's easy to forget that just over the way a new housing development, road project, or high-tension wire may be pushing closer, threatening the peace and serenity trail users seek and deserve.
At PCTA, we confront threats to the trail every day; from proposed timber harvests and ski area expansions to energy projects and illegal trail use by motorcyclists, mountain bikers, and snowmobile riders.
With a small staff usually stretched thin, it's difficult to contain every problem that pushes in on the trail or threatens the trail experience.

Consider:
New power lines that would cross the trail are proposed in the Mount Hood National Forest of Oregon. In Southern California, PCTA is working with the U.S. Forest Service, Bureau of Land Management, and San Diego Gas & Electric to reduce the effects that the Sunrise Powerlink, a massive electrical transmission line, will have on the trail experience. This line will connect proposed solar power to the east with metropolitan San Diego.
In Southern California, a handful of windmill projects are proposed that would, if left unchallenged, intersect the PCT. It's already happened in the Tehachapi area, where an agreed-to setback left the trail meandering through a wind farm, cut by new service roads as if it wasn't there.
In both Southern and Northern Oregon, PCTA is closely monitoring proposed natural gas pipelines. Residential developments are also planned in Southern Oregon on private lands near the trail.
In Northern California, Oregon, and Washington, proposed timber harvests on private property, where the trail is but an easement, mean that it's likely the trail will be clear-cut. PCTA works with landowners as much as possible to mitigate the effects of these projects, but sometimes, they happen with little consultation.
About 200 miles of the PCT still cross privately owned land. PCTA and the Forest Service, our partner in protecting the trail, have identified roughly 1,500 parcels that we'd like to protect from development. Through partnerships with land trusts and other organizations, government acquisition programs or on our own, PCTA hopes to buy these properties and turn them over to the public or get them protected through another method, such as a conservation easement.
We've already taken steps in the past few years to protect several parcels, and we are in the very early stages of planning a capital campaign that would kick-start a concerted, multiyear effort to buy land from willing sellers. Needless to say, this is a multi-million-dollar endeavor. And we won't be able to do this without support.
But even if we had enough money to buy all that land and protect every mile of trail and every view from every ridge, this wouldn't end the threats to the trail. Far from it. The sad truth is that the majority of the threats to the trail come from proposals on public land.
When the U.S. government declared the PCT "complete" in 1993, it held a Golden Spike ceremony in Southern California. That was 25 years after President Lyndon Johnson signed into law the National Trails System Act of 1968, which declared the PCT and the Appalachian Trail the first two National Scenic Trails. Even now, 44 years later, only 11 National Scenic Trails exist in the United States.
While it's true that there is a continuous right-of-way for the PCT, in many places, it's nothing more than a 20-foot swath that gives users access. But the right-of-way does nothing to protect the experience that trail users have come to expect. Nineteen years after the Golden Spike, saying the trail is "complete" is just another illusion.
Many federal forest managers, in an admirable effort to boost recreational use of and access to public lands, are considering motorized travel management plans that could potentially conflict with the PCT. For example, in the Sequoia National Forest, a draft travel-management plan proposes nine motorized trail crossings of the PCT in addition to several dirt roads — all in a 9-mile stretch. To us, this is unacceptable.
For the North Cascades, Congress is debating a bill calling for the rebuilding of flood-damaged Stehekin Valley Road in a location that would obliterate the trail. The result would create a potential road walk for PCT users.
The federal government is constantly considering special use permits on public land for utilities, commercial outfitters, mining and mineral exploration, competitive foot-races, and communication sites.
The government is also constantly selling timber from public tracts. Thinning forests to keep them healthy and reduce the potential for wildfire is necessary. A federal project to eradicate invasive weeds in Northern California is beneficial to the landscape. Still, both have the potential to be a detriment to the trail experience.
That's why PCTA has built solid partnerships with federal land managers. Our relationships help us monitor these proposals and provide thoughtful testimony that, in the long run, protects the trail. We support the Bureau of Land Management's current effort to establish a national policy for managing National Scenic Trails. And we are working with our partners in the Forest Service to develop a management policy for the PCT.
There is much to be hopeful about. Large swaths of once-private land have become public land in recent years with our help.
The Tejon Ranch in Southern California will eventually be home to many miles of new trail through an agreement between the Forest Service, PCTA, the landowners, and the Tejon Ranch Conservancy, a new local land trust. A new alignment for the PCT in this area, while agreed to, is still several years off.
Our Keene Creek conservation easement in Southern Oregon, which permanently protected a mile of the PCT, is a testament to what we can do as an organization when we all pull together for a common cause.
And the recent partnership between PCTA and the Anza-Borrego Foundation to protect 40 acres with a water source in the Southern California desert, speaks to the power of teamwork.
In the past decade, PCTA has become a first-class trail organization. Our membership is constantly growing, our private donations have risen despite the economic downturn, and our volunteers have accomplished more than we thought possible.
We have increased maintenance and safety training and are building a force of future volunteer leaders who will take over stewardship of the finest hiking and equestrian path in the world. In 2011, our volunteers and core crews put in more than 115,000 hours on the trail, maintaining 1,096 miles in 367 separate projects.
This effort is proof that as an organization, we have the power and stamina to overcome anything. As we continue to grow our volunteer base, our advocacy work becomes more sophisticated as well. Our partnerships with state and federal land managers are strong because of mutual respect and good communication.
And our dedicated staff, spread over three states, is singularly focused and driven by our mission to protect, preserve, and promote the Pacific Crest Trail as an internationally significant resource for the enjoyment of hikers and equestrians, and for the value that wild and scenic lands provide to all people.
And that's no illusion.
About PCTA
Mark Larabee is managing editor of the Pacific Crest Trail Communicator, the magazine of the Pacific Crest Trail Association. This article is reprinted, with permission, from the June issue.

The mission of the Pacific Crest Trail Association is to protect, preserve, and promote the Pacific Crest National Scenic Trail as an internationally significant resource for the enjoyment of hikers and equestrians, and for the value that wild and scenic lands provide to all people. PCTA is one of the outdoor and environmental non-profit organizations that Trailspace supports. Visit www.pcta.org or "like" PCTA on Facebook to help support its mission.