Kayaker Brad Ludden Empowers with First Descents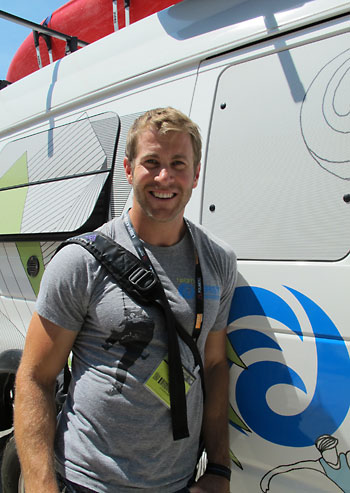 As a professional kayaker, Brad Ludden, 31, has completed more than 100 first descents on rivers around the world. But it's First Descents, the nonprofit he founded at 18 for young adult cancer fighters and survivors, that he considers his life's work.
First Descents offers free weeklong climbing, paddling, and surfing adventures to young adults (18-39) with cancer. Conquering outdoor challenges allows program participants to face fears and regain confidence. Connecting with other cancer patients and survivors helps them address issues unique to young adults, like dating, raising a family, and potential infertility, says Ludden.
At 12, when he already was traveling and competing internationally in kayaking, Ludden watched his 38-year-old aunt be diagnosed with and endure breast cancer. "She had no one else to call," said Ludden of her need for post-diagnosis social support. To contribute, Ludden began teaching kayaking to participants in a local pediatric oncology program.
At the age of 18, he founded the organization that would become First Descents. Choosing to work with young adults was "the best decision I made," said Ludden of the relatively underserved population.
Last year First Descents, which works with medical centers and volunteers, held 27 weeklong programs in seven states and Canada. This year it will hold 50 in North, Central, and South America. First Descents also added local weekend programs to reach out to participants not ready or able to participate in a weeklong program. They've also introduced a program to support caregivers. The success of First Descents means there's now a waiting list for the programs.
"I've had the good fortune to be sponsored, says Ludden, who's paddled for Teva, Dagger, AT Paddles, Kokatat, and Smith Optics. But, "consider this my life's work."
He writes on firstdescents.org: "I wanted to recreate the experience of a 'first descent', that had so greatly impacted my life, for people like my aunt who really needed it. Even though thousands of people have been down the rivers they're kayaking at camp, it's still the first time they've been down it."
Ludden talked to us about First Descents at Outdoor Retailer by the new FDmobile.