Connecting Stewards with Trails: Meet Libby Wile, American Hiking's Volunteer Director
Last year, more than 500 American Hiking Society volunteers built, maintained, or re-vegetated 415 miles of trail on public lands across the United States. Their 21,440 trail hours were worth an estimated $474,682, according to AHS.

As Senior Director of Volunteer Stewardship at AHS for the past five years, Libby Wile connects those volunteers with trails in need, coordinating volunteer crews on stewardship projects in 30 different states.
In Montana's Lewis & Clark National Forest, volunteers cleared and brushed six and a half miles of trail heavily damaged by 2007 wildfires. In Maine's Moosehorn National Wildlife Refuge, a crew maintained eight miles of wilderness trails for year-round access. And in California's King Range National Conservation Area, a crew maintained 25 miles of trail along the scenic coastline.
In our Q&A below, we talk with Wile (below left in Washington) about her work helping hikers and backpackers give back to the foot trails they love.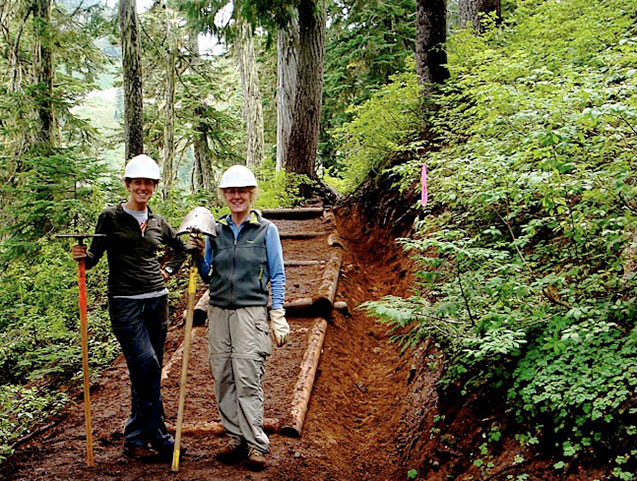 What exactly do you do at American Hiking Society?
I direct American Hiking Society's volunteer stewardship efforts across the country. Our stewardship programs include Volunteer Vacations, week-long "working vacations," which match volunteers to trail projects across the country, and Alternative Break, trail maintaining service trips designed specifically for college student groups.
How did you get involved?
I have had a lifelong passion for the outdoors and spent much of my free time exploring nature, volunteering for conservation related causes, and seeking out recreational activities that allowed me to be outside.
I decided I wanted to turn these passions into a career and was lucky enough to have an opportunity available at American Hiking Society where I could help others fulfill their passions: to explore nature, give back to the environment, and get outside!
What's a typical workday? Is there such a thing?
Every day is a little different and varies greatly based on the time of year. I like this variety and it keeps me on my toes.
Regardless of the time of year, each day involves communication with our volunteers, trip hosts, and crew leaders, answering questions from potential volunteers, and marketing and media regarding our stewardship programs.
What types of questions do you get from potential volunteers?
I've heard a bit of everything, but most commonly I hear logistical questions: "Where do we sleep on your volunteer trips?" "What do we eat on your volunteer trips?" "Where in the country can I volunteer?" "What type of people volunteer for your organization?"
And often I get questions from folks interested in doing a trip for the first time, "Can I still volunteer for a trip if I have never done trail work before?" The answer is YES!
Do you get to participate on the trips?
I try to participate in at least one trip a year. This provides me the opportunity to meet our partners, interact with our volunteers one-on-one, see where program improvements can be made, and really practice what we preach when it comes to trail stewardship. On each trip I attend, I act as the Crew Leader for the group, so I see things from an internal programmatic view as well as receiving personal fulfillment from the experience.
What's the best part of your job?
The best part of my job is interacting with volunteers. Getting to know our volunteers and hearing why they want to spend their vacation time giving back is always gratifying and reinforces the importance of what we do at American Hiking. Seeing someone experience a week outdoors for the first time through our stewardship programs and hearing they are excited for their next outdoor trip is very rewarding.
The worst?
Mother Nature can sometimes throw a wrench in the best-laid plans when it comes to outdoor trip planning. Luckily our land management partners are organized and experienced to deal with a variety of situations and our volunteers remain flexible and spirited in their participation.
What are you most proud of in your work?
I am most proud of the continued success of our college stewardship program, Alternative Break. Working with college students to plan an outdoor service trip and seeing the group come back from the trip connected to the environment and eager to volunteer again is very gratifying.
What do you like to do outdoors?
The D.C. Metro area is such an amazing community for outdoor activities. I love to hike, trail run, and bike and love that I can do all those things right from my backyard.
How did you get started exploring outdoors? Earliest memories?
My parents were big proponents of playing and sending us outside if we were bored. I appreciate that now.
Growing up, I spent a lot of time running wildly, getting lost in the woods, and letting my imagination guide me…all in the name of fun. My family had a pop-up camper so family vacations usually involved camping or outdoor activities. Exploring the outdoors has always been a part of me.
Describe your ideal day outdoors.
Coffee and bagels to kick things off. Long hike with friends or family. Washing off the trail in a river or lake. Dinner, beer, and s'mores around a campfire with good conversation and those I love.
What's your favorite piece of outdoor gear? Why?
Right now the LED Lenser SEO5 headlamp. It is insanely bright and I keep it in my bag at all times. While it's of course great for camping, I've used it a lot for night running, reading in bed, and during power outages!
What's your favorite quote?
"The world is mud-luscious and puddle-wonderful." — e.e. cummings
American Hiking Society


Volunteer Vacations
are trail-building projects on America's public lands. Crew consists of 6-15 volunteers and a crew leader.
Alternative Breaks
are volunteer trail stewardship projects designed specifically for college student groups.
2013 Volunteer Vacations

61 trail projects
536 volunteers
415 trail miles built, maintained, re-vegetated
21,440 volunteer hours worth $474,682
Projects Completed In:

30 states, including BLM land (2);
National Parks (13), National Forests (20),
U.S. Fish and Wildlife Service land (4),
State Parks/Forests (19)
Volunteer Profile:

55% students or retired
52% female
14-84 age range, 45 average age
11% participate in multiple trips per year
Volunteers pay a registration fee to offset food, entrance, camping, and program costs.
For more info or to join:
www.americanhiking.org
How would you describe the mission of AHS?
American Hiking Society serves as the national voice for America's hikers. American Hiking promotes and protects foot trails, their surrounding natural areas, and the hiking experience.
Why is your work relevant?
American Hiking Society's Volunteer Vacations program connects people with nature, introduces many to the wonders of outdoor recreation, and in a time of reduced budgets and limited resources, provides land managers with able-bodied volunteers to assist with their trail maintenance needs.
Volunteers return from their week of stewardship with a newfound appreciation for nature and a desire to preserve it for future generations.
Why and how should Trailspace members get involved?
Whether you're a casual day-hiker or a seasoned backpacker, I invite you to become a member of American Hiking Society and join the national hiking community! You will help ensure that the places you love to hike will remain protected and will be waiting for you the next time you lace up your boots and hit the trail.
If you want to get more engaged, sign up for a Volunteer Vacation. More than a program that rehabilitates trails, Volunteer Vacations foster public land stewardship and provide volunteers the opportunity to give back to the trails they love, meet new people, and have a great time doing it!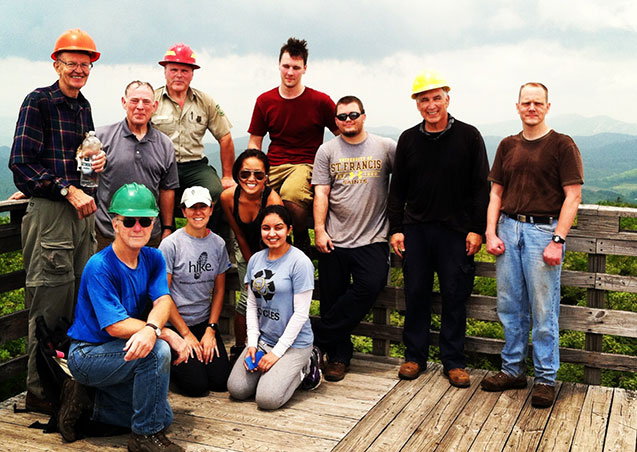 As a member of 1% for the Planet, Trailspace annually supports the American Hiking Society and other environmental nonprofits important to human-powered backcountry recreation.
Read more outdoor nonprofit Q&A's with the people who professionally steward, support, and advocate for the mountains, crags, forests, and rivers we explore.
---
All photos courtesy of Libby Wile and American Hiking Society.
Top picture: Wile and volunteer Nancy Corn of Denver, Colo., take a break in Washington's Mt. Baker-Snoqualmie National Forest on a Volunteer Vacation.
Bottom picture: Wile (front row in "Hike" shirt) poses with a Volunteer Vacation crew in Georgia's Chattahoochee National Forest.