Protecting Climbing Crags: Meet the Access Fund Conservation Team
In addition to the essential gear, climbers also require open, protected climbing areas.
The nonprofit Access Fund works to keep U.S. climbing areas open and accessible, and to conserve the climbing environment for all forms of climbing. To support stewardship, two Access Fund staff members travel the country full-time from February through November helping maintain climbing areas.
Mike Morin and Amanda Peterson are the 2014 Access Fund-Jeep Conservation Team.
The couple assesses climbing area conservation needs, works with local groups and volunteers, and provides training on planning and stewardship best practices. In their first five months on the road, Amanda and Mike have already helped improve climbing areas in 13 states across the country, and expect to cover 31,000 road miles this year in their Jeep Cherokee.
In our Q&A below, we talk with Mike and Amanda about their work protecting climbing crags.

Tell us a little about yourselves.
We're a couple with a passion for the outdoors and vertical faces. We have always loved road trips and exploring new locales, which made landing the Conservation Team gig very exciting for us. We are happiest living simply and deliberately, and enjoy the dynamic nature of life on the road.
What are your backgrounds?
Mike is a graduate of the University of Maine with a B.S. in Parks, Recreation, and Tourism. Prior to joining the Access Fund team he worked for 10 years in the public land management field, where he worked both as a park ranger and recreation manager in Maine and Colorado.
Amanda is a graduate of Chapman University with a B.A. in Sociology. Prior to joining the Access Fund team she worked for 10 years in the Environmental Education field, where she worked to support professional development of environmental educators and also as a front line interpreter and designer of interpretive media.
What exactly do you do as the Access Fund's traveling trail crew?
We work with local climbing organization and land managers to conduct and promote stewardship work at climbing areas across the U.S. We accomplish this by providing the tools and knowledge necessary to complete successful stewardship projects.
We also work with climbing gyms in the areas where we travel to reach out to the local climbing community and share our passion for climbing area stewardship.
What's a typical workday? Is there such a thing?
There's more consistency than you might think. Generally our projects are one or two days in length and consist of installing stone structures, such as stairs and walls to reduce erosion along climbing access trails. Our projects typically involve leading 10 to 15 volunteers from the local climbing community, though we've had larger events as well.
How did you get involved?
Both of us have been supporters of the Access Fund for some time. Mike worked on a few collaborative projects with the Access Fund during his time as a park ranger and recreation manager, and Amanda was a frequent volunteer at Adopt a Crags on the Front Range of Colorado. When this job opened up we threw our application in the pool and went through the interview process.
What's the best part of your job?
Getting to travel together to amazing climbing areas, some of which are lesser known, and getting to meet awesome people and make a big impact at each area we visit. Sometimes that means knocking out a huge stone staircase, other times it's getting the local climbing community excited and feeling empowered to take care of their crags.
The worst?
Having a limited amount of time to work at each area we visit. It's a big country and we are typically in a new area every week. There are a lot of climbing areas in the U.S. in need of trail work and we're just one team. We often leave an area wishing we could tackle more or bigger projects.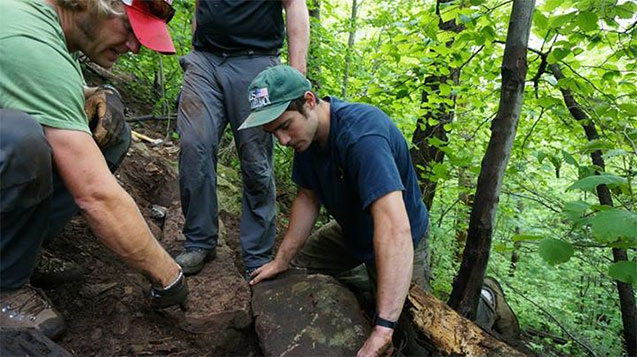 Anything unusual your job involves? Skills needed?
There are some basic best practices when it comes to trail building, but there's also an art to it. Having an eye for aesthetic trail flow and being able to envision where water is going to move across the landscape is a big part of building trails that will be successful in moving people to and from their destination while being sustainable.
What are you most proud of in your work?
To work for an organization that does so much to protect climbing access across the United States. Having an opportunity to contribute our talents to that effort is really satisfying.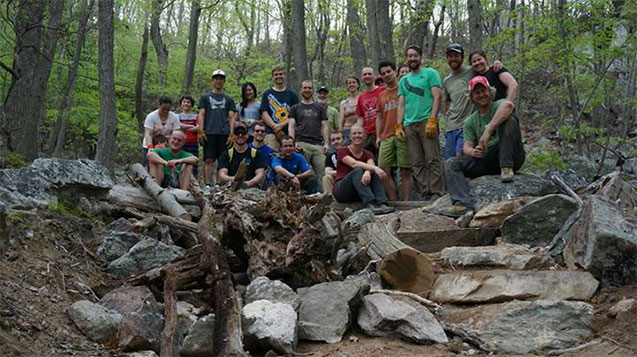 Why is your work relevant?
More and more people are visiting climbing areas across the U.S., which means there is a greater potential for impact on the ground. It's important that the climbing community step up and assist landowners and land managers in efforts to preserve and protect the places where we love to play, which is our program's goal.
What do you like to do outdoors?
We love to climb, both rock and ice, but we also enjoy hiking and camping. Mike is also an avid mountain biker and Amanda enjoys outdoor photography.
How did you get started exploring outdoors? Earliest memories?
Mike grew up in rural Maine and had a million acres of forest in his backyard to explore and play in. Amanda grew up camping with her family in the mountains of Colorado.
Both of us were lucky to have families that valued spending time in the outdoors.
Describe your happiest moment outdoors.
We've had a lot of happy moments outside, but if we had to choose one it was getting married at sunset on an overlook above the North Fork South Platte River in Colorado.
Describe your ideal day outdoors.
Swinging leads together on classic, moderate, multi-pitch, trad routes.
What's your favorite piece of outdoor gear? Why?
Our favorite piece of outdoor gear is our Mountain Hardwear Optic 3.5 tent. It's bomb proof and has given us a warm, dry place to sleep and take shelter while we've been on the road.
What's in your backpack right now?
Between our two packs we have a Sterling Marathon Pro climbing rope, a trad rack, harnesses, helmets, and a couple pairs of La Sportiva climbing shoes.
Who or what has been the biggest influence on your life?
Mike had a professor in college that taught him to embrace the spiritual side of nature. He turned him on to many of the early nature writers and instilled a passion for protecting wild places.
Amanda's parents instilled a love of the outdoors early on through camping trips, hikes, skiing, and a general "go outside and play" attitude.
What's your favorite book?
Mike: Wilderness and the American Mind by Roderick Nash
What's your favorite quote?
Mike: "May your trails be crooked, winding, lonesome, dangerous, leading to the most amazing view. May your mountains rise into and above the clouds." —Edward Abbey
Amanda: "It is not the mountain we conquer, but ourselves" —Sir Edmund Hillary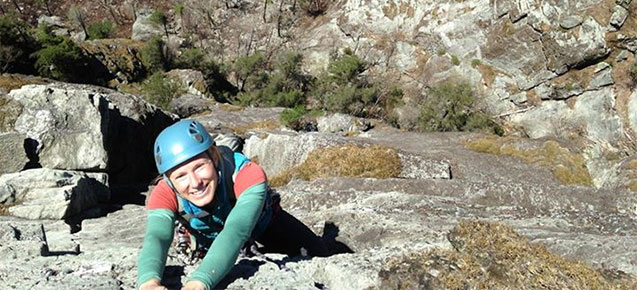 How can Trailspace members join the Access Fund and get engaged?
If any Trailspace members are climbers or would like to give the gift of membership to a climber, joining the Access Fund is a great way to give back and support an organization that is focused on protecting access and conserving the areas that they love.
Individuals and businesses can join and/or support the Access Fund by going to the Access Fund website and selecting the "Join or Give" option at the top of the page.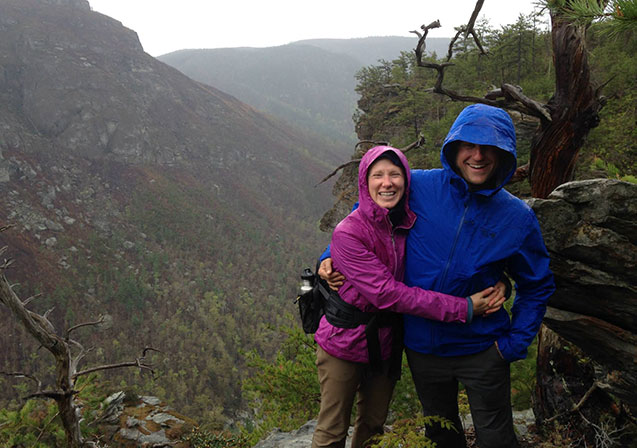 As a member of 1% for the Planet, Trailspace annually supports the Access Fund and other environmental nonprofits important to human-powered backcountry recreation.
You can follow the Access Fund Conservation Team on Facebook.

Wide photo captions: 1) Mike and Amanda ready for a year on the road. 2) Mike and volunteers move stones into place at Ragged Mountain in Connecticut. 3) Amanda, Mike, and volunteers pose with new stairs on the Green Trail at Sugarloaf Mountain Park in Maryland. 4) Mike and Amanda relax in the rain at Linville Gorge in North Carolina. All photos courtesy of the Access Fund and Amanda Peterson and Mike Morin.
Read more outdoor nonprofit Q&A's with the people who professionally steward, support, and advocate for the mountains, crags, forests, and rivers we explore.