7:39 p.m. on September 28, 2012 (EDT)
bheiser1

1,422 reviewer rep
1,344 forum posts
Here's something for anyone who hasn't yet witnessed a medevac from the backcountry.  I hadn't seen one until I saw this while on my JMT trek.
I (along with a bunch of other hikers) stopped and watched until the copter flew away. 
It wasn't a hiker who was airlifted out though.  Apparently a guy (a customer on a pack train trip) had fallen off his horse (ouch!).  I talked with another (horse) packer a while later while hiking, and he said the guy hadn't really hurt himself, but just kinda slid out of the saddle.  But he was upset that he had fallen off the horse in front of his wife.  Ummm, OK...  "I nearly died from embarrassment, so I need a medevac!!!".  :-P
It was interesting to watch.  But thinking about this, I can still recall my exact feelings as I hiked out of there.  It was a feeling of being really thankful that I was continuing on my hike and that I wasn't aboard that chopper.  It was a bit of an emotional moment that really made me think.
Here's the chopper coming in for a landing.  For those of you familiar with the area, he flew in from the valley, up & over the lake, then circled back and landed on a flat area south of the footbridge.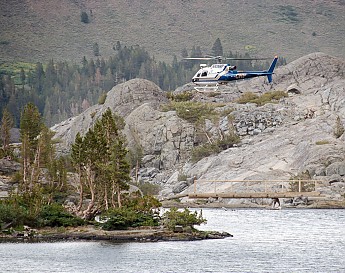 Here's a group of people (I'm guessing) discussing logistics before departure. 
On the spur of the moment I decided to capture the flight out on video.  After all it was (hopefully) an uncommon sight.  You can hear the bystanders cheering as the chopper took off.  It appeared like they were going to fly out to the north, so I stopped recording as they got out over the lake.  As it turned out, they circled back again to leave via the valley - and as they got overhead they turned on the siren (!!!).  Unfortunately I missed that part in the video.  And, also unfortunately, I was too enamored with the idea of taking a video of this unique event to think about the fact that I could have used the zoom lens to get a more close up video.  Oh, and the camera battery went from "quite a bit left" to "nearly depleted" just while taking that 2'30" video.  Needless to say I didn't take many more videos on that trip.  Oh, and I clipped the video to make it shorter.  It turned out it took the pilot a minute or so to take flight after starting the engine... not much to see in that segment.
Though I didn't actually see it, I heard another apparent rescue much later in the trip.  While at my campsite at Tyndall Creek (a couple of days before Mt Whitney), I heard a helicopter fly to a nearby area early in the morning, then a little while later fly away.
Then, yet again, while I was awaiting my ride from Whitney Portal at the end of the trip, I overheard the employee there telling some other hikers of another rescue, I think that day.  
Apparently these rescues are fairly commonplace (?).  But I also overheard her say there's only one helicopter available for all rescues on the eastern Sierra.
Here's the video.  You can see Banner Peak over Garnet Lake (and you can see it also started raining on this day... in fact it showered while I was standing there, even though you can see blue sky to the east).