g00se
TOP 25 REVIEWER
REVIEW CORPS
13,033 reviewer rep | 1,479 forum posts
11:01 a.m. on September 17, 2017 (EDT)
Honestly, toilet paper is a pretty dumb way to clean yourself. Imagine if your hands were covered in mud, and someone handed you a dry paper towel to clean them with. No water, just the paper towel. You know that wouldn't be sufficient. 
So over time, I stopped carrying TP in my pack and switched to biodegradable wipes. These have worked better, but my trail routine has still regularly consisted of a thin coating of diaper rash ointment after the wiping is done. Not ideal, but takes care of the "itch" if you know what I mean. 
A few days before my Boundary Waters trip, Mike Mineart reviewed an Amazon purchase on a travel bidet that fits on a disposable water bottle.  https://www.trailspace.com/gear/other/fab-international-water-bottle-bidet/
I was intrigued. This might be a reasonable solution, and the price wasn't bad. I went to buy it, but quickly realized it would not arrive in time for my trip. 
So I ran down to the hardware store, bought $1.20 in PVC fittings and made my own. I attached it to an old .5L Platypus bottle I don't use anymore.
PVC & Platy bag weighed 74g (2.4oz).
Here it is: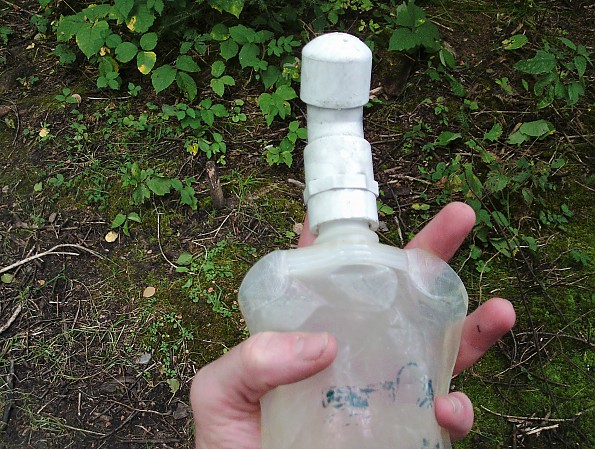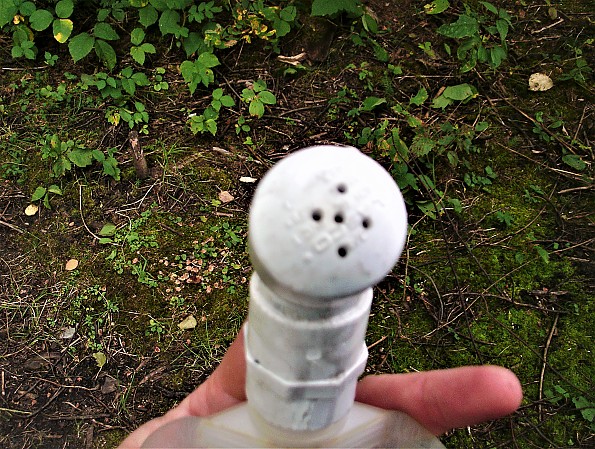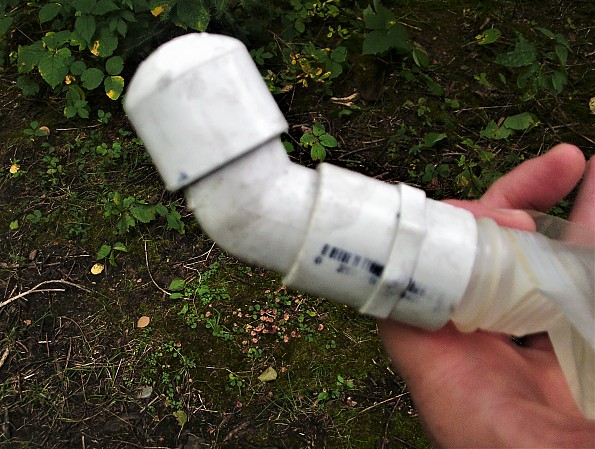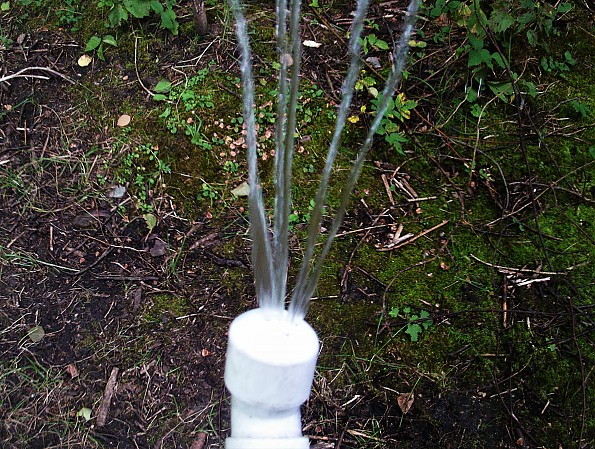 How I made it:

I was in a hurry, and I don't have the patience to make something like this look perfect. This took me 30 minutes, and most of that time was waiting for the glue to dry. 
I took my Platy bottle with me to the harware store, and I found a 3/4" threaded adapter that kind of screwed onto the threads. It wasn't perfect, but it worked. I also bought a 45-degree 1/2" elbow and a 3/4" cap. 
The 1/2" elbow did not fit into the two 3/4" pieces. I put a sanding drum on my Dremel tool and sanded the insides of the larger pieces until the 1/2" piece fit in both. 
I drilled 5 holes into the cap using a 7/64" bit. Then I cleaned the pieces with PVC cleaner and glued it all together. 
Since the Platy didn't screw on exactly with my new bidet, I didn't bother with any kind of O-ring. I was never going to have a good seal. But nothing leaked while in use.
How Well It Worked:
Testing in the Boundary Waters was a good place. You don't dig catholes in the BWCA. Each campsite has a pre-dug laterine. 
My rountine was 1) Go. 2) Use the wipes to their fullest potential. 3) Move the bidet into place. 4) Squeeze the bottle forcefully to make the jets squirt has hard as possible.
The first couple of times post-use, I grabbed another wipe to "check" how well it worked. The bidet did its job. I never applied diaper ointment once in the 5 days I used the bidet. Never needed it. 
Cons:
1) Make the shot count. Make the pressure hard and aim straight. Or you're going to have to refill the bottle/bag.
2) I was never able to completely empty the Platy bag. There was always a bit of water left that was wasted. 
3) If you tip the bidet over, it all spills out. I'm pretty regular both on and off the trail. I know my toilet routine is going to occur within the first 15 minutes of getting out of bed. So I prep my toilet kit before getting into my hammock. One morning, after a night of storms, I found my bidet laying empty on its side. Fortunately, water was close, and I refilled it on my way to the latrine.
Summary: 
This is going in my pack from now on. I am so glad I did this.