4:03 a.m. on September 7, 2012 (EDT)
birdnerd

0 reviewer rep
17 forum posts
Hello all,
I am writing to introduce myself and give everyone here a big THANK YOU for educating this raised in the city, country girl at heart, out of shape bird nerd.  I've been suffering from some insomnia and wanderlust lately, and I happened upon TrailSpace while daydreaming about next spring and making a mental list of places to go. I have come to realize how dreadfully unprepared I am for even the wimpy little dayhikes I have been going on, as I have the habit of leaving everything (including water and first aid) in the car for several mile hikes in places with no phone reception and few to no other hikers. I have a growing list of things to prepare for next time, including a whistle, a refined first aid kit (you can accumulate a lot more when it stays in the car all the time), and yes, perhaps most importantly, a friend who knows where I'm going and when to expect me back.
A little bit about my background: I was raised in the mid-Atlantic suburbs with occasional car-camping trips as a child and teen. My dad is a nature geek but my mom likes her creature comforts, so we never spent too much time traveling out to the mountains, just a weekend every year or two. In my late teens, I became a birder with the encouragement of my dad and bought my first pair of serious binoculars; although I'm still what I would call mediocre to middling as a birder, my pursuit of new species and habitats, combined with the freedom of a car, led me to spend more time looking for undeveloped pieces of land to observe nature's amazing diversity. Some of my best bonding time with my dad has been in the VA/MD/WV mountains as we slowly stumbled down trails, our necks cramped from looking up in the treetops for elusive warblers.
I recently moved to NorCal for grad school. Without a horse to ride - though I do not own a grass guzzler, I have been lucky enough to spend many hours enjoying nature with some amazing equine partners - and in need of stress relief and exercise, I have found myself venturing farther afield and spending more time than I imagined exploring the Coast Range. I'm far less fit and ambitious than most on here, so it was a minor personal victory for me this spring to conquer my first trail with more than 1000' ft of elevation gain and still manage to walk the next day. I go out to enjoy nature, walk a little farther than the previous outing, and clear my mind.
I am currently laid up and starting from ground zero after major back surgery less than two months ago (and several months of progressive debility before that which kept me off the trail). Among other things, I had a fusion at L5-S1; I am still in the phase where I can't even bend over to pick something up off the ground and driving for too long hurts, but I can walk, so I am trying to at least get my legs moving again. I have some residual neurological deficits in my right leg that are improving but still sometimes cause me to trip. Even so, I have been recovering faster than expected and did a fairly brisk mile the other day with just my walking stick for balance, so I have hopes that I will be back in the hills come late winter or early spring.
I see that some posters on here hike with their dogs on occasion; I have a new trail buddy to be, a 5 month old Golden/Chow looking rescue who will probably top out at a lean 70-80 lbs. June is staying with a friend until I am able to keep up with a puppy's daily antics without reinjuring myself, but she knows me as her person, already handled her first car camping trip with aplomb, and knows more than a dozen words. She is shown here at 4 months old: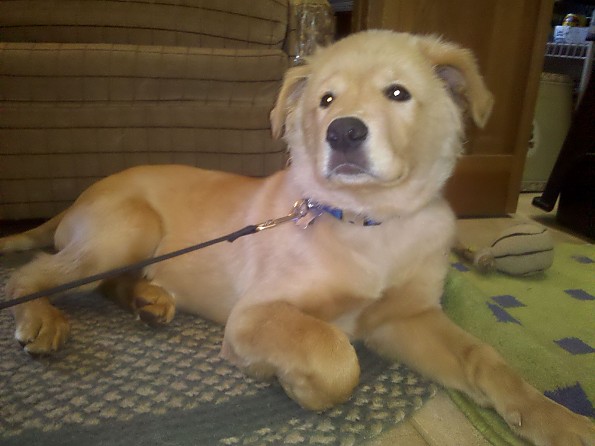 And here is a picture from a brisk afternoon hike last winter with a friend and a borrowed dog in Cache Creek Natural Area: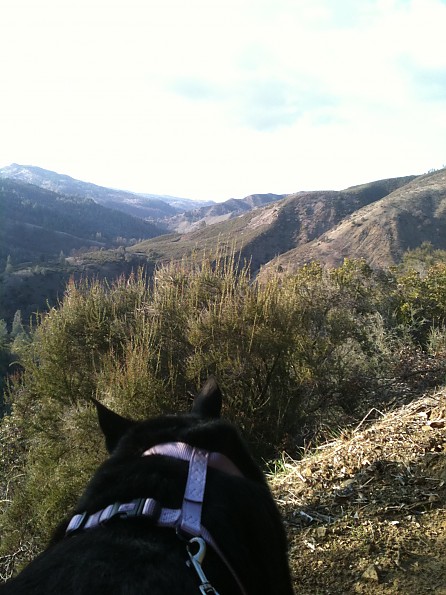 Anyway, thanks for reading.  I'm sure I'll be around with questions in the coming months.  I have already learned quite a bit, been humbled even more by what I still have to learn, and been inspired to get myself back into shape as soon as my back will let me!
- CM