9:07 p.m. on August 21, 2013 (EDT)
Well, ladies and gents?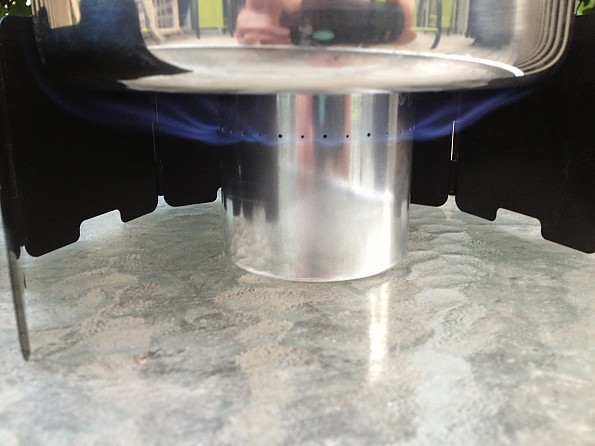 Y'all made me a believer. 
Came in the mail earlier this week, but tonight was my first time using an alcohol stove.
The model I purchased goes for $20 on eBay:
http://www.ebay.com/itm/RUCAS-Alcohol-Stove-Vargo-8oz-Fuel-Bottle-FAST-SHIP-backpacking-survival-/190872170222?pt=LH_DefaultDomain_0&hash=item2c70de2eee
Before any of y'all try to tell me this is just another pop can, cat can, Bud Light kinda stove - this one's miles away. The craftsmanship is exact and top-notch, and the aluminum is robust and durable. I'm a firm believer that people have jobs for a reason: if all a guy does all day is make alcohol stoves, I'd be foolish to think I'd do a better job than him. No offense to those of you DIY'ers out there - I just wanted to leave it to the pros on this one.
Once this is trail-tested, I'll write a full review.
Took the advice of Peter, Goose and Patman, and made sure I didn't set myself on fire lighting it. 
Put 1.5 ozs of denatured alcohol in there, lit it up with a match, and waited for the flames to come through the side burners.
Once they did, I sat my Stowaway pot atop it (filled with 16 ozs water) and waited for a boil. I wasn't paying attention to a clock, so I can't yet quote a boil time, but it was well under 10 minutes.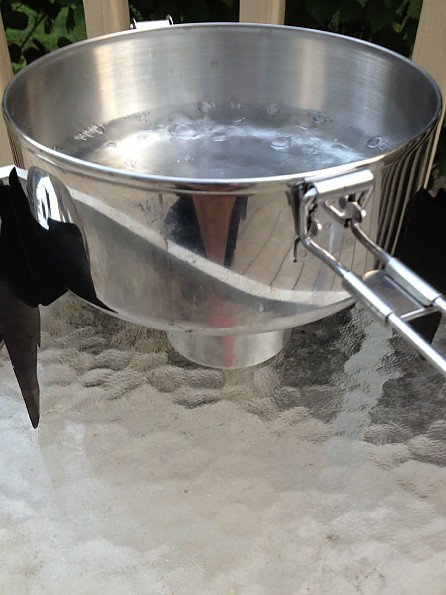 Blowing it out wasn't working for me - didn't want to set any brush on fire. Took the emptied pot, turned it upside-down, and snuffed it out that way. 
No leftover fuel, but at least I know now that 1.5 ounces of fuel will last me ten or so minutes and boil 16 ounces of water.
Like I said, I'm definitely a believer now in alcohol stoves. Clean, quiet, lightweight, "green," and precise. For boiling water or simple heat-and-eat cooking, I don't know how you could do better.