Horn Rimmed Hiker
BRAND REP
2,201 reviewer rep | 493 forum posts
3:40 p.m. on November 9, 2013 (EST)
Hey guys and gals,
Got tired of depending on the kindness of [hammock-hanging] strangers, and finally gave up tent camping.
The slight discomfort of sleeping in a cramped bivy is nothing compared to the strain a double-walled tent put on my bad back. It was an easy trade that pretty much made itself.
Poled bivy relieves a bit of that claustrophobia they can create, and the hammock tarp came from REI because, well...merchandise credit. Gotta use it sooner or later.
Decided to set it up in my backyard today. The homeowner's association has been on a deforestation kick lately, so the trees I could've hung the ridge line from are now up in tree heaven.
Have a set of trekking poles, though, and decided I'd use those.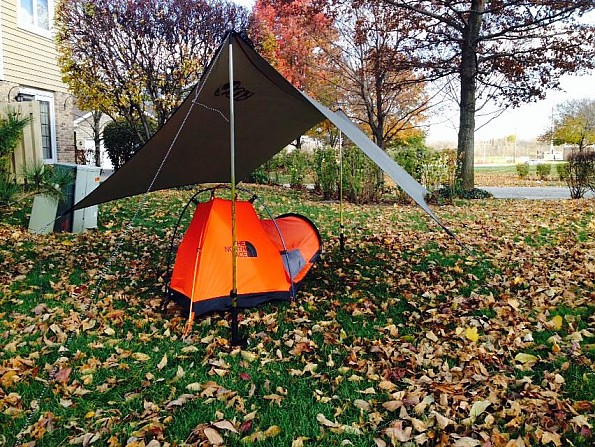 It wasn't easy.
Never pitched a tarp before in my life, much less without any trees to tie it off to. The wind outside kept to a sustained 22MPH with stronger gusts blowing in occasionally. Didn't help, either, that the soft ground didn't want to hold the stakes in place.
Note the bivy is a side-entry (and not entered from the front) and is deliberately placed off-center under the tarp to allow a bit of "living room" for cooking or the like.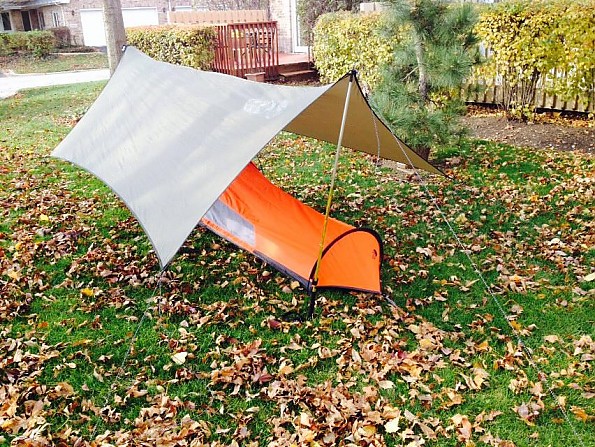 Eventually I pulled it off. Took a lot of tweaking, but pulled it off.
Any of y'all out there use a similar setup?
If so, any tips and tricks you'd be willing to share?
All would be much appreciated!
Heading to Forest Glen Preserve next weekend to hike the 11 mi River Ridge Backpack Trail with fellow Trailspace member, Joseph Renow. I'm more than sure he'll give me some pointers, but I wanted to poll the community, too, and see what y'all had to say.