12:03 a.m. on November 15, 2017 (EST)
Lighttower

0 reviewer rep
4 forum posts
I was thinking about going for a hike in March from Munich to Bern. This is the planned route: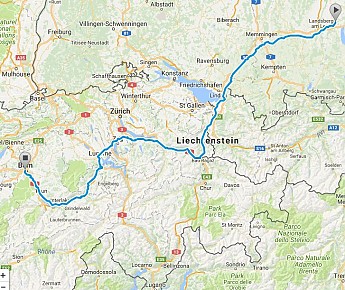 -
I am a beginner hiker I have never done anything like this before. I am quite fit and healthy so I was thinking about going 30-50kms a day, the whole route is 460km with 2 km elevation.
-
I will be carrying a tent (sleeping bag, sleeping mat, sleeping bag liner etc.), some food and water (I will be able to resupply every day except for Sundays) and I will carry a couple of other light weight stuff (first aid kit, a stove etc.), but other then those I will try to keep my backpacks weight to a minimum.
-
I have read several books on hiking, read several blogs and magazines and watched a lot of youtube videos.
I have already bought all of my gear, but I don't know yet how much my equipment will weigh, I haven`t decided a couple of things yet.
My question is: what do you think, is it possible for a beginner to hike an average of 40kms (or even more) a day on this terrain in march? I am planning my camping spots and I don't want to book a camping spot in advance and pay for it if I am still fit and full with energy and would rather keep on going.
It would be more interesting for me to keep a fast pace instead of stopping often and looking at everything.
Thanks for any advice, comments and criticism!