6:55 a.m. on December 12, 2011 (EST)
apeman

0 reviewer rep
1,419 forum posts
Top of the day to you all,
I recived a backpack and pair of shoes from doug4566 and am posting these item's for PIF.  All PIF rules apply including that you must have 50 postings or more.  Any items left after a week that none have claimed will be open to all.  I'll post as they are PIF'ed away.  Recipient has to just pay actual shipping costs.
As New: in box Jansport Hydration waist pack. Two water bottles and a storge pack in between.  Lifetime wattanty
As new: in box pair of Yaktrax size small mens 5-8.5 womans 6.5-10, black.
1 pair of well used Pivettas they look like 8's to me inside measurents from toe to heal 10.5 for wide feet. let me know.  They still have a lot of life left in them.  Let me know if you need more picts.
Rapid car charger for Nokia cell phone will work with series 252,282,3000,5100,6300,7000,8000,1260,9290,6590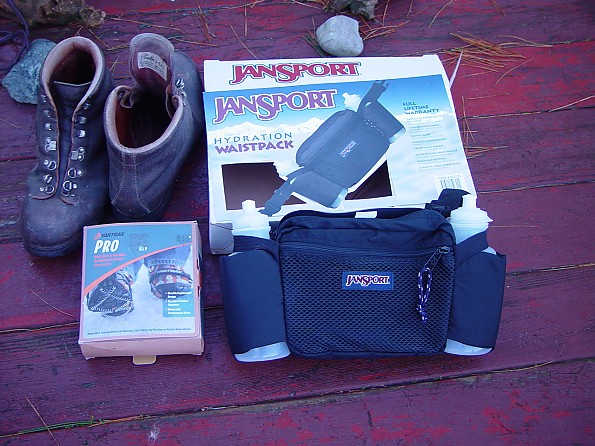 PIF is "Pay It Forward." When you have extra gear or want to help a Trailspacer who can use it these rules apply.
You put the gear you want to PIF in the classified section and list these rules:
Recipient has to just pay shipping, which is actual, non-inflated cost.
Recipient must list a piece of gear which is equal or lesser value as another PIF.
Recipient must be a member in good standing.
PIF item needs to be listed 24 hour before your item ships.
List PIF rules when you post your item.
Gear must be serviceable and can be used, but not broken.
Person who PIFed can ask for a donation to a listed org on the website here at Trailspace in lieu of a PIF item you might not have. Access Fund would be an example.
The purpose is to keep useable gear in circulation and to help fellow members.