12:23 a.m. on December 16, 2011 (EST)
pillowthread

TOP 25 REVIEWER
REVIEW CORPS
2,570 reviewer rep
1,407 forum posts
Up for your consideration is the eighth full-Spectra backpack Kelty ever made. You've potentially heard of The White Cloud; this one was produced before The Cloud, and in even smaller quantities: The White Phantom. Now, I don't mean this is the eighth model of full-Spectra packs Kelty produced…This is the eighth pack that rolled off the line, during the first year of production, for the first model pack made of full Spectra, ever. The eighth full-Spectra pack Kelty ever made…you might even call it a pre-production prototype (more on this later…).
I hate to have to sell it—I'd keep this pack forever if I could—but the torso is just a bit short for me. This is a fixed-length torso pack which was originally advertised to fit a 16"-19" torso. Well, I've got a 19.5" torso, and I thought it might work, but it's ever-so-slightly short for me. The belt and shoulder straps are absolutely perfect for me, I'm just a bit tall. For reference, I'm 6'-1", and 165lbs. If you're 6' tall or shorter, this pack will likely fit you wonderfully.
This pack belongs in a museum, and, barring its destruction through use, it will be in a museum some day. Until then, however, it is going to make someone very happy. This is still one of the finest Alpine packs one can buy; at least equal to the best offerings from McHale and CiloGear. It is in my opinion however, better than those packs due to the fact that only the Phantom uses all-Spectra construction: everything from the backpanel, to the shoulder strap lining, to the hip-belt is Spectra. Even the webbing is Spectra. Every stitch of thread is Spectra. No other pack manufacturer can claim this. The only things on this pack not made of Spectra are the metal stays, the plastic framesheet and buckles, and the foam padding. Spectra is an especially unique fabric for pack construction because it is functionally indestructible. It is the most durable, hard-wearing fabric available: it is even rodent-proof! That's right…fully secured, this is a rodent-proof pack. The now-ubiquitous food-stealing chipmunks can be blissfully ignored when you use this pack. Additionally, it is extremely resistant to UV degradation, extremely water resistant, nearly stain-proof (really, you just wipe it clean with a wet rag), and it floats!
For additional information on this spectacular pack, check out the following page: http://www.weasel.com/gear_kelty_spectra.html#phantom_1998. In it, you will see that the first model of pack they list, chronologically, is the White Phantom (1996 model), and even those are younger than the one I'm selling, as is evidenced by the non-spectra backpanel/straps/hip-belt, and different-colored compression straps. You will likely never see a backpack like this again, because this may be the only one of this type still in existence; every single picture I've seen of another White Phantom  looks like the ones in the link, so when I saw this one, I knew it was quite unique indeed (and I like the color blue, so…).
The bottom and lower rear of the pack feature a double layer Spectra construction (unlike the packs referenced in the above link). The area around the top drawstring is doubled as well. Every single high-stress area is bar-tacked. Packs like this helped coin the term "bomb-proof". This pack is some 16 years old, and it looks nearly new. I am the second owner; the original owner bought it for a Denali expedition, did a training hike with it, and then the trip fell through. It sat in his closet for the next 16 years. I bought it from him a few months ago, took it on a weekend trip, and immediately realized it was a bit short for me.
The pack's design is fairly Spartan: Aside from the main compartment, there is a zippered lid compartment, and that's it. There are three webbing straps that circum the pack at the top, middle, and bottom to allow for both additional gear storage and compression. Another webbing strap under the lid secures a rope, pad, or whatever else you want to have close at hand. Two vertical Spectra daisy chains allow for even more lashing points, in addition to myriad other attachment points. The capabilities of this pack are only limited by your imagination. The capacity is about 70L, or 4500 cubic inches, and the compression system gets it down to maybe half that. It weighs about 2-1/2 lbs. empty, which is downright stupid-light for a pack of this capability.
The pack is in nearly-new condition, with just a few marks on the pack bottom from setting down on the ground. Otherwise, there are no holes, rips, tears, stains, or anything on this pack. When I received the pack I was not happy with the density of the open-cell foam backpanel, so I removed it and replaced it with a sheet of 3/8" Plastizote foam perfectly cut to match. The backpanel is now removable, to be used as a sit pad or emergency bivy pad. The single, pre-bent vertical stay is removable, and can be further adjusted to perfectly fit your back. This pack is certainly the best example of these early Kelty packs that I have ever seen, let alone had the pleasure to own.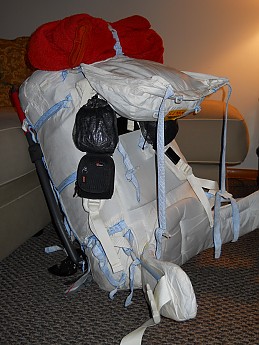 So, before you go spending a couple thousand dollars on a "full" Spectra McHale, or $1500 on a "full" Spectra Cilo Gear, please do yourself a favor and consider what I have here. You will not be buying this pack for what it's worth now; you will be buying it for what it is, and for what it will be worth in the future. Accordingly, I will not currently accept less than $800, plus actual shipping, for this pack. Please do not embarrass yourself with low-ball offers. You know you want it, and you know what it's worth. In five years, this pack will be worth double what I'm asking. For your safety and mine I will only accept payment by PayPal.
If you have any questions, need clarification, or want to see additional pictures, please let me know! I want to make sure you know exactly what you're getting! I have done my best to represent this pack accurately, and want to make sure you feel the same. With any luck, someone from the Kelty family will see this and chime in with additional information, and/or correct anything I may have misconstrued (as my knowledge of these packs is largely based on the above-referenced website…and info I've gleaned here on Trailspace).
Note: Items shown with the pack (including the cuben shoulder-strap pockets) are not included in this sale, and are shown only to impart a sense of scale. Thanks again for looking!