8:32 p.m. on June 8, 2012 (EDT)
EtdBob
179 reviewer rep
192 forum posts
Swedish Optimus 8R for sale – 80  dollars plus actual shipping - - 
This is the "R" version with the built in cleaning needle.
I purchased this stove new back in the early 90s.
When it comes to backpacking stoves, I've been a dedicated MSR Wisperlight user since 1985.
But way back when in the 1970's when I was a kid I had a sterno stove, cheap cotton sleeping bag and canvas rucksack, and one of my older brothers who was also into backpacking had a nylon backpack with an actual frame, a compact down sleeping bag and this marvelous blue steel box that contained a beautiful brass stove – That's right, he had an Optimus 8R!
How I coveted that 8R, and I'd sneak into his room to mess around with it whenever I could. Of course he would kick my butt whenever he caught me!
The Swedish made Optimus 8R and the Svea 123 were decades long backpacking standards, but by the time I grew up they were getting hard to find. So when I came across a new still in the box 8R I simply had to have it! Compared to the MSR Wisperlight it isn't quite as hot or as light. However, it doesn't need to be put together every time you need to use it and taken apart afterwards, so it's much less of a hasel to use. Also, it has but one moving part, the valve, so this is as reliable a stove as can be.
It has no pressure pump, but instead you must prime this stove with a little fuel and light that first. The heat of the burning fuel pressurizes the brass fuel tank, and after a few moments you open the valve, light the main flame and start to cook.
Priming the stove –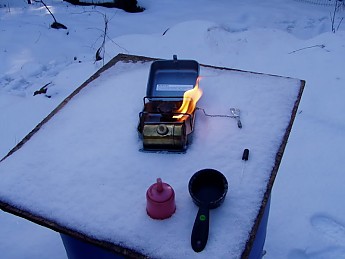 Full roar at night –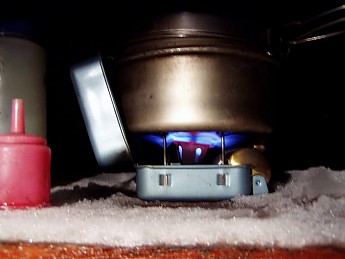 What it looks like during the day –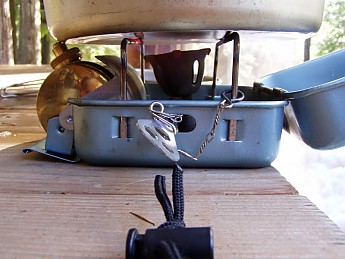 I have enjoyed owning this fine old Swedish stove, but still mostly used my MRS stove for it's lighter weight,  I and have been getting into alcohol stoves for ultralight summer trips.
I'd just keep it, but rather than have it gather dust and never used I'd rather pass it along to someone who will appreciate it and make use of it. We live in a small strawbale cottage without a single closet, attic or basement, so we can't keep stuff just because "it's cool".
We have a strict "two year rule" – If something doesn't get used in two years we pass it along.
But having a stove that can run on car gas can be handy - 
In 2010 I and a friend went on a mountain bike trip across the interior deserts of Iceland!
Preparing for this trip I realized that I could not take stove fuel with me on the airline, and as Iceland  is dang near uninhabited outside of Reykjavik I probably would not be able to find stove fuel.
So I needed a stove that operated on the most widely available fuel of all, automotive gasoline. 
The 8R is designed to operate on white gas ( Coleman fuel )   but several weeks of experimenting revealed that it runs just fine on car gas as well.
So, this 8R was the stove that I took on an epic journey across Iceland!
That's me cooking over it in Iceland –
The fish are frying in the foreground on my friends propane stove. We bought one propane canister for him in Iceland, and it cost us 3,000 Ikr! ( about 30 bucks ).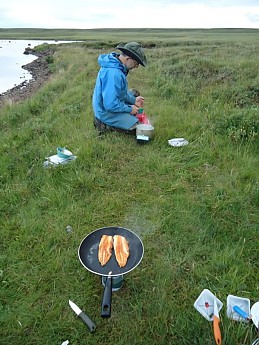 I never did buy gasoline to run this stove on that trip. At a campground in Reykjavik I scrounged up a bottle of some odd European stove fuel that smelled more like kerosene but worked well ( Please note this stove will not operate on pure kerosene, don't try it! )  and later on in the journey we came across an abandoned gas can that contained just enough old stale gas to operate my stove for a few more days!
So this rugged little stove has traveled 300 miles by mountain bike across the interior of Iceland, then by boat to Grimsey Island on the Arctic Circle!
One well-traveled stove, eh?
Made in Sweden and so marked, these stoves originated in the early 1930s and were manufactured for a good long time.
They passed out of production some years ago, but they were widely used and are not rare. Examples may be found on Ebay for about  this prices, give or take, maybe plus shipping.
I think I paid 86 bucks for this stove when it was new.
Sadly I no longer have the original box.
Possible trade items might be an original Golite Breeze backpack in very good shape, or a GoLite Cave.