6:25 p.m. on December 30, 2013 (EST)
pine sap

0 reviewer rep
711 forum posts
I'm selling my Marmot 8000 Meter, 800 fill power, goose down insulated pants. As many of the followers here know, these pants are designed for the coldest and most extreme of environments: expeditions, mountaineering, winter camping, snowmobiling and outdoor work in the winter. I have used these pants 2 times winter car camping and they are in new condition. No dirt, stains, burn holes or blemishes of any kind. Super puffy and seriously warm. Box baffle construction, waterproof/breathable, mini ripstop Membrain outer shell, full side zips with inside insulated draft tube, reinforced seat and knees and elastic waist with velcro closures.  Modified bib design with suspenders. Size large. Color is mango with red reinforcements on the seat and knee's. Pants are in Estes Park, CO. Asking $325.00.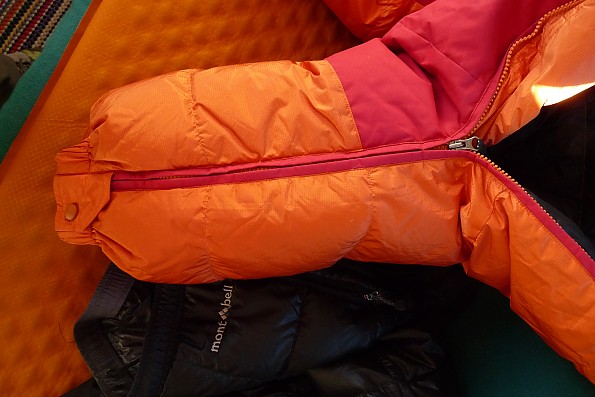 Marmots  Description:

Features
◦Marmot MemBrain® Waterproof/Breathable Fabric - Marmot MemBrain, Waterproof/Breathable Fabric
◦800 Fill Power Goose Down - The Best Down Available for Maximum Warmth, Guaranteed Minimum Fill
◦Reinforced Seat and Knees - For Extra Abrasion Resistance
◦Baffled Construction - For Maximum Control of Down
◦Waist Closure w/Snap - Simple Secure Way to Keep Your Pants Up
◦Lycra® Front and Back Panel with Adjustable Suspenders - Lycra Front and Back Panel with Adjustable Suspenders
◦Full Side Zips - For Ventilation and Easy On/Off
◦2 Interior Velcro® Closure Pockets - 2 Interior Velcro Closure Pockets
◦Stuff and Storage Sack Included - Store and Pack Just Like Your Sleeping Bag
◦Insulated Draft Tube - Eliminates Cold Leaks Through the Zipper
◦Insulated Kidney Panel - We Try to Protect All Your Body Parts

Weight:◦2 lbs 1 oz / 935 g
Main Material:◦Membrain® 2L 100% Nylon Ripstop 3.3 oz/yd
Reinforcement Material:◦MemBrain® 2L 100% Nylon 4.0 oz/yd
Lining Material:◦100% Nylon WR 1.3 oz/yd
Insulation Material:◦800+ Fill Power Goose Down

Marmot MemBrain®
MemBrain® fabric balances the best performance in waterproof, breathable fabric with excellent durability.

MemBrain® reduces internal condensation while increasing comfort by reducing the chilling effect caused by condensation build-up.

When used with insulated garments or sleeping bags, MemBrain® protects the insulation from harsh weather conditions.