2:23 p.m. on May 6, 2014 (EDT)
GaryPalmer

244 reviewer rep
5,257 forum posts
I bought a Golite Shangri-la 5 tent last summer but have decided I want something different. I am looking to either sell it or trade with someone for a good lightweight self supporting tent. I camp so much in sandstone canyon country I need something that doesn't have to be staked down to stand on its own.
It sleeps 5 people yet only weighs 5 lb 10 oz and stuffs small into two bags. 
It comes in two parts, the external rain fly which can be used alone. And the inner bug netted/bathtub floor which can also be set up without the rain fly. It has one center pole and 9 stake out points.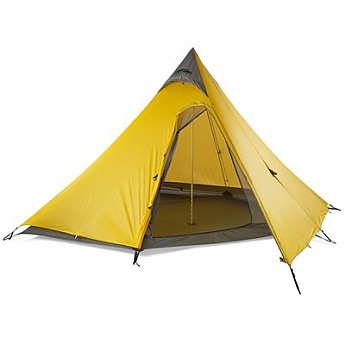 Its color is Bamboo like the image above,looks like gold when you see it in person. The floor is black and it has two ventilation area at the top to let perspiration and condensation out. The inner single pole can be removed and the tent suspended with a loop on the outer top from a limb above.
Its 73 inches tall making standing up easy inside. and it has 90.42 sq. ft | 8.4 sq. m or floor space as much as a similar dome tent but much lighter.
You can see more information including a set up video at:http://www.golite.com/Shangri-La-5-Tent-2014-P46714.aspx 
At Golite it is $350 now, I am asking $300. It is in new condition, never actually used. I sat it up once in my yard when I got it.
If you want to trade, I would like to get a good two person self standing tent for it.