3:12 p.m. on April 25, 2015 (EDT)
GaryPalmer

244 reviewer rep
5,429 forum posts
FS:  Marmot 2 person Swallow Tent
Marmot Swallow Tent Review
Marmot Swallow Review: 2p Camping Tent
A Marmot Swallow Tent is luxury on a mountain. Read our Marmot Swallow review & learn how spacious, Marmot Swallow 2P tent convert to battle any weather
The Marmot Swallow is a versatile tent that successfully battles any bad weather you might encounter.
The Marmot Swallow 3P Tent
In almost any kind of weather, under most conditions, and converted to suit your every need, both the Marmot Swallow 2P are miracle workers.
With plenty of elbow room on the inside, and superb protection from the elements on the outside, you may find yourself too comfy to leave your tent when the day's begun.
Not quite as lightweight (7 lbs 10 oz packaged) as other Marmot 2-person tents (like the Marmot Alpinist tent), the Swallow is still very portable and small.
But the best reason to consider the Marmot Swallow over its competitors is its extraordinary adaptability.
Whether you're sleeping the cold, in the rain, or in the humid heat, the Marmot Swallow tent can be converted to suit your needs.
Marmot is known for high quality in design and performance, and the Swallow is a winning example of just why that's true.
Marmot Swallow Tent Review
This shelter is a great product for every kind of camping enthusiast (from beginner to fanatic). A few of the Marmot Swallow tent's greatest benefits include:
Temperature Control- Keep warm or stay cool with the Marmot Swallow
Versatility - It's a convertible tent that adapts to your needs.
Ultra Quick Assembly- No fuss, no mess, just shelter.
As flexible as it is, though, it's important to bear in mind that the Marmot Swallow tent is a 3-season tent. Though wonderful in summer, perfect in spring, and suitable for the fall, this tent is not capable of handling winter conditions.
That aside, the Marmot Swallow  2P tent allows you a lot of control over the interior temperature. It will keep you toasty warm during cold nights, while nice and cool in summer afternoons.
Marmot Swallow 2P Tent Specifications
Area: 37 square feet
Height: 3 ft 6 in
Floor Size: 7'8" x 5'6"?
Weight: 7 lbs 2 oz (packaged weight: 7 lbs 10 oz)
Pack Size: 8 by 20 inches
Number of Windows:
Number of Doors: 2
Sleeps: 2
Seasons: 4
Pole Material: Featherlite Aluminum (DAC)
Vestibule Area: 10 sq ft.
Marmot Swallow Review: Advantages
Did we mention this tent was versatile? Here's how...
An improved rainfly on this model of Marmot tents keeps you warm and dry during those cold nights.
And a large ceiling vent can be opened during warm weather to give you the breeze you need, as well as a view of the stars in the night sky.
The large front door can be rearranged to form two smaller doors, the vestibule can be reformed to create a spacious dining area under an awning, and the top of the Swallow can be opened for nighttime stargazing or simply feeling the breeze on a warm summer night.
Yeah, it's versatile.
Here are the
Has this Marmot Swallow review been helpful?
As compared to other backpacking tents, the Marmot Swallow 2P is quite heavy (7 lbs 10 oz).
While it certainly isn't too heavy to take along the trails, it does tend to drag you down a bit.
If the versatility factor doesn't matter much to you, you may want to look for a lighter shelter (like the Marmot Limelight Tent) if you plan on carrying it with you.
Marmot Swallow Tent:

Convertible
Easy assembly
Great fly design
Ventilation
Summary:
The Marmot Swallow 2P  Tent is an amazingly versatile backpacking tent that can shift its shape according to your needs.
Its high quality design and excellent performance makes this shelter one of the best from a company who consistently makes the top tents in the business.
If you don't mind the extra weight, then you may just find a perfect match with the Marmot Swallow 2P tent.
Top front view of Swallow 2p tent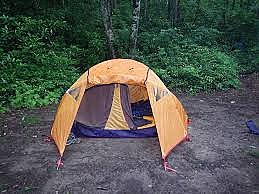 With rain fly attached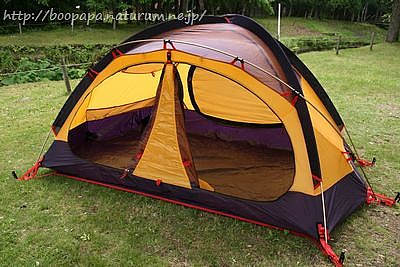 It has the option of two doors or one huge door on one side or a single door on the other.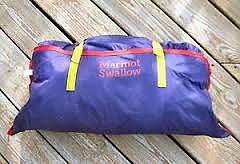 The tents storage/packing bag

Bought for $300 new

Tent is in new condition, no tears,zippers all work, needs its 6 stakes replaced. Not sure where they are.
Asking $175 plus shipping. OBO
Postal money order's work best for me...