8:50 a.m. on October 25, 2015 (EDT)
JRinGeorgia

2,017 reviewer rep
396 forum posts
All items include shipping CONUS or anywhere that rate applies, If you get more than one item shipped together that shaves my cost and I can share savings with you. Paypal with family/friends option or add 3%. Please let me know if you have any questions about any items. Thanks!

* * * * * * * * * * * * * * * * * * * * * * * * * *
REI men's Radiant 20F mummy sleeping bag, regular length. $135. 650fp goose down, weight 41.7oz on my scale. Black inside, two-tone blue outside, left zip. Roomy cut for a mummy bag. REI website has 34 reviews on this bag averaging 4.4 out of 5 stars. Here is a link to REI's original info page. Clean, excellent condition, no visible wear, full loft. Used only 3 nights on the trail plus a couple of test-drive nights indoors at home, never near a campfire, always on an air pad, stored uncompressed in a smoke-free home. Includes original stuff sack and cotton storage bag. More pics here: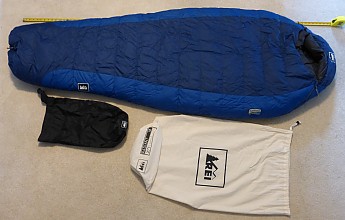 Complete UL cook kit, $35. Pretty much for water boil only, you may be able to stretch its uses. Includes:
     - GSI Halulite kettle 1L anodized alloy
    - Alcohol stove (Whitebox style)
    - Tooling foil windscreen
    - Heat shield base
    - REI polypro mug 12 fl oz (BPA free) w/measurement marks
    - Stove snuff (cut soda can)
    - Fuel measuring cup
Everything fits inside the kettle (even the bail). Base cook kit (kettle w/lid+bail, stove, windscreen) weighs 7.9 oz, total kit is 10.1 oz.. Used for about two dozen total boils, works great. The kettle bail has an insulator coating that is a little singed on the end, no performance issues. Mug measuring marks have been enhanced with shallow dremel grooves and silver Sharpie. More pics here: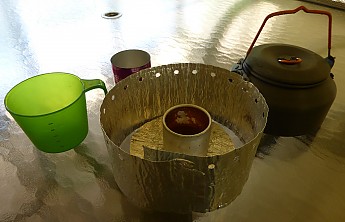 Sea2Summit eVent waterproof compression sack, 14L, $30. Used once, magic marker in one spot to scratch out my name otherwise like-new condition.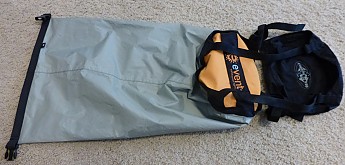 Girls wool hiking socks, 2 pair REI merino and 1 pair SmartWool, all girls size L, 3 pair for $25.