Bill S
REVIEW CORPS
4,552 reviewer rep | 6,037 forum posts
2:04 p.m. on December 9, 2011 (EST)
Last night, Barbara and I went out to Sunrise Mountaineering to see a talk by the legendary Fred Beckey - 88 yo, still climbing hard. I have known Fred for a couple decades. I have climbed a number of his first ascent routes, though I have never climbed with him. The majority of his climbs have been in North America. His 3-volume guidebook to the Cascades is the classic example of what a guidebook should be.
The photo below is of me on the left (in Trailspace cap), E.C. Joe (middle, my partner in BSA Climbing Instructor courses, and responsible for a number of first ascents in the Sierra backcountry), and Beckey on the right. [corrected the order - hey, from my point of view, I was on the right and Fred was on the left]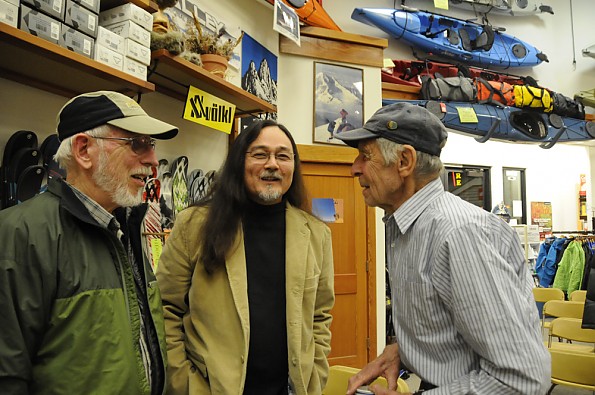 Sunrise is one of the two remaining specialty climbing shops in the SF Bay Area, with a major sideline in kayaks (note the kayaks on the wall in the background). Sunrise is turning to "The Dark Side" and going on line in the next couple of months for ordering (they already have a website). As Kim (co-owner with his brother) said, ya do what ya have to to stay solvent in this day and age.
Speaking of solvency, The American Alpine Club is sponsoring a project to make a film about Fred. Here is some information about the film project and how you can help by donating to the video project.