Bill S
REVIEW CORPS
4,552 reviewer rep | 6,037 forum posts
9:52 p.m. on February 24, 2013 (EST)
Last night, Barbara and I had dinner with a few friends (about 700 of us) to celebrate the 50th Anniversary of the American Mount Everest Expedition in 1963. This photo shows Barb and me with four of the expedition participants: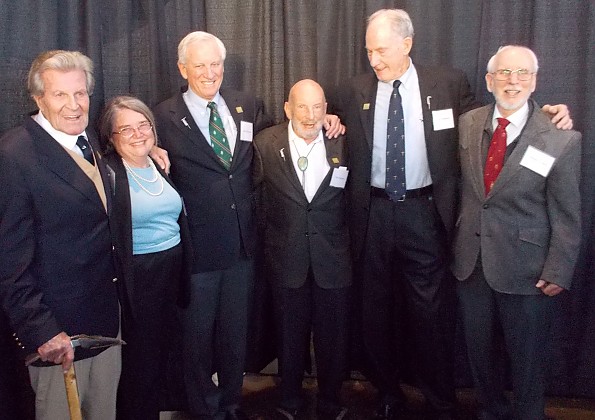 From L to R, Norm Dhyrenfurth (expedition leader), Barb, Dave Dingman (one of the MDs on the expedition), Tom Hornbein (did the first ascent of the West Ridge with Willie Unsoeld), Jim Whittaker (first American to summit Everest), and me.
The AAC Annual Meeting filled the weekend, with a number of presentations focused Everest and the American expedition in particular. We got to meet with a lot of old friends and visit with them (including two of the party in the photo).
One piece of business was discussions of this coming summer's Climber Science Program. I will be heading back to Peru again with the program, where we will be doing environmental studies of the Cordillera Blanca section of the Andes, in Huascaran National Park, from the valley floors to the summits (some over 20,000 ft). My first trip down there for the program was in 2011. You can learn more about the program on the American Alpine Club's website. You can help support the science being done with a donation. All participants (the climber-scientists) pay our own way, so donations go directly to the science.