8:14 a.m. on September 13, 2013 (EDT)
Dave MacLeay (Dave)

346 reviewer rep
982 forum posts
Giftogab raised some important questions in Rick's farewell thread. I didn't want to sidetrack that thread with my lengthy reply, but she hit on several topics here that are really important to the lifeblood of this community. All are things that we take very seriously, and spend a lot of time thinking about and working on.
In this post I'll try to explain my perspective on these issues, and lay out some of the big questions that Alicia, Seth and I have been thinking about. We would love to hear thoughts from all corners of the community on these issues. Consider this thread an open brainstorming session.
Member turnover
Losing valued members is always hard. We would all like for good people to stick around.
Unfortunately, turnover is normal in any community, real or virtual. It's been happening here since day one. At some point each of us will pay our last visit to Trailspace (though hopefully that doesn't come too soon). People move on for a wide variety of reasons, often for reasons far removed from the day--to-day goings on here. Sometimes with a bang, more often just gradually moving on to other things. Old friends head out, and new ones arrive.
One of our goals is to make Trailspace a comfortable and engaging place where people do want to return and remain engaged. If valued members of the community are leaving because of things that we're doing (or not doing) we want to know.
Are there specific things about Trailspace that might be driving good people away, that might be leading to higher turnover than necessary? What are they? How do you think they should change?
Looking at it from a different perspective, what sorts of new things could we be doing to keep knowledgable, experienced people more engaged in the community? In a nutshell, how do we keep good people around?
New members
As some members inevitably leave the community, it's vital that new voices join the conversation, fill gaps in our collective experience, and provide new and diverse points of view. Of the 2,500+ members who have posted a review or a message in the forums this year, only 5 were also active during our first year, 2001. All of us were new here at some point, and without a constant influx of new voices, Trailspace would be an empty and dull place indeed.
Attracting new members and encouraging them to participate in the community is probably the central challenge facing Trailspace today. For many years we were blessed with lots of visitors from Google. Many who found Trailspace through their searches decided to stay and participate, keeping the community growing sustainably for many years.
That changed in early 2011, when Google made a change to their system of ranking search results. That update (known as "Panda") cut deeply into the number of people visiting Trailspace. With fewer people visiting the site, fewer became members, and fewer still participated in the community. For much of 2011, and early 2012, new member participation plummeted, and we're still feeling the effects today.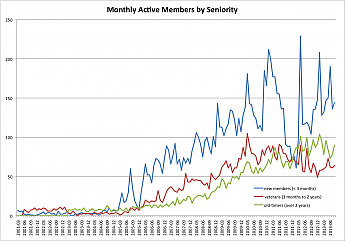 Getting qualified people onto the site is the first step in finding new members, tomorrow's old friends. It's a big challenge.
What can we, as a community, do that will attract good, new people to Trailspace? How do we spread the word that Trailspace is a great resource for finding and sharing great outdoor gear and experiences? How can we get more people here reading the reviews and forums?
Contests
The number of people finding Trailspace through Google is still far below its pre-2011 levels, but we've tried a number of approaches to get those visitors involved and active in the community. Among the most successful approaches has been the review contests. Since we started running them regularly in mid-2012, the contests have, in fits and spurts, increased participation significantly. Not only is participation up among new members, but also among people who have been part of the community for years.
Trailspace needs a healthy mix of new community members and veterans to survive. While the contests have been successful, we're still barely holding even. The number of active new members is just enough to make up for those who leave the community. I am not entirely at ease with the contest concept -- I'd much rather that people were writing reviews out of the pure goodness of their hearts. But at this point the contests are, frankly, fairly critical to the site's survival.
I'd welcome alternatives. What other things can we do to encourage those who are already visiting to share their own reviews, or to ask and answer questions in the forums? How do we reach out to qualified people, welcome them into the community, and encourage their participation?
Review quality
I'll just say it: there are reviews on this site that make me cringe. Short, poorly-written, barely-informative reviews. There are also masterpieces: words, photos, videos, and experiences spilling off the page. And everything in between.
We want Trailspace to be a useful resource for finding and sharing gear. Lousy reviews aren't very useful, and review quality is a topic we take very seriously. In the last couple years, we've taken a number of steps to encourage higher-quality reviews, including additional form fields -- summary, pros, cons -- and category-specific tips built into the review form. Very recently we started encouraging new members to register using their real names and link their Trailspace accounts to their social media accounts, to improve transparency and accountability.
When we started running the write-a-review contests, I was very concerned that we would attract a large number of low-quality submissions. However, average review quality has actually gone *up* significantly since we started doing contests. While we still see the occasional one-liner review, they're submitted in much smaller proportion than ever before. By both of our internal measures of review quality, the reviews written in 2013 are the best in the 12-year history of Trailspace.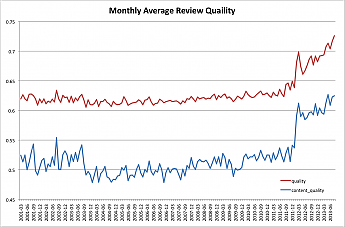 Quality, trust, and authenticity are tough areas to police, and while I'm sure that we don't catch everything, we are trying. Among other measures, Alicia reads every review that is submitted; she and Seth regularly follow up on reviews of dubious origin. The moderators are empowered to delete spam and disable spam accounts. Over the years we've caught and removed nearly 3,000 submissions (about 10% of the total submitted) that violated the Community Rules or Review Rules.
There are certainly some that have slipped through, and I'm sure that with your help we can do better. If any member has concerns about a review, there are a number of ways to take action: to provide feedback on a short, confusing, or poorly-written review, you can post a comment for the author, downvote the review, and/or upvote other reviews of the same product. For more serious concerns -- if a review violates the Community Rules or Review Rules -- you can always contact a moderator or staff member with your concerns and we will take appropriate action.
How can we better identify reviews that may be deceptive or manipulative in nature? How do we educate and encourage members, new and old, to share their experiences in positive, authentic, and helpful ways? What sorts of things do you think we could do to keep the quality high, while still making it reasonably easy for new members to participate?

Okay, I've gone on longer than I probably should have here. I hope this is a reasonable overview of where our internal thinking stands. I'd love to hear your ideas for addressing these important questions. With your help, I'm sure we can make Trailspace even better for all.
Thanks
-Dave