Rick-Pittsburgh
1,731 reviewer rep | 3,962 forum posts
2:53 p.m. on May 2, 2013 (EDT)
So I recently snagged up a pair of La Sportiva Pamirs to replace the Scarpas that no longer fit me correctly. (More on that here.)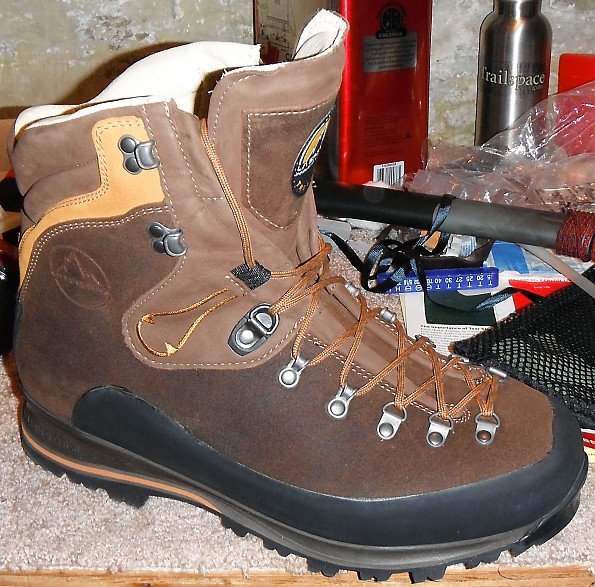 So far I really like them a lot. They are a substantial boot that is for sure and the fit couldn't be better and they are made in Italy. :)
With different leathers comes different ways to maintain them. 
I am typically an Obenauf's Heavy Duty LP user on my FGL boots and I am a stickler when it comes to maintenance of any of my gear. I am not a fan of membranes(gtx, etc) so leather treatment is all that much more critical for optimum on-trail performance for me.
I contacted La Sportiva and inquired about what would be the proper product to use on these boots and also asked if the Obenauf's would be okay to use. 
I received a response from La Sportiva that the Obenauf's is a no fly zone due to the oil content in the product and that Nikwax Aqueous is the way to for on this model. 
Okay, great but one problem...
The inner lining which is calf-skin also needs a lil love and I typically treat leather inners with the same product that I do the outer boot. 
Aqueous is a sponge on product that I am not really familiar with. I am thinking that being it is a sponge on product that it has the sponge built into the bottle(like a bingo blotter.)
So should I just squirt it out and apply it with my fingers to the boot lining or should I use a different method(or product?)
Seems like a pretty simple question but I would like to hear from others out there that have treated leather footwear liners in the past. 
Also if anyone has come up with any good ideas/methods for periodic cleaning of calf-skin liners in boots I am all ears. 
I have a method of doing so but that doesn't necessarily mean my way is the best way. 
Thanks TS.