8:38 a.m. on July 21, 2015 (EDT)
Drewski Diver

0 reviewer rep
2 forum posts
Hi All: I could use some help on tent floor refurbishing if anyone has experience in what I'm about to describe. I use a North Face Expedition 36 tent (10 years old) for car camping and winter time group backpacking on the trail. It's larger and heavy, but no problem when packed across 3 people. It's a bombproof and very stable shelter, best I've ever owned.

Unfortunately, the floor and fly were worn. North Face replaced the fly under their lifetime warranty, but could not replace the tent because they no longer carried spares in stock. The wear on the floor is limited to the interior urethane floor coating. Everything else is fine.

To recoat the floor, I need to remove the urethane. To do this I'll be soaking the floor fabric in a Woolite bath for 6 hours, then washing the tent in a front loading machine. What's left of the coating will be removed by rubbing it using a towel with an isopropyl alcohol solution, followed by drying. 

OK, so, in theory, I should have close to a "clean" nylon floor when finished (these tents have 70D 210T nylon taffeta floors) because the urethane coating delaminates easily when soaked and washed. I have two choices for refinishing, an interior water based urethane coating ("Tent Sure" by Mcnett) or the system I use for coating my back backing nylon tarps (1 part silicon to 3 parts mineral spirits) applied to both the interior and exterior floor, which I prefer.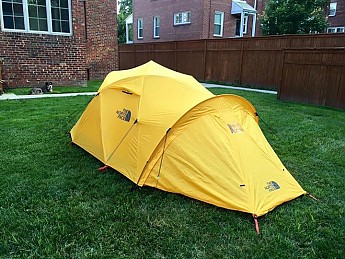 Here's my problem. I've searched just about everywhere but can't find anyone who has tried recoating using silicon after removing a urethane treatment on a tent floor. I have some test material I can try this on first, but I thought I'd post this to the group to see if anyone else had experience. All responses appreciated and respected!