Ianw
565 reviewer rep | 13 forum posts
4:12 a.m. on October 29, 2017 (EDT)
If you are into lightweight hiking, carrying 1.5 kg (3 lb) of DSLR doesn't look like a good idea. Fortunately there are now small, lightweight cameras with 1 inch or lager sensors (e.g. the Sony RX100 series) that provide good image quality, in my view at least equal to a middling DSLR with a kit lens. You can also fit filters to these compact cameras using Lensmate adaptors. Compared to the average point-and-shoot or phone, they have bigger sensors, better lenses and typically only weigh about 300 g (10 oz), a third to a fifth of a DSLR.
These small cameras take great photos but for use in the wild they have a major drawback: no protection against dust and rain unlike the better DSLRs. After having lost one camera to dust and two to water, I decided I needed better protection. There are commercial weatherproof bags available (e.g. Ortleib) that offer solid protection but they come in a limited range of sizes and can weigh as much as a small camera.
After trying a variety of approaches I invented this: A simple modification of a standard non-weatherproof camera case that provides protection against rain, dust and a little dunking in the sea or river. It also adds virtually nothing to the weight of the basic case. I have used this and a similar case for about two years now in lots of adverse conditions including New Zealand's notoriously wet Milford Track and two weeks in typhoon rain on Japan's 88 Temples walk with no problems other than what to do in the rain when you take the camera out of its case.
This is what I used:
Standard camera case: Lowepro Dashpoint Camera Pouch. This is fairly light weight and well padded, fits compact cameras well but has a fiddly zipper that is hard to close one-handed. Nothing is perfect. Weight: 61 g (2 oz).
Drybag: Exped Fold Drybag UL (ultralight) in XXS size. This is made from 15 D ripstop nylon, is light weight, flexible and waterproof with the top folded. Weight: 12 g (0.5 oz).
Velcro: One piece of 50 mm (2 inch) wide loop Velcro and one piece of 20 mm (3/4 inch) wide hook Velcro. Weight: negligible
The result is a weatherproof case that I can carry attached to my backpack strap in all weathers . Mine weighs 73 g (2.5 oz) and cost me about $AU 40 for case and drybag.
Here's how to make your own:
That's it. When the seam sealant and glue have dried, fit the drybag to the camera case using the Velcro, put your camera in, roll over the top of the dry bag and push it over the end of the camera to make a neat fit.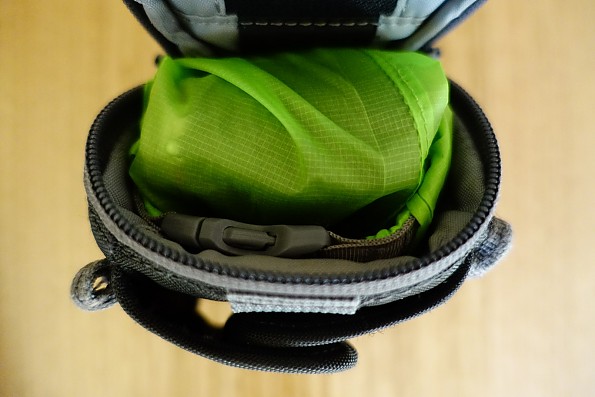 In dry weather you could remove the drybag but I just push it into the bottom of the case and put the camera in on top of it.