JasonLooseArrow
0 reviewer rep | 40 forum posts
3:20 p.m. on January 30, 2012 (EST)
OK, I have a virtually non-existent backpacking gear company. Amongst the existing backpacking gear that I was dissatisfied with, was sleeping bags. So I talk to the wife, and we do all this stuff and start sewing quilts and filling my head with all the world's knowledge about sleeping bags and whatnot and I realized that I don't have a way to test my gear.
I mean, I can get someone to get inside for the night, and I can get thermometers with the 'low point' setting and so forth, but I really, really want to know stuff. Detailed stuff.
The EN 13537 is out of the question, as I don't have that kind of money. Further, I just don't believe in the efficacy of the test. I know, I'm a dude - who at this point doesn't even have a spare bedroom to sew in, so what do I know. But, it gnaws at me, pesters me. I hate you, EN 13537.
Resentful, I about trying to learn how everyone else is testing their sleeping bags and quilts and so forth. I don't get anywhere. So, I start trying to understand how a person keeps warm, what makes a person warm, how humans regulate their temperatures and whatnot. I think that I learn that we are wet beings, loosing heat through many means that you and I already know about. But, a few things do stick with me. Namely that people are sloppy. Our skin
I learn that I have to measure humidity and temperature on a sleeping person inside of the sleeping bag. But, I also have to measure temperature and humidity just outside of the sleeping bag, to see the difference. From these readings, if they are tracked over time, I should be able to track a bag's performance, right?
That is what I am trying to determine. I have purchased a batch of humidity and temperature logging sensors and have been testing them. I set them to take  a reading every five minutes. Here is an example of a short test: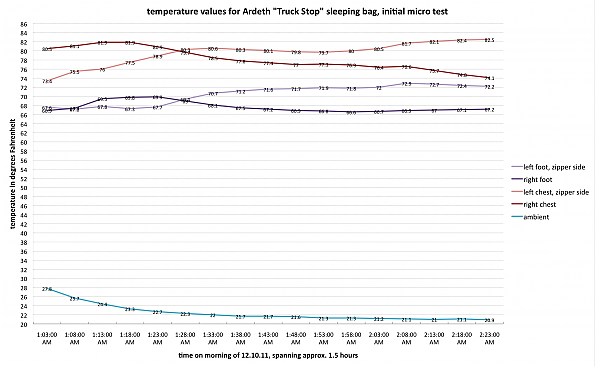 I don't know if this gets bigger, but you can click on the picture at the website.
I tried to link to it, but I'm not supposed to.
Here is my thinking in a nutshell:
1) before crashing for the night while backpacking, place one sensor inside of your sleeping bag and one outside. Hit the time stamp button on your sensor to make a time stamp in it's recording, indicating sleepy time.
2) go to sleep. If you wake up to change clothing, are too cold are too warm, to take or pee or whatever, press the 'time stamp' button.
3) Wake up, press the time stamp button again, write down what you wore and other related nonsense on a notepad.
4) get this info, jam it into Excel and poo out a graph like the one above.
I think that if I can do this enough times, I will begin to be able to establish operational parameters of sleeping gear. Maybe 100 tests to begin with?
If I gather other data at the same time, I should be able to shed light on shelter qualities, maybe even the effects of sleeping pads, vapor barriers and whatnot.
Gathering age, gender and body type information may be able to discern what insulation levels various groups are happiest with.
After that, I'd like to build an online database to show and share all the collected statistical (?) information.
Here is where I am at: I've run a dozen or so tests in quilts. But, then I realized that I needed to contain the sensors in pockets in the quilts or bag for more reliable data. So, the data looks promising as a model, but not great.
I've also been figuring out how to process the data in Excel and how to spit out usable graphs. But, not very well.
I also wrote a provisional patent and my little brother is building a database program to manage the data. I put up a plan on my website, hoping to recruit people to test their existing gear. It's under "Ardeth Sleep System Protocol".
I didn't want to do any of this, I just want a way to test my gear, but I'm very happy if anyone can test their own gear. Then, we can all compare our stuff and say stuff like, "well, the data clearly indicates that PeePeeLoft's CLO is reduced by 9% after 50 nights in the backcountry." Or, "couples' arousal rates clearly jumped by 23% when wearing vapor barrier socks."
I don't want to spam, but I don't know how to ask a bunch of people all at the same time. So, there it is. Please tell me what you think.