2:29 p.m. on May 25, 2012 (EDT)
Rick-Pittsburgh

1,711 reviewer rep
3,962 forum posts
Some of you may remember that I mentioned in one of my trip reports about an issue I had with my Soulo outer detaching from the inner in random places(toggles.)
(If not here is the tr:)
https://www.trailspace.com/forums/trip-reports/topics/114437.html
Well at their request I sent the tent back to Hilleberg(Redmond Washington) for them to take a look at.
During my initial correspondence with Petra Hilleberg she informed me that she was going to be doing some travelling and would be out of the office for a bit. She would get on it as soon as she got back.
This wasn't a big deal being I really wasn't going to be using the tent anytime soon other than for a warm weather test in the backyard for review purposes(ventilation.) 
Well low and behold there were sewing errors in the corners of the tent(per the letter from Petra.) 
So they replaced the tent with a brand new one. 
I gotta say I am impressed on how this was dealt with and how it was handled in a timely manner. 
Kudos to Petra and everyone at Hilleberg. You have a customer for life.
2 other things I would like to add.
I received another copy of the 2012 catalog and this one has a sample of the Kerlon 1000 fabric which is used on their 3 season tents(pretty strong stuff.) The previous version of the catalog I received didn't have that sample.
(If you want to get your paws on a catalog you can do so here:)
http://www.hilleberg.com/OrderCatalog.htm
Also on the newer versions of the Soulo(2012); the zipper pulls for the outer have been replaced with more glove friendly versions(see pic below.)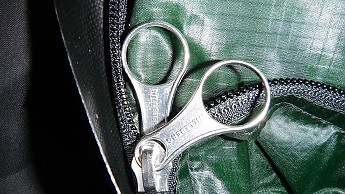 I don't know about others here but a company standing behind thier product goes just as far with me as the quality and performance of their product.
Hilleberg covers both bases in spades.