Ianw
330 reviewer rep | 12 forum posts
8:33 p.m. on September 21, 2017 (EDT)
Do you need trekking poles? Some people believe in them with almost religious fervour, but after considering the claimed advantages and disadvantages, I decided that, for me at least, they are more trouble than they are worth.
There are plenty of people wanting to sing the praises of trekking poles so I thought it worthwhile to explain why I think they are not a good idea.
They do not increase efficiency
Despite manufacturers' and users' claims, careful scientific studies have concluded that trekking poles do not increase your efficiency and in some situations may decrease it.
I hear howls of objection so I doing a little Google searching e.g. "DO TREKKING POLES MAKE YOU MORE EFFICIENT?" on the Mountain Tactical Institute website. This page also contains a summary of, and references to, other scientific studies.
You can read plenty of stories along the lines of "I walked a million miles using poles and they are great" but remember these are, in the scientific jargon, just anecdotal evidence. They prove nothing without rigorous scientific testing. People run marathons dressed as gorillas but that does not make it a good strategy.
They do not make hiking safer, maybe the opposite
This seems largely based on the idea that poles give greater stability and so decrease falls. They are also claimed to reduce the weight on some joints. However, the studies referenced by the Mountain Tactical Institute concluded that in some situations, poles can actually increase stress on joints.
The help they give is going to depend on the type of surface you are walking on. If it is fairly flat are you likely to loose your balance and fall anyway? Do you really need poles for stability on a surface like this: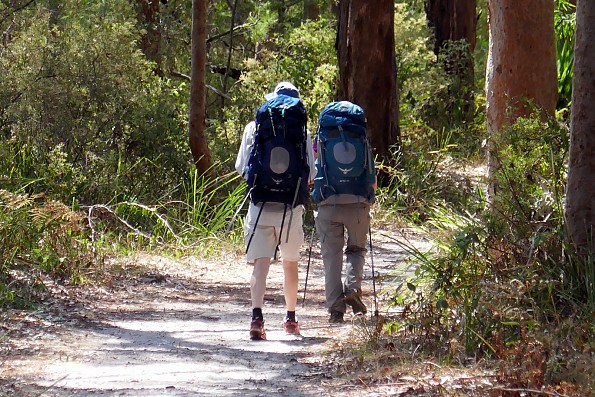 If it is uneven the poles are going to give a third and fourth point of contact but is the pole actually going to grip when needed? Are you going to lean against it only to find it slips away? Unlike the track above, this is a section of track is awkward to negotiate because of the rocks: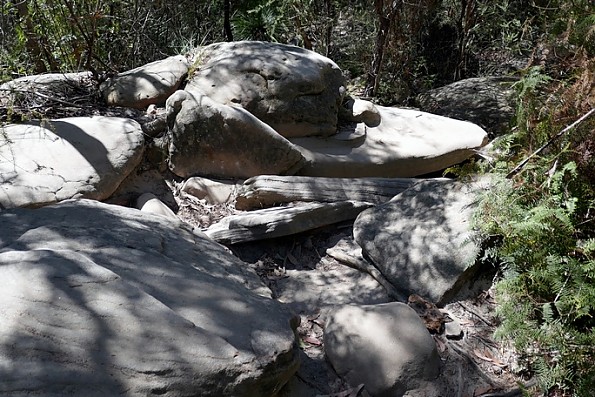 Problem is that the metal points of the poles that grip so well on soft surfaces don't work here. These rocks are covered in scratches like these showing that poles have slipped: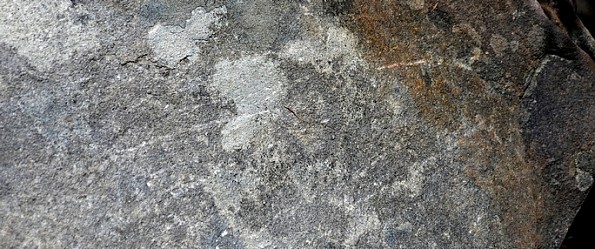 What happens if the pole slips like this and you fall? In this situation the poles go from being an aid to a hazard. They are hazards firstly because your hands, which you will instinctively try to use to stop your fall, are now holding poles. (I minimise carrying anything - camera, drink bottle, whatever - in my hands while hiking for this reason.)
Secondly, you are now close to a couple of rigid objects each with a sharp tip which, with the weight of your body behind it, could do a lot of damage.
Another hazard of poles is illustrated by a story I heard from a woman who swore by them. She said they had become essential to her for hiking after she tore a tendon in her leg. Sounds reasonable, except that when asked how that injury happened, she said it was the result of tripping over her trekking pole!
My conclusion: Poles don't make walking safer.
Poles do not suit changing track conditions
Poles are clearly not going to be of use in every situation. Here in Australia, the vegetation tends to be very spiky and stiff and to grow over the track like this: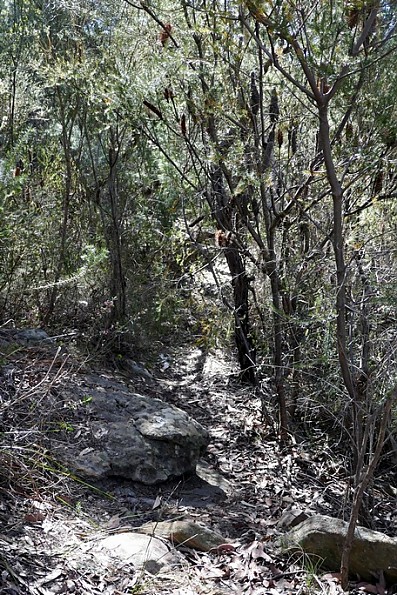 The track is clear enough but the vegetation is growing over it. On tracks like this poles are not only not going to be usable, they are going to get caught on the vegetation.
In theory this should be no problem, just stow them. Trouble is, in most cases this means taking off your pack. If conditions change again you might want to get them out again but are you going to do this every few hundred metres in some cases? Some backpacks (e.g. some Osprey) have easy-stow loops but that only makes it less of a hassle, not no hassle.
I did a small survey of serious Australian hikers (anecdotal, I admit) to find out how many used poles. The answer was that none do. In fact some were far from polite about it. Their conclusion is that they did not need them especially for the kind of walking they were doing and that it was better to improve balance ans stability in other ways.
Poles are good on muddy tracks
The only time I have been with someone and wished I had poles was hiking in Tasmania. There tracks tend to be more than a little muddy (search for Sodden Lodden Plain!). Some people I was with who used poles said they were good for finding the firmer bits under the mud. Without poles, I finished up with mud in my boots but on reflection I could have used a branch to do the same thing.
Alternatives to trekking poles
As noted above, there is good scientific evidence that poles do not increase efficiency so their main claim is that they improve balance and stability and for that the risk-benefit is not in their favour.
If you are not going to use poles to improve stability, what else can be done? Fortunately, there are some simple alternatives:
Wear boots that provide ankle support.
Work on improving your balance on uneven surfaces. Just as skating requires different skills from walking, walking on uneven surfaces requires different skills and strength from walking on flat surfaces.
Keep your arms and hands free so you can use them to improve balance and grab onto supports.
Conclusion
My conclusion is that poles are a bad idea because:
On well-graded trails, poles offer no advantage.
On rough trails, they may be of help but they may also a significant hazard.
On trails with thick vegetation they are a hindrance, not a help.
And one final thing: think of others
If, despite what I have written here you decide to use poles, PLEASE think of the people around you. You are carrying a weapon that can do a lot of damage (even ward off bears, it is said). Don't swing them wildly behind you as you walk. When you carry poles rather than walk with them, points to the front please, not rear. And so on, you get the idea.