andrew f. @leadbelly2550
TOP 10 REVIEWER
REVIEW CORPS
9,159 reviewer rep | 2,492 forum posts
11:53 a.m. on January 1, 2020 (EST)
I'm writing this because a long search for a particular and long-discontinued Patagonia fleece finally succeeded a month ago, via a site called Grailed. I'm not going to review the product because I don't think it would be helpful to do a detailed review of a product that hasn't been manufactured since the late 80s/early 90s.  
Long before today's soft, stretchy versions of fleece, Patagonia led the way into the fleece era with the reverse pile cardigan.  If you're familiar with Patagonia's Retro X fleece, imagine that, turned inside out, with a rough-faced outer surface that looks unfinished and pills easily.  I had a version of this jacket from a company called Chuck Roast.  someone swiped it a long time ago. 
the reverse pile has advantages. It's very air-permeable. The inside pile traps a lot of dead air, so under a shell, it's extremely warm. the pile is very hydrophobic, so it does a great job getting sweat away from you...and it dries out quickly. this combination gives it a fairly wide temperature range where it can serve as a layer for hiking. in function, it's actually pretty similar to Patagonia's nano-air jackets - a decidedly different route to a fairly comparable solution. you can still find some reverse pile jackets on the web from time to time; because they're so old and tend to pill, finding something that is remotely presentable and wearable can be challenging.
downsides of this primitive form of fleece - not nearly as soft or stretchy as synchilla fleece or subsequent versions. cuffs, collars, hems weren't stretchy and could feel stiff and tight. The outer surface could pill pretty badly. it just wasn't a good-looking jacket, and the lack of stretch can make it feel confining unless you get one on the large side.
Patagonia's early efforts to fix these downsides were OK. they made a version with a smoother outer surface that doesn't pill. They included elastic shock cords at the hem and collar. That is what I found, one of those updated versions. it has a letter "R" on the sleeve, one of the earlier examples of Patagonia marketing its fleece as R1, R2, R4 etc.  I have no idea what they called this jacket. I have been wearing it constantly over the last month, in temps ranging from 23 to high 30s, a couple of very windy hikes, some moisture.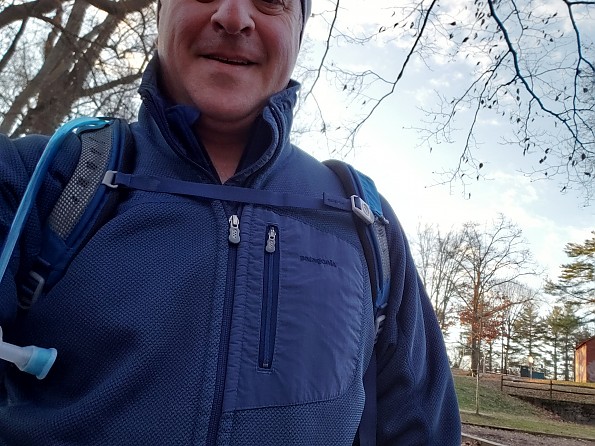 The early reverse pile cardigans had internal pockets; this version has nylon patches stitched on.  Though this was discontinued in the 90s, and is well-used, it isn't pilled.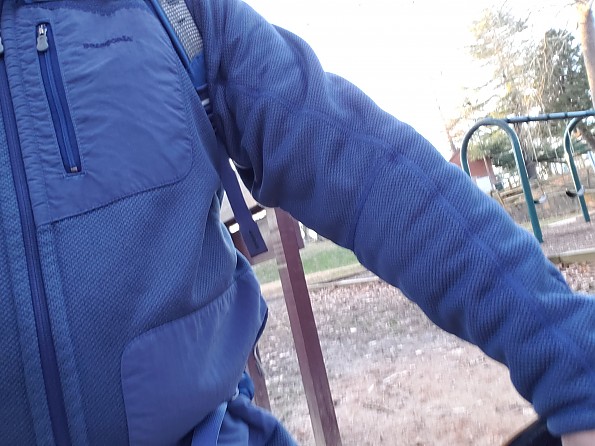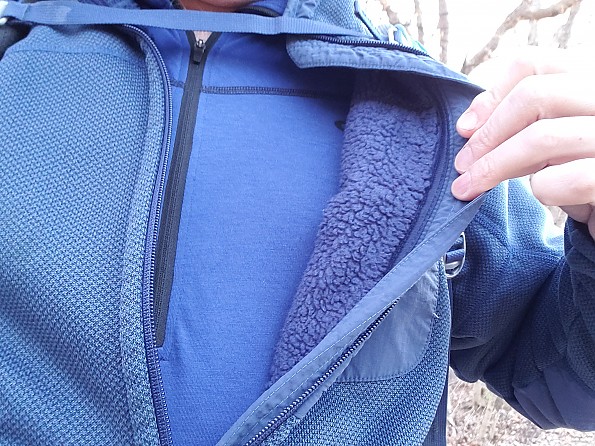 the photo above shows the inner pile. it's in good shape and does an outstanding job transporting moisture away. it's extremely warm, no problem hiking hard in cold weather, unless it's really windy.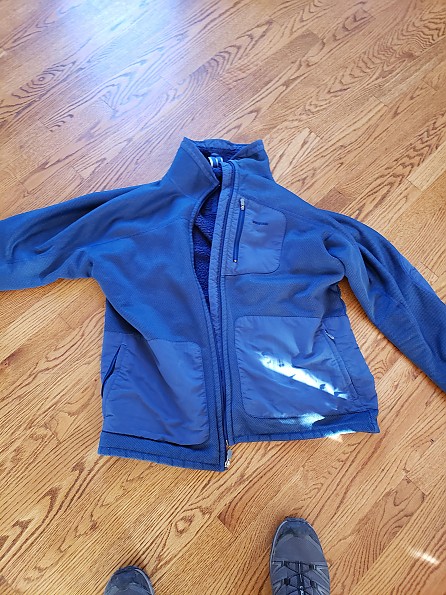 This is the only jacket I have ever gotten with a shock cord at the neckline.  it cinches at the back of your neck.  The shock cord along the hem pulls tight inside each of the lower pockets - interesting.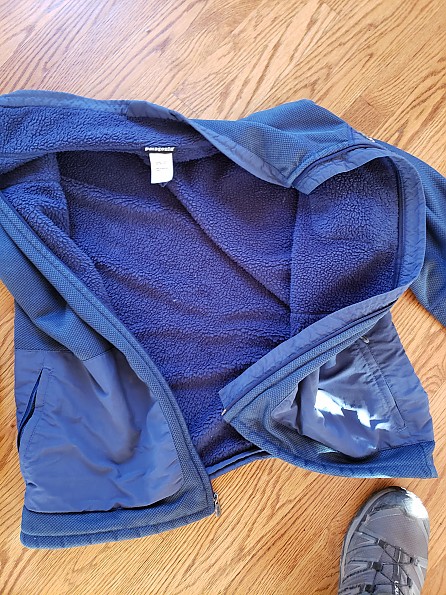 for the sake of the reference, I'm including a photo of Patagonia's Retro X pile jacket below.  My dad owns one, I have worn it occasionally.  beneath the fuzzy exterior, the jacket has a windproof layer and smooth inner surface, with room to layer underneath. it's super-warm, but it doesn't work particularly well for hiking because it's heavy and doesn't breathe much due to that windproof layer. parked under a shell, though, it's warm enough for the worst weather because that fuzzy milled up fleece traps so much air. I think of it as a luxury, around-town jacket more than a layer for serious hiking.
Interestingly, Patagonia is now selling 'retro pile' jackets, pullovers, and vests.  they are a soft fleece, inside and out, with a somewhat lumpy surface.  stretchy, great at transporting moisture, no wind block layer, so air blows right through it.  but under a shell, it's quite warm, though it isn't as thick or air-trapping as either the retro X or the old reverse pile. I received the vest as a holiday gift, wore it a lot during a recent overseas trip.  a nice layer, lighter than what you think of as a typical fleece.  See below. 
I will review this, but as a preview, I highly recommend it.  it was flying off the shelves before the holidays, apparently.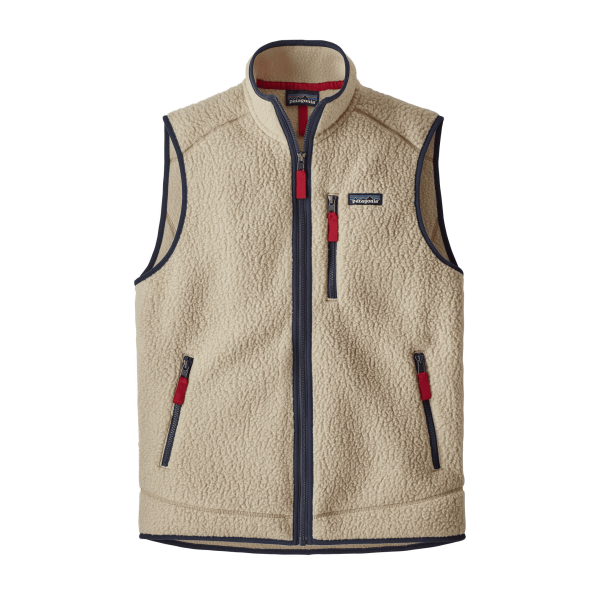 Takeaways:
1. I think some older products have a place in today's hiking arsenal.  The reverse pile performs better in some ways than 'improved' versions. The older reverse pile wicks better and works better as a cold weather hiking layer, in my opinion, than Malden Mills' softer synchilla (polartec 200 and 300), particularly due to that air-permeability and the inside fuzzy surface grabbing and transporting moisture outward....if you can deal with the lack of stretchiness in the cuffs and fabric. if you can't do without the stretch but like the concept, look for Patagonia's now-discontinued R3 jackets. Not as warm as the reverse pile, but similar in concept and a modern product - stretchy fabric, cuffs, hem, and better looking than the old stuff in my view. (Patagonia's R4 is and has always been similar to the retro X, with a windproof layer, and Patagonia's R2, still in production, is nice jacket but not thick enough for very cold weather hikes). I said above that Patagonia's Nano-Air (and others - Arcteryx Atom, without a windproof shell) is similarly versatile and more comfortable, but the nano-air fabric wouldn't be my choice for scraping around rocky surface, whereas an old reverse pile has proved to be super-durable.  I'm very happy with the purchase and have effectively shelved my other warm fleece, a North Face Denali, that I use for mucking around in cold, crappy weather.  
2. if you like older, discontinued fleece or gear, Grailed is worth a look. so is Worn Threads, they buy and sell used Patagonia garments. Both have good variety that differ from Ebay, Geartrade, Craigs List. Second,  Third, used has some downsides. The fleece I purchased lived with someone who smoked, and it took a couple of washes in hot water/extra rinse to get rid of the odor.  bleh.