BigRed
REVIEW CORPS
7,508 reviewer rep | 1,296 forum posts
8:30 a.m. on February 27, 2020 (EST)
What with a new-ish dog in the house and risk of cutting his legs with steel-edged skis, I decide to invest in some edgeless "hunting" skis: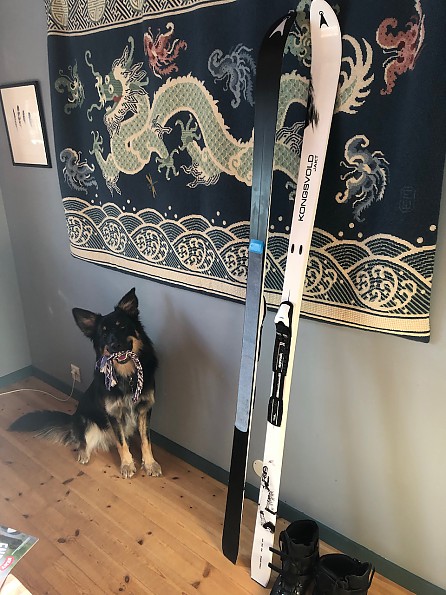 Kongsvold is a place on the old king's road to Trondheim, long used as a stopover for pilgrims dating back to the middle ages. There's an upscale hotel/restaurant there now, but in buildings that are a couple hundred years old. "Jakt" means "hunt" -- the turned over ski has a graphic of a setter's face on it, so the basic idea is that this is a ski you can safely use with a dog for hunting in the forest. But with a 96-66-85 profile it's also built to float and do some turns. Unfortunately a little stiff for my taste, as most Åsnes skis are in my experience, but I've had them out in powder and on windpack and I think they turn better than my old, edged Fischer Outabounds, although they skid quite a lot on the harder surface, of course.
Like all Åsnes backcountry skis (Fisher has it's own version), they take partial skins (the blue-tipped gray strip in the photo) with a forward anchor that inserts into small slots in the base of the ski. They're good enough for climbing up to maybe 20˚ with a flat ski, and allow for better glide than a full length skin. Big weight saver. The skins also come in different widths for different grip/glide ratios -- my wife has a pair of much skinnier, steel-edged Åsnes Cecilie Skog skis and a couple pairs of skins for them, so I can just borrow her skins. With the skins off, I can go on wax. There's not much of a wax pocket so they won't hold wax well, but a wax pocket compromises turnability, so I'm fine with that.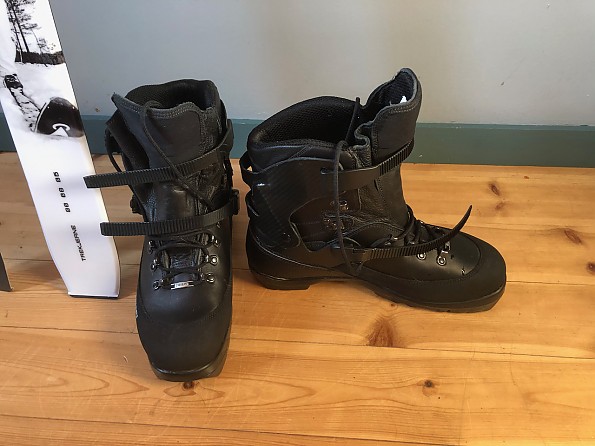 To go with them, I got a pair of Crispi Svartisen BC boots (Svartisen is a little ice cap in northern Norway), well over the ankle with a gusseted tongue, plastic ankle cuff, and ratcheting instep and ankle straps. Very nicely made. Haven't tried those yet except to wear around the house, but I'll be going out for a night ski tonight and we'll do a two-night hut trip this weekend. Psyched!