trouthunter
1,788 reviewer rep | 3,956 forum posts
1:21 p.m. on April 13, 2010 (EDT)
Hi Guys,
I'm looking to add another altimeter to my list of gear.
Has anyone had experience with Pete Bros. or this model in particular?
The model 88 is priced at $195.00 and reads in 20' increments.
The model 80 is priced at $80.00 but reads in 50' increments.
I want a high quality, rugged altimeter. I don't feel I need all the bells & whistles offered on the digital models. I would rather have the ability to read in 20' increments than spend that money for something with a lot of features I don't generally use. Am I wrong?
Also are the 20' increments going to be accurate assuming I do the proper calibration, etc?
I'm open to advise or comments / questions.
Thanks.
MODEL 88 ALTIMETER/BAROMETER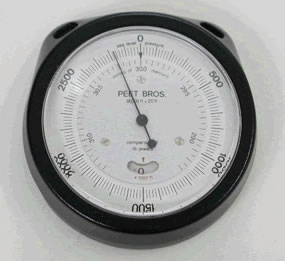 This handsomely-styled precision analog altimeter/barometer is made in Germany according to our exclusive design. Its 16-jewel, temperature compensated movement is calibrated to 18,000 feet in six revolutions of the indicator needle. A small counter dial keeps track of needle revolutions, making it easy to read any altitude to within 20 feet. The counter dial window is located on the lower half of the dial face to give an unobstructed view of the entire sea-level pressure scale. Unusually rugged for such a responsive instrument, the Model 88 combines exceptional performance, practicality and value for the serious outdoor person.
Measures altitude from 0 to 18,000 ft. in six revolutions.
Calibrated in 20-ft increments.
Accurate to within 40 feet over entire range.
Measures sea level pressure from 28.7 to 31.3 inches.
Barometric pressure calibrated in 0.05 inHg increments.
16 jewel shock-resistant temperature-compensated movement. Housed in rugged metal case. Size: 2 3/4 x 2 5/8 x 7/8 inches Weight: 3.5 oz.