12:40 a.m. on July 30, 2012 (EDT)
giftogab

592 reviewer rep
1,522 forum posts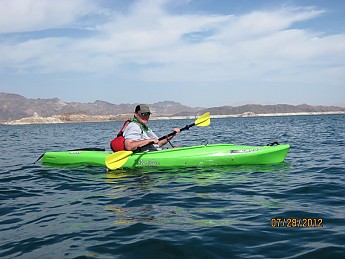 Today I loaded up the Yak and headed to Lake Mead for a paddle with my friend. She had bought a new Kayak and wanted to give it a run. So we launched from Hemenway Beach and started paddling out of the harbor 'round 8:30 AM. It was running in the 90's heat wise and there was a cloud cover keeping the sun at bay. There was also a bit of a wind and we were not sure if we would actually do the planned paddle to the dam, given the shore wind.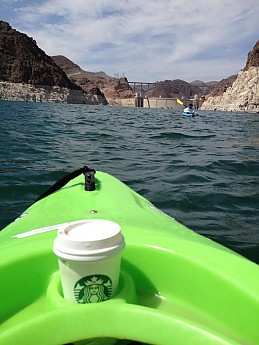 Noticeably, there was not another kayak in sight but there were plenty of skidoos and boats and the big commercial paddle boat was revving up for a lake tour.
We were both lamenting the 110 degree Saturday Golf round we played yesterday that had sapped our energy and hoped we would be fine today. As we exited the harbor, the water began to chop up and the wind was hitting our faces pretty hard. But we paddled on and it was quite enjoyable.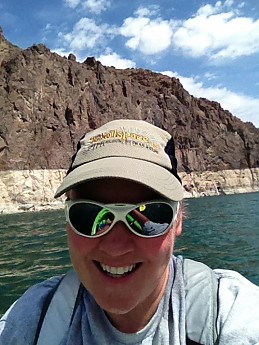 As we approached the turn where we would go right and see the dam, the wind had us almost at a stand still. But when just kept digging into the water and leaning into the wind.  The closer we got to the turn the harder the wind blew but the finally BAM! We were there and rounded the corner and the wind instantly lessened. The clouds were beat back by the sun and we were roasting on the water and it was GREAT!


As we paddled closer to the dam, I realized that the bandana I had gotten wet and wrapped around my neck was gone. The wind had taken it from me stealthily.
We got to the buoy row that designates the boundary of public access and popped the top on a cool beverage, enjoyed the sun and relaxed.  
Then we had a pretty windless paddle back that was filled with laughter and splashing and great fun. What a way to spend a hot Sunday in "Vegas". As I finish writing this and preparing for the coming work week I am satisfied that I spent my weekend playing outside, just like my mom always insisted!