9:35 a.m. on February 17, 2011 (EST)
Tom Sherman
0 reviewer rep
2 forum posts
I have pick Choice III, favorite memory in the past ten years. A little history is in order. I was born in 2006 at the age of 47, which is to say, I spent 21 years in a marriage to the wrong person. (I was wrong for her as well. She was an "indoor" person, and I, an "outdoor" person who slowly found himself transformed)
So, 2006 was the year I finally started my life, but at that point, really had no idea what it was that I was running towards. I only knew what I was running from, which was drudgery. I started with a hybrid bike, which I hadn't been on in at least 15 years. By and by, that took me into some minor hiking adventures, which led to some camping trips; something I had done a lot of growing up, though never in the past few decades. Soon, a kayak found its way into my arsenal.
Then one day in 2007, the Adirondack Mountains beckoned, and I was reawakened! I had gone on several vacations up there in my youth, all with fond memories. I spent the next year learning to hike…I mean really learning to hike. I learned how to climb. I learned all over again about pain management and the limits to pain, which I initially learned as a Marine many moons ago.
And I also learned about equipment; how one goes into the mountains with the best chance of making it back out safely. I learned about clothes; I learned new terms such as "ultra-lite" and heard about unfamiliar pieces of equipment like "crampons". I learned that "cotton kills", and all about the newest clothing materials designed to keep one safe and dry in the winter. I learned that one must control liquid sweat during winter assents by using ventilation techniques, along with maintaining a controlled pace.
And through all this, I finally felt totally alive again! I felt the sheer joy of being on a mountain summit in -40 degree temps, 30 mph winds, and being totally content. There have been many personal achievements over the past 5 years; just this past summer, I completed the Adirondack 46; am currently working on my Winter 46. I have traveled through Death Valley and hiked through parts of New Mexico; rock climbed in Red Rocks Canyon, and a host of other adventures.
But the one that stands out as totally life-changing is a solo thru-hike on the Northville-Placid trail, which I undertook in July 2008.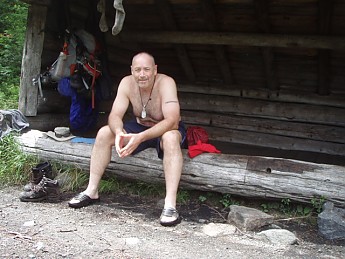 Day 9 on the NP trail
When I first heard of this trail, the phrase "thru-hike" was self-explanatory, though unfamiliar. I did a mountain of research, much on the Trailspace site, to figure out what to bring, how to plan, what to expect. I read other NPT hikers blogs to learn just what to expect. But nothing could have prepared me for the mental experience of spending 10 days alone with ones thoughts, and only the trail and Adirondack wildlife for company.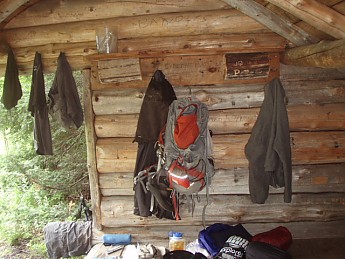 There was the misery of humping the trail in daylong downpours; the fear of seeing the next trail marker 100 yards across a marsh and wondering what lay between; the dawning knowledge that the "Guidebook" has a way of leaving out a multitude of details.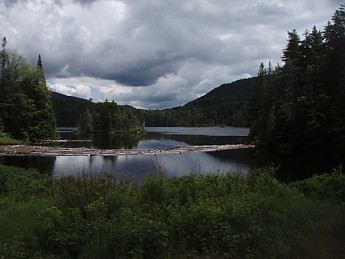 Duck Hole
Yet, nothing could touch the sheer exhilaration of stumbling out at the other end of the trail, a different person than the one who entered.
I am currently researching the AT, and god-willing, will be able to check that off the bucket list someday as well. Happy trails!