BigRed
TOP 10 REVIEWER
REVIEW CORPS
7,213 reviewer rep | 1,247 forum posts
4:50 p.m. on March 1, 2011 (EST)
(I am afraid this is recycled from a trip report I made while back, but it was 10 years ago so I thought I'd run it up the flagpole...)
In summer 2001 our girls were six and ten, veterans of many day hikes and a few one- or two-night trips using the GMC shelters in Vermont or AMC huts in NH. We decided it was time to go a little longer, but to keep the days within reach of Zoe, our six year old, we decided to do a six day (five as it turned out…) hybrid hut/camping trip across the top of the Pemigewasset Wilderness in New Hampshire's White Mountains.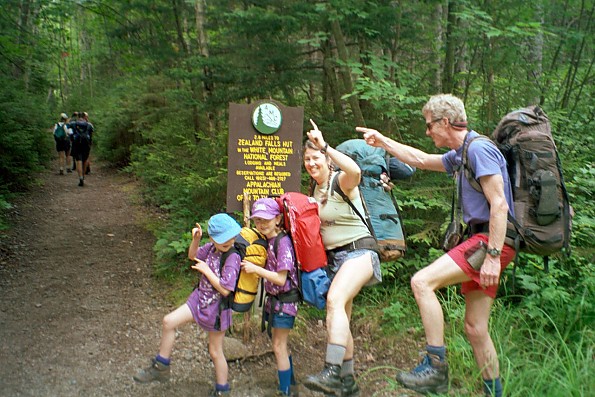 We loaded up with food for two nights, lots of lunch and snack food, cooking and sleeping gear, and just a tarp for shelter as it was post black fly season, and started out on the Zealand Notch road for the short (2.8 miles) walk into Zealand Falls hut.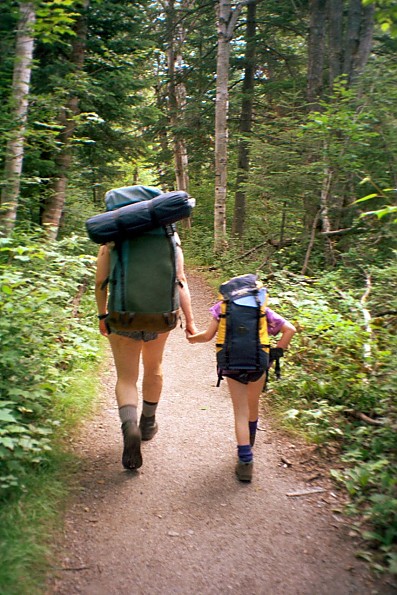 We got to the hut only to discover that there was "no room at the inn". My wife had made all the reservations and had somehow time-shifted them forward in her head by one day, and therefore we had been expected the night before. Fortunately it was still early afternoon so we decided to double up the first two days and proceed to Guyot campsite, adding another 5 or 6 miles to the day, with a little parental bribery involving Swiss Army knives to sweeten the pot.
For this leg as with most of our trips, a constant flow of conversation was necessary to keep the kids moving, often in the form of made-up stories (Molly and the Magic Skis; Mrs. McGillicuddy, the Reindeer with a Big Butt), "stories from when you were a kid" (like the time my family's house burned down), or fantasy games (we are Indians named Running Bear, Little Deer, Sunshine, and, for me, Doesn't Talk Much).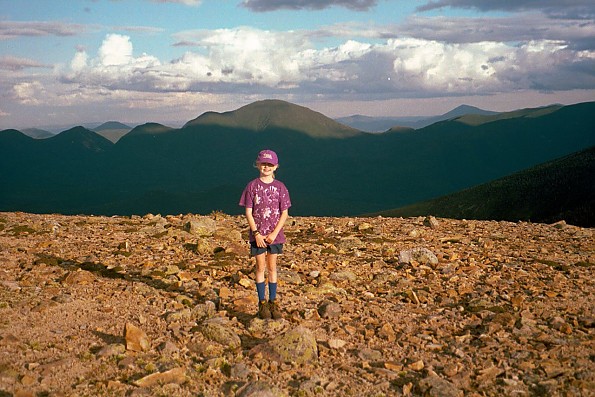 Late in the day we went over Guyot mountain, one of the more remote summits in the Whites and situated so it is especially windswept, rounded off rather than sharp and with some alpine vegetation and a close-cropped carpet of black spruce krummholz over much of the top. Although I have repeated many White Mountain summits, some dozens of times, this was only my second time on Guyot – the first was just a month or two shy of 30 years earlier!
 We made it to the campsite a little before dark, took a tent platform, and pitched our tarp over it.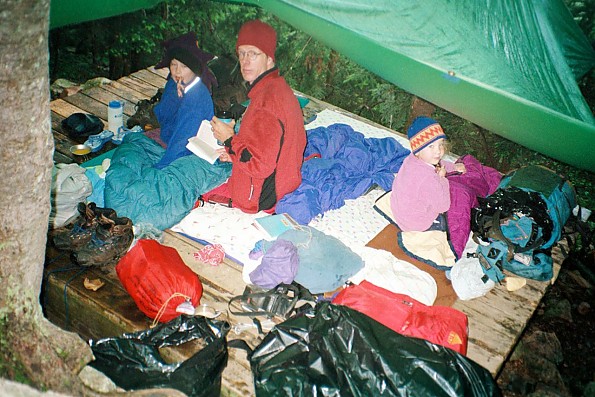 The weather was a bit unsettled the next day as we headed up over South Twin. Not too bad at the summit...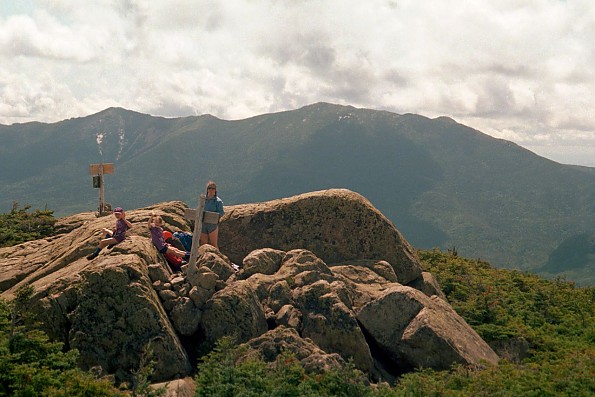 ...but as we headed down the steep Twinway to Galehead Hut a thunderstorm rolled in. Molly and I ran ahead to the hut, where I dropped my pack and headed back up just as it started to rain. I carried a scared Zoe down on my shoulders in the downpour with thunder and lightning all around. Once we got her safe and warm inside I went out in my shorts to shower off the sweat in the water gushing off the roof of the hut.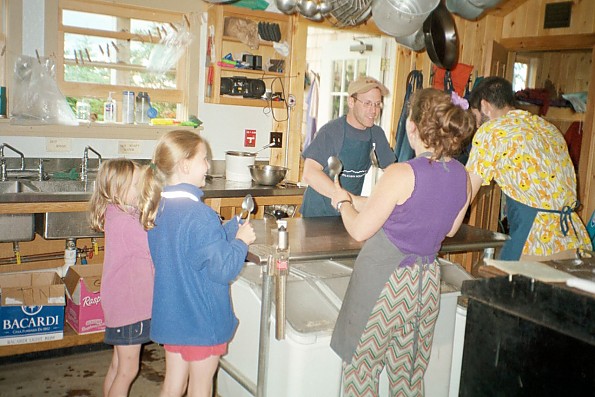 The girls thought the hut croo [sic] were about the coolest people in the world and were delighted to participate in the silly morning skit that the croo uses to remind people to fold their blankets.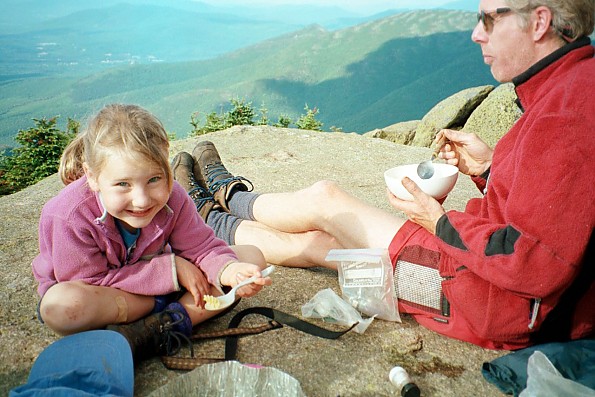 We left Galehead for a leisurely day's walk over Garfield, where we had an early supper by the old fire tower foundation before heading down to make camp at Garfield campsite.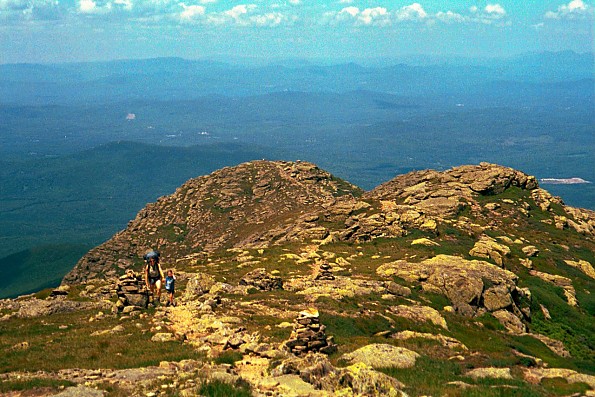 The next day took us up the beautiful Skookumchuck Ridge to Mt. Lafayette, at 5260 ft. the high point of our trip.
I had put up the signs on top and along the Franconia Ridge about 23 years previous when I worked on a WMNF trail crew. We stayed our last night out at Greenleaf Hut, just below treeline on Lafayette.
According to family legend, I won the right for our table to be served first by outlasting the studly young representatives from the other tables in a pushup contest.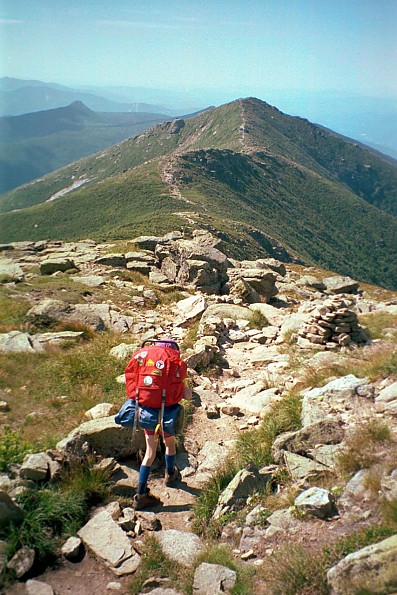 On our last day Molly and I went back up over Lafayette, along the Franconia Ridge to Little Haystack, then down the Falling Waters Trail, while Nancy and Zoe went straight down the Bridal Path to Franconia Notch.
For me this trip was a delightful exercise in both outdoor travel and parenting – a link in the long, lucky chain that has kept us out and about as a family on so many more trips over the last 10 years.