1:49 p.m. on August 31, 2012 (EDT)
Peter1955

1,389 reviewer rep
1,339 forum posts
I'm trying to decide between two trips next year. These will be just for me (instead of a paid group) but I would hope to be bringing a friend or two along.
One is the Chilkoot Pass, the old route to the Klondike. I've done some research, and it looks like it would be an easy 4-5 day hike, but harder to complete in 3.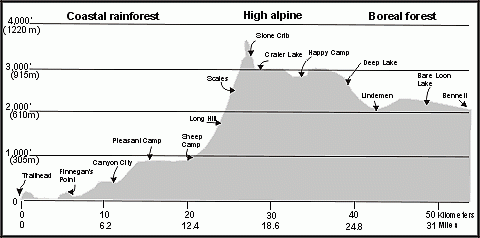 The problem is getting there! A bus from Edmonton to Whitehorse in the Yukon takes 29 hours, then there's a train ride over the pass to Skagway and a shuttle bus to the TH at Dyea. Driving would be three days and would probably cost a lot more just for gas.
Has anybody done it? Suggestions on access, or information on the trail itself, would be quite helpful.
It's curious that I can be at the foot of Ben Nevis in less time (and for a lot less money!) than to get to the Chilkoot. There are daily flights from Edmonton to Glasgow (via London), and a train ride up to Fort Hamilton is fast and cheap.
I was thinking of doing the Three Peaks; Scafell Pike in England, Mt. Snowdon in Wales, and Ben Nevis in Scotland. The Three Peaks Challenge...
http://www.thethreepeakschallenge.co.uk/
...involves doing them all in just 24 hours, but I'm not that ambitious.
The plan is to fly to London and rent a car, drive to each mountain in turn and bag the peak, then fly back to Edmonton from Glasgow. With rain delays it could take a week, but I think it would be a nice adventure. If anyone who's done it has some information or suggestions, it would be much appreciated.
Then I'll just have to decide which one I want to do!