8:35 p.m. on February 26, 2014 (EST)
GaryPalmer

244 reviewer rep
5,257 forum posts
I am heading out tomorrow to Zion with a friend who is giving me a ride past the Zion Tunnel. For those who do not know Zion, 6 miles in from the East Entrance is a mile long tunnel that was dug in the late 1920's completed in 1930.
Construction of the 1.1 mile Zion-Mount Carmel Tunnel began in the late 1920's and was completed in 1930. At the time that the tunnel was dedicated, on July 4, 1930, it was the longest tunnel of it's type in the United States. The purpose of the building the Zion-Mount Carmel Tunnel (and the Zion-Mount Carmel Highway) was to create direct access to Bryce Canyon and Grand Canyon from Zion National Park.
He is dropping me off in lower Zion Canyon and from there I am pedaling 40 miles to St George Utah. From St George I am taking two shuttles to Wyoming, the first to Salt Lake City and the second to Jackson which is in the northwest corner of the state near Grand Teton  and Yellowstone  National Parks.
I am going up there for the year from March to October to hike and work to save for my return to Arizona next Autumn.
I will be posting hiking trip reports and cycle rides around Jackson Hole, the name given to the valley between the town of Jackson and Yellowstone Park. Named for Davy Jackson a French trapper/mountain man in the mid 1800's it draws millions of tourists from around the world.
This is the mountain range called the Tetons. I shot this image in 2007 at 7 am one mid-winter morning about 5 miles north of town.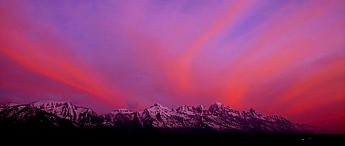 And this is the town of Jackson looking north, the Tetons can be seen still covered in snow, this was shot in 2008 in the summer and in July, snow pack the winter before had 650+ inches of snow and there was still 20 feet at 9000 feet at treeline in the mountains.
Jackson is about 2 miles by 2 miles in width/length.  I am on Wyoming's oldest ski run on Snow King Mountain 1700 feet above town. The green area to the upper right of town is the National Elk Refuge where in winter as many as 8,300 elk (the current record) Antelope, Bison, Mule Deer and Big Horn Sheep are also seen on the refuge through out the year.
Jackson Hole has also Bald Eagles,Marmots,Pelicans,Canadian Geese, Moose, Grizzly and Black Bears, Wolverines, Coyotes, Wolves,etc.
I will be in town by Sunday night this weekend.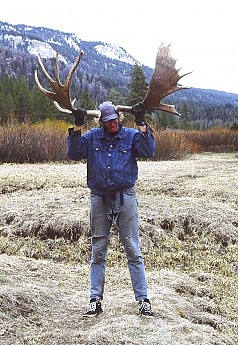 This is me, in the Teton Wilderness in 2007 with two different Moose antlers on my head, found there. In Jackson Hole it is legal to collect antlers and sell them in town for cash. Many locals and summer employees look for them and find them to sell for as much as $17 a pound for Moose,Elk,Deer and Jackalope :)  In 2007 I sold a single Moose antler for $387 to a collector. It weighed just 22 lbs.