GaryPalmer
238 reviewer rep | 5,443 forum posts
11:22 a.m. on August 22, 2016 (EDT)
Next Sunday the 28th of August is my last day of work this summer here in Flagstaff. Then I am moving out of my place and going to spend 4 nights at the South Rim of the Grand Canyon.
While camped at Mather Campground I will spend the days day hiking and riding the tourist shuttle bus along the rim taking pictures of the canyon and surrounding countryside. 
I have not spent more than a few hours at the canyon in the last few years, so having four days to see it again will be great!
I will post pictures of my trip later in October after I move down to Tucson for the winter.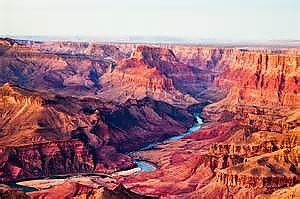 The Colorado River in the Grand Canyon as seen from Desert View in the eastern edge of the park. There are actually few places where the river is visible from the rims, Desert View is one viewpoint where its possible.