3:54 p.m. on September 1, 2016 (EDT)
gonzan

800 reviewer rep
2,162 forum posts
Greetings fellow Trailspacians, 
Yes, I know, the long lost Gonzan has appeared! 
First, my apologies for my long absence, though I can't promise I'll be around all the time either. 2.5 years ago I launched my full time fine art career, and between that and a new addition to our family, I haven't had a moment to come up for breath, much less fraternize with all you trail bums ;)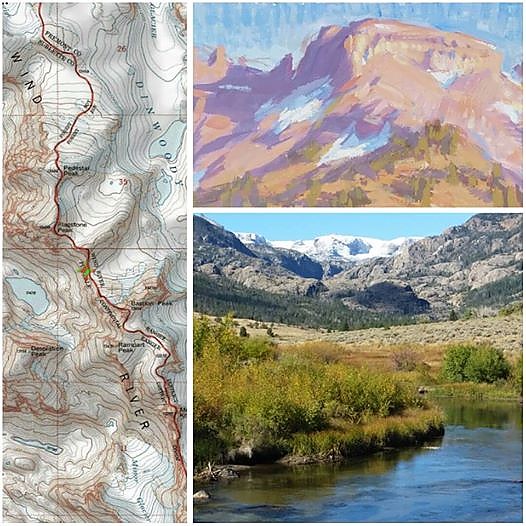 All that aside, I am looking for a capable, self reliant, good natured, responsible yet easy going, traditional minded hiking partner for trip to the Wind river range in a few weeks.  While I am completely able to backpack solo in the western wilderness, It would be wiser to do so with at least one other person given the onset of autumn, the high numbers of bears, and the remoteness factor. 

Here's the deal, I have five extra days in NW wyoming after a painting conference wraps up, and I want to get the most out of them. So, I'll be heading into the back country to spend several days painting, fly fishing, and getting reference for my work.
Here are the details so far:
 
 - September 24th - 28th 
- Meetup in Dubois or Lander Wyoming. 
- partially shared transportation is possible, but only if it works easily. 
- Exact back country route is yet to be determined, though I'm nailing that down right now. 
- No more than 12 miles hike in and out, with 2-3 days camping in a general area, exact camp location may change by a few miles each day.

These factors are required and non negotiable:
- You must be experienced in wilderness backpacking
- You must be able to pull 12 mile days at elevation, with several thousand feet of elevation change. 
- You must be fully self reliant. 
- I am not providing food, food storage, water filters, bear protection, or ANY equipment. You must have your own gear and supplies, and be proficient in their use. 
- You must be comfortable and capable being in brown bear country and at high elevation.
- You must have prior high elevation experience, and know that you are not susceptible to altitude sickness. 
- Indian Reservation Access Fees or any other fees necessary for the trip would be shared. 
- No offense will be taken If I elect not to take someone, for any reason whatsoever, stated or not. 

I think that just about covers it for now, I'll post detailed route info as I have it finalized.