11:50 a.m. on February 26, 2017 (EST)
GaryPalmer

244 reviewer rep
5,429 forum posts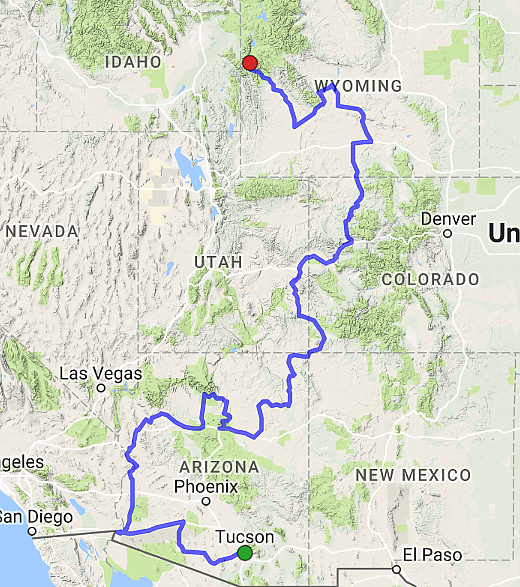 I have extended my bicycle tour all the way to Jackson WY from Tucson. This is my route. I plan to spend March cycling to Flagstaff and April/May to do the rest.
I am trying to take new roads I have never been on before by bicycle.
I still seem to be the only one at Trailspace to do and report on bike tours? Its just as interesting and challenging as backpacking, climbing and paddling. 
I am looking forward to the many nights of camping and seeing different sunrises and sunsets and riding along by human power as cars and trucks zoom by. Most people in vehicles just don't understand why anyone would want to bicycle farther than across town, especially when they, (like me) are over 60!
Since 1982 I have done about 75 bike tours. I only once had a motor vehicle in 1872 when I was 16 with a 49 cc Moped. I tour mostly the USA but did go across Ontario Canada, during part of my longest tour in 1983-84 when I rode 7000 miles around the USA.
I was 26 when I did my first ride in September 1982 of 1900 miles which took me 21 days from Jackson WY to Hope AR. After my before mentioned 7000 mile tour I was hooked. Previously before my first tour I hitchhiked everywhere from June 1977 to May 1982.
I have taken Greyhound/Trailways and some smaller shuttle buses, but always have hated the confinement of being in a seat in a vehicle all day or night. Cycling is like pure freedom! Its like walking just faster and I can go 3-5 times farther in a day as I can hiking. Not that walking is un-pleasurable, I get to see the world at a almost snails pace, I see wildlife and other things up close and sometimes personal. I had a Cow Moose in Denali National Park chase me, have encountered many open range cattle that would not let me pass as they walked the roads. In Wyoming Buffalo are a common sight on the road neat Grand Teton Park.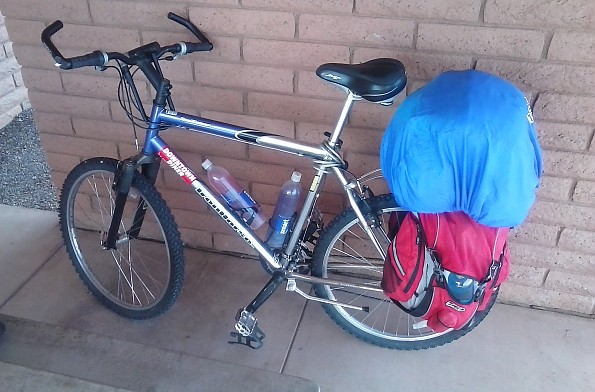 This was my loaded bike on my last tour from Flagstaff to Tucson last fall, it will look pretty much the same way this trip. I carry just basic gear, tent,sleeping bag,sleeping pad, spare clothes,camera, binoculars, cook kit and water bottles. About 20-30 lbs depending on food and distance between towns. One this tour my first town will be Why/Ajo AZ about 120-130 miles west, so I am starting with 6 days of food as I plan to start slow and ride only mornings as its going to be in the mid to upper 80's by afternoons. Plan to ride mornings and day hike afternoons in the desert washes for trails.
Once I have been on the road a week I will have gained muscle power to start going farther. After Ajo its 155 miles to Yuma AZ. There I will turn north to Kingman along the California/Arizona border.
As possible I will post trip reports. I am taking off next Friday morning the 3rd of March.