8:33 p.m. on June 23, 2018 (EDT)
GaryPalmer

244 reviewer rep
5,429 forum posts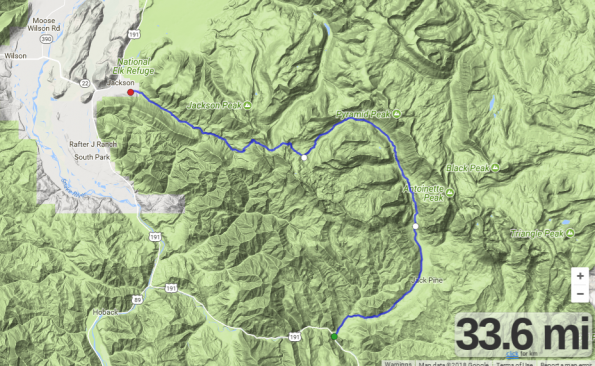 Starting next Sunday, July 1st I am doing a 33+ mile backpacking trip into the Gros Ventre Wilderness near Jackson WY. I am hitchhiking down the highway to where Granite Creek enters the Hoback River at the green dot on this terrain map above. Then starting along the Granite Creek. 
Its 9 miles up Granite Creek to Granite Hot Springs at the first white dot, where I plan to soak a spell, before continuing on up the creek trail to Turquoise Lake at the second white dot 12 miles further. Its an easy hike up the canyon as the elevation starts at Hwy 191 at just over 6300' and the lake is at 9400'. I have done the portion from the hot springs to the lake many times since the early 80's.
I plan to take 3 days to get to the lake so to wake up there on the 4th of July and stay till Friday morning, then hike to a place called Cache Pass where the blue trail line zigzags before hiking down Cache Creek to Jackson 12 miles from Turquoise Lake. Jackson is 6234' so its all down hill.
I had retired in February but took a job at the North Rim of the Grand Canyon, but after working a month decided it was too hot and dry there. It was 8200' but in the upper 80's everyday and the closest water was the Colorado 6000 feet and 14 miles away. I returned to Jackson Hole and am now living retired. I found a garage room for the surprisingly low monthly price of $200 a month. 
The lake I am going to is in the south middle of this circle of mountains in this aerial view from Google Earth below. Granite Hot Springs is in the upper right area.