2:37 p.m. on September 19, 2011 (EDT)
Tipi Walter

295 reviewer rep
1,436 forum posts
Should I name this trip "19 Days with the Rattlesnakes and the Heat"?  Or "19 Days with Johnny Molloy"?  Or "19 Days In the Autumn Cool?"  Tropical Storm Lee pounced while I was out so I think I'll just go ahead and leave the original title.
ANOTHER TRIP INTO THE CITICO/SLICKROCK WILDERNESS
August 31-Sept 18  2011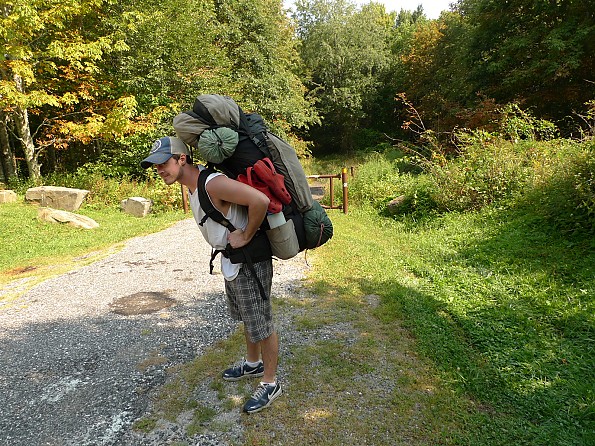 On Day 1 my GF Little Mitten and her son Blade drive me up to Beech Gap in the Tennessee mountains and drop me out for another long trip with the Anvil Pack.  Here is Blade injuring himself as I get him to try on my pack and it takes three people to get it up on his back.  Here he is right before he starts bleeding from his eyes and ears.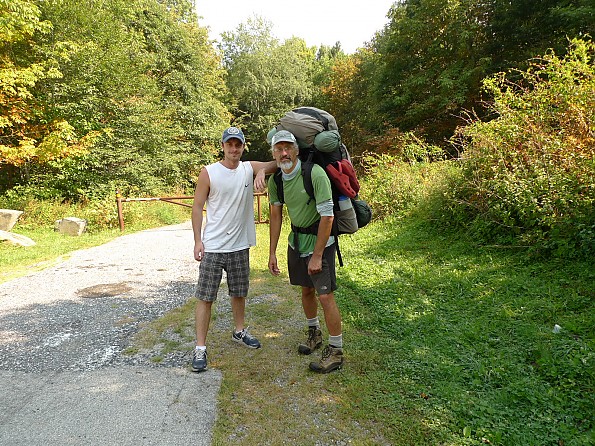 Blade hands off the pack to me in an intricate series of docking procedures we learned from moving locomotives around in the Chattanooga rail yards---and here he is keeping me from tipping over.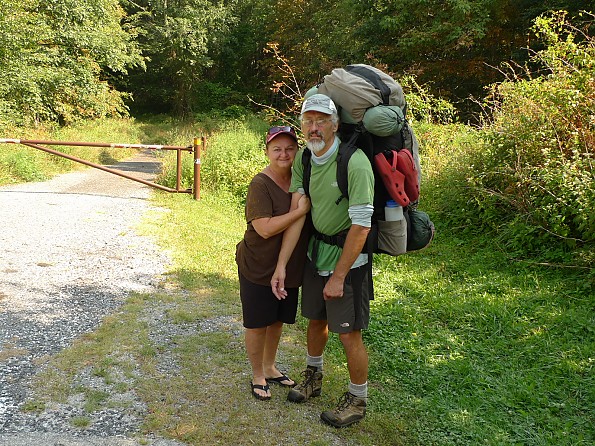 Little Mitten makes her appearance and so the whole crew says their goodbyes.  Behind us awaits the trailhead into the Citico backcountry.  (Editor's note:  15 feet behind us and to the right was a very active yellow jacket nest which we found AFTERWARDS).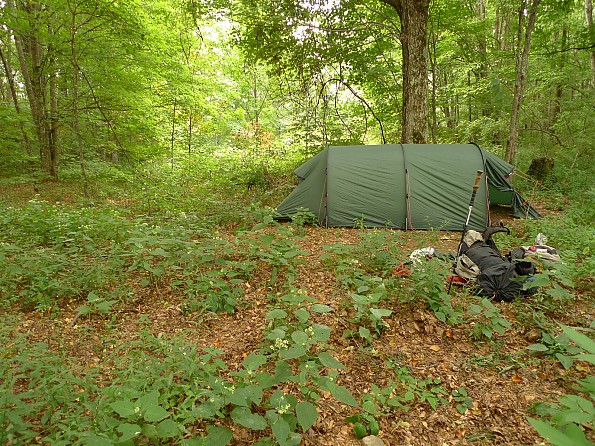 After only around 3.5 miles I make it to Barrel Gap and set up my favorite tent of all time: the Hilleberg Keron 3.  Oh, btw, I passed two active hornet nests on the way in but thru careful eyeball work I saw each one and moved accordingly.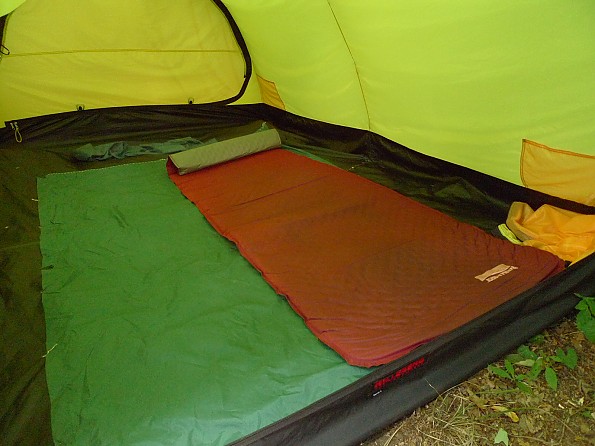 Here's the inside of the aircraft hanger I mean the Keron tent with the required inside tarp and the Prolite Plus pad.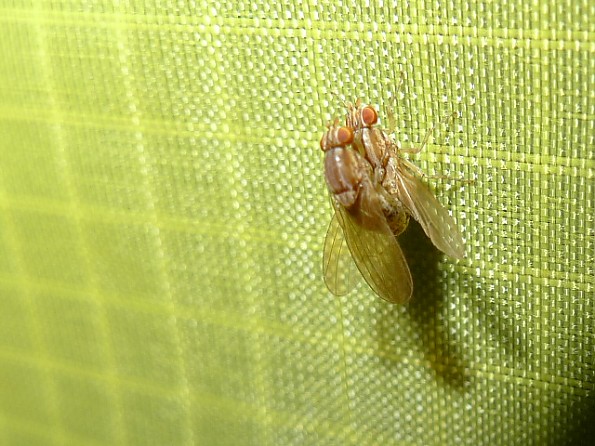 MAKE LOVE NOT WAR.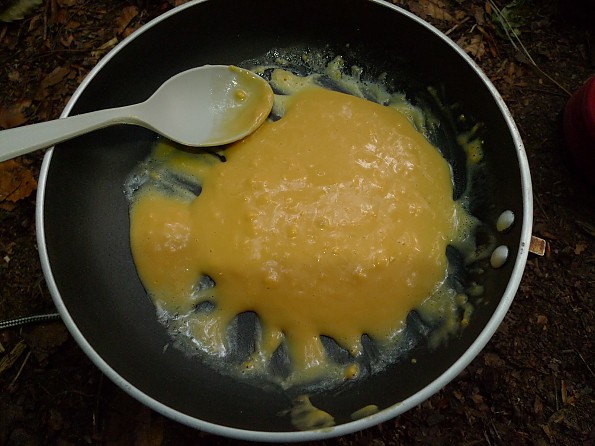 Day 2's breakfast starts out as dried egg powder mixed with water and olive oil.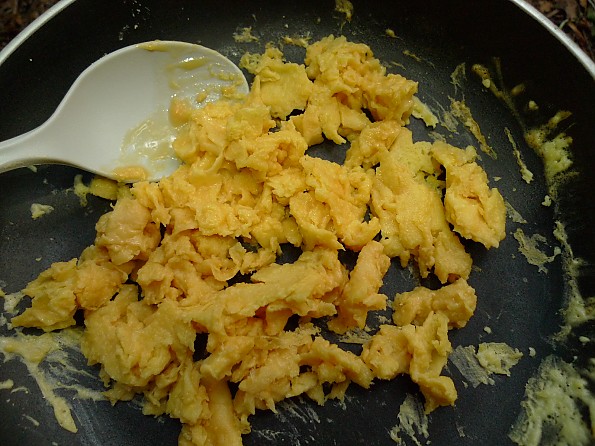 And then scrambled!  The eggs are from Frontier Herb Co-op and highly endorsed by the Uncle Fungus Association of Recipes and Tents, or UFART.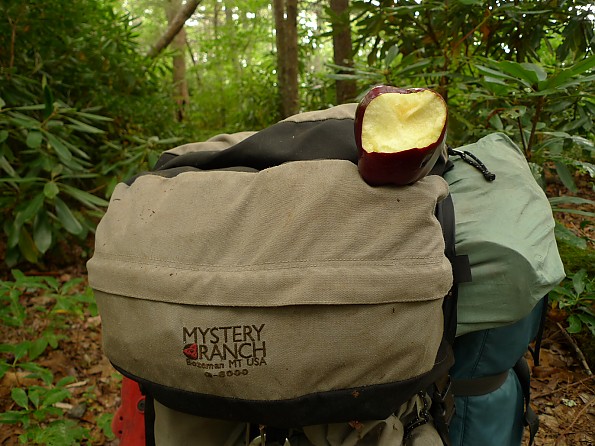 On Day 2 I have to pull a seven mile hike on Fodderstack Ridge so it's easy to stop and pull out the fresh fruit.  Gotta lighten the load, boys.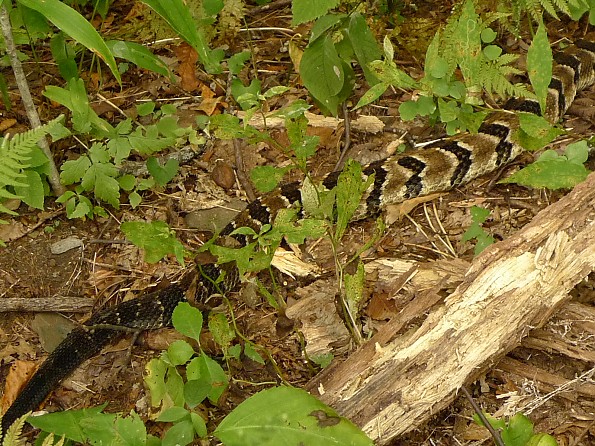 RATTLESNAKE ON THE MILL BRANCH TRAIL---I drop off the ridge and go about a hundred feet to a spring source and circle around a likely tentsite in the weeds when I stumble on this pretty specimen of the pit viper family.  Since he wants my spot I give it to him and climb a steep pitch and go a mile further to old dependable Crowder Camp where I set up the tent.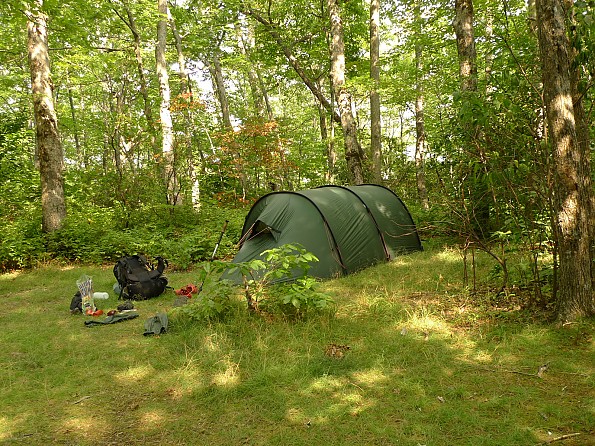 Here's the tent at Crowder Camp.  Ya gotta give the reptiles their due.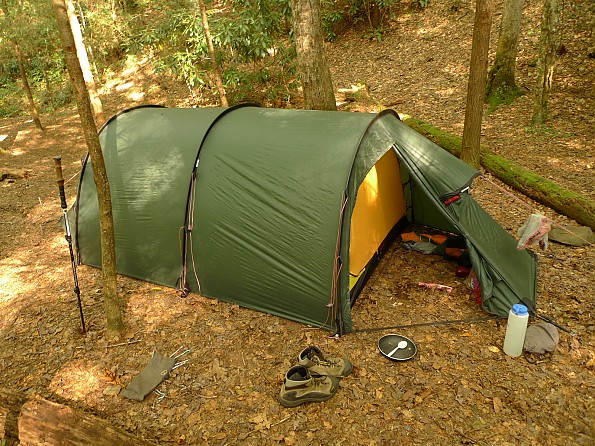 On Day 3 I leave Crowder Camp and lose about 1,500 feet on the Big Stack trail which takes me to Slickrock Creek and Wildcat Falls where I set up camp.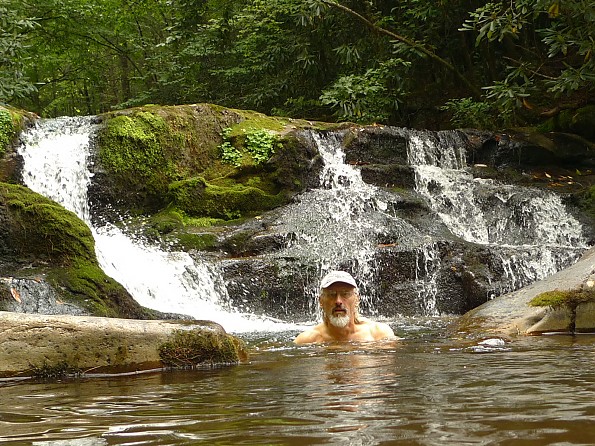 After getting camp set and the food hung, I go to the falls for a much needed sheepdip and swim.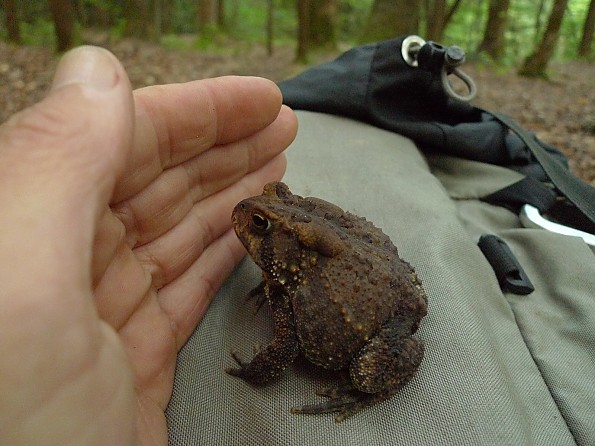 Day 4 begins with a toad visitation and so we spend several minutes talking to each other about the condition of our condition.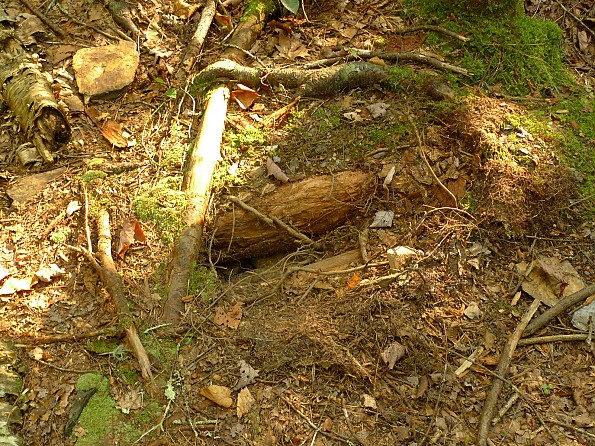 The Slickrock Gauntlet---On my last trip I had to hike very slowly to avoid six active hornet nests, and here is what one of them looks like.  If you see such a thing, stop, weep, adjust protective cup and go around.
I make it to the swimhole at Butterfly Rock where I jump in to cool off.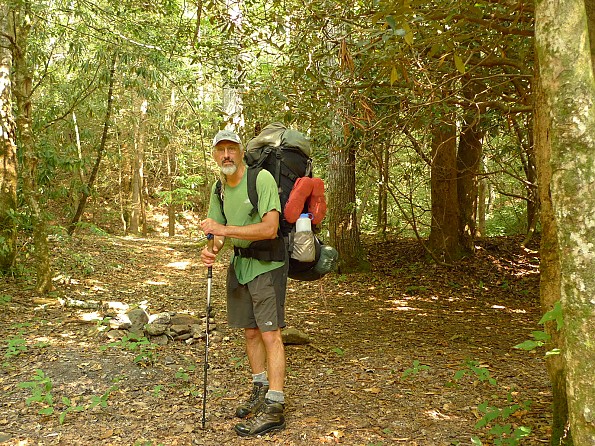 My hiking day is nearly over as I pose for a shot on the BMT by the Stiffknee jct on Slickrock Creek.  One more crossing and I'll be at my campsite.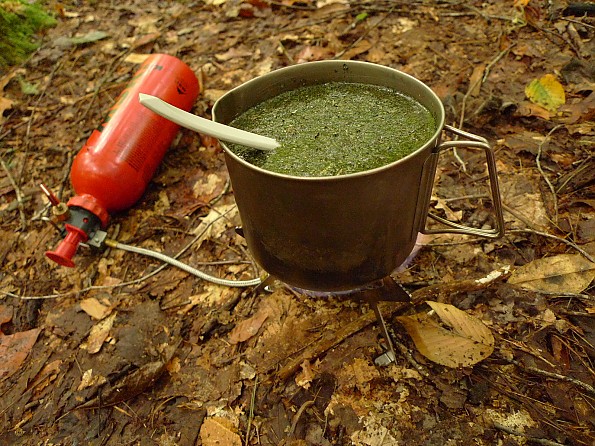 Day 5 begins with boiling up a near liter of creek water for nettle tea with honey as I bring my MSR titanium pot just for this purpose.  Stinging nettle tea?  Yup, it's good.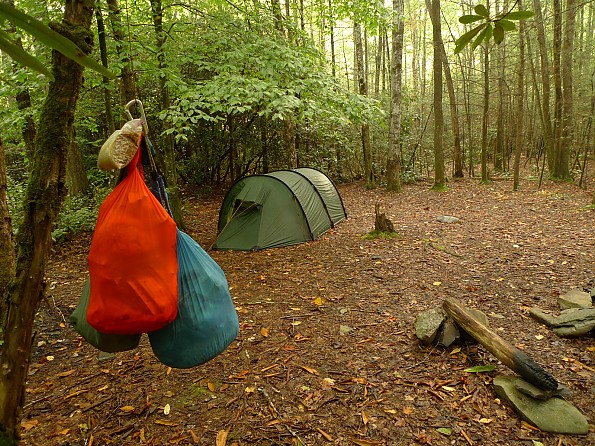 I decide to pull a zero day at Sgt Rock Camp (named in honor of the guy who maintains this part of the BMT and who camps here often).  Here are my foodbags and the tent buttoned up so I can pull a three mile dayhike downriver to leave a note for two backpacking buddies coming in from the Lake.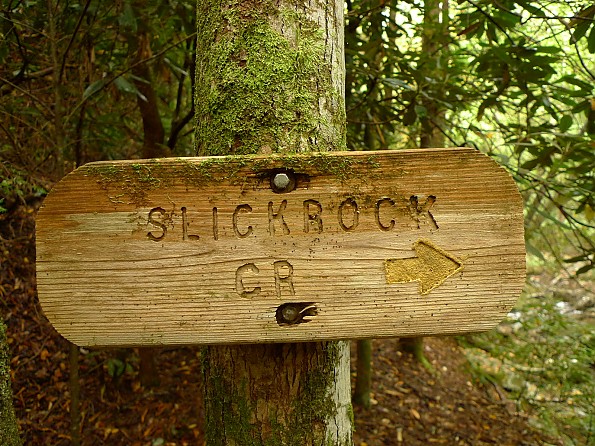 There are two more Slickrock crossings and here's what the signed crossings looks like.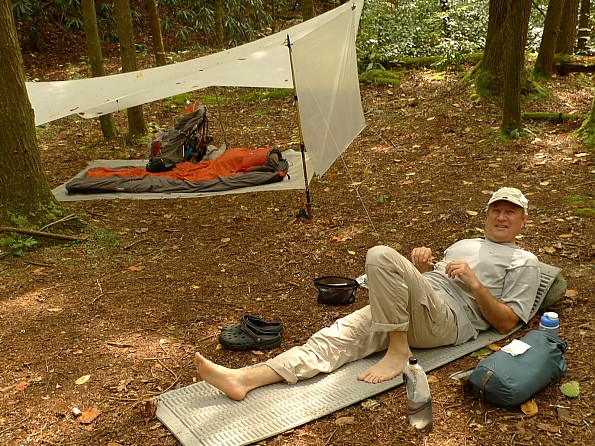 I reach a large area on the lower Slickrock I call Pisgah Canyon Camp and find Bryan DeLay set up and waiting for his friend and author Johnny Molloy.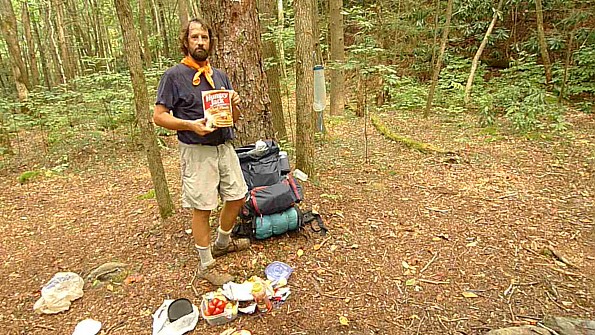 Johnny Molloy pulls into camp and we meet for the first time.  He's written many books about backpacking and hiking trails thruout the country and probably backpacks and canoes more than anyone I know.  He gets to camp and starts unloading his big CampTrails pack and shows off each individual food item.  He's old school.  Here's a 28 oz box of Hungry Jack pancake mix.
Johnny's camp after arrival---a common sight for all backpackers.  I call it the "Cessna crashes in the mountains" look.  Both Bryan and Molloy are tarpists.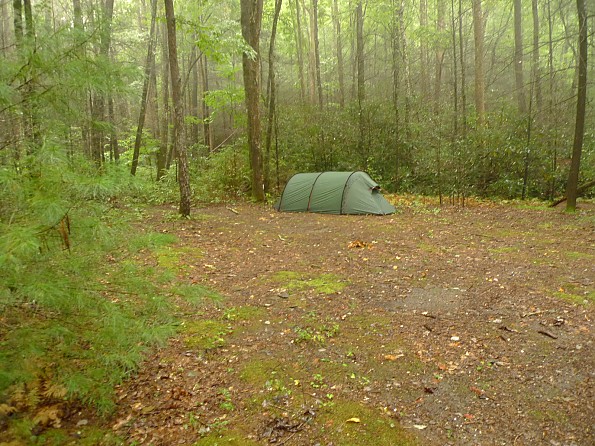 I rush back to my camp and get overheated so I take a necessary sheepdip just before the sky opens up in the first salvos of Tropical Storm Lee as it hits the mountains of NC and TN.  Before I leave Bryan's camp we plan the next day's hike as they will pass my camp going upstream and pull all twelve crossings to Big Fat/Slickrock camps unless the rains make the crossings impassable.  So . . . .
On Day 6 I leave Bryan and Johnny a note on a tree which reads "I got an early start---see you at Big Fat", and then I was gone and hiking in the rain all day.  I pulled ten crossings and got to a place to make my tropical storm stand at Bee Camp in the Big Fat/Nichols Cove/Slickrock area.  Every backpacker needs to know where he's gonna make his "last stand" in a bad storm, whether a rainstorm or a blizzard.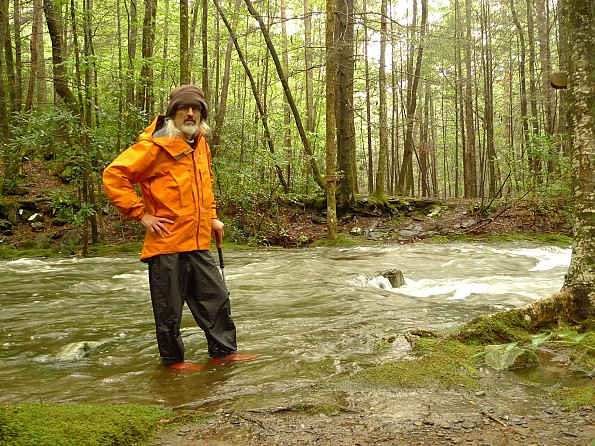 I wait all day but the boys seem to have bailed so I take a picture of the rising creek.  It rains hard all day and all night.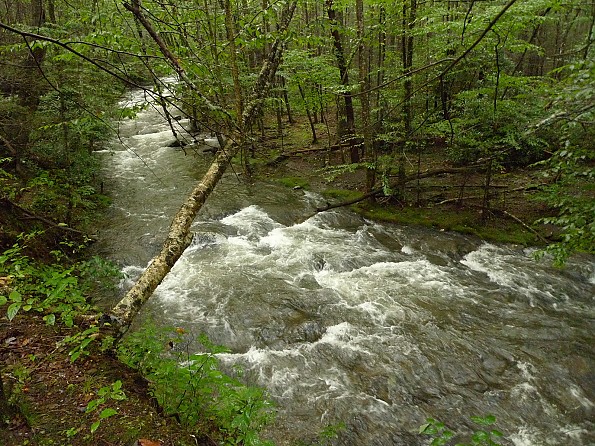 On Day 7 after 40 hours of rain I get a break in the clouds and pull another recon and find the water high.  This is a pic of Slickrock Creek from my campsite.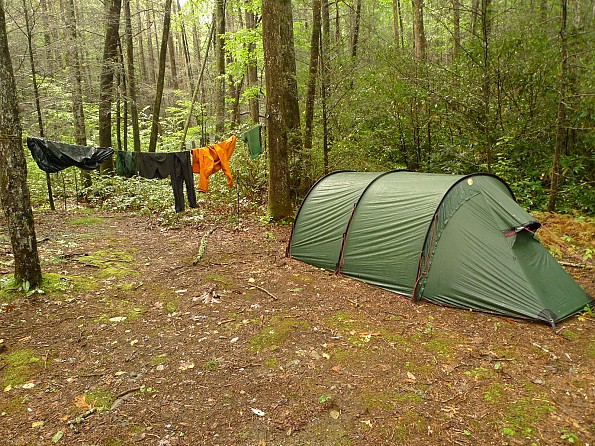 In-Camp Bearline---I return to camp and hang the stuff that needs it while I see patches of blue above.  It can't be!
The brief break in the rain causes me to pack and gain a thousand feet in 1.5 miles and pull into Big Fat Gap.  A side trail called Windy Gap pulls into Big Fat Gap from the west and so I go down it and find this great grassy site with a spring. 
DAY EIGHT TO CONTINUE
STAY TUNED BOYS