2:01 p.m. on September 28, 2011 (EDT)
Capow21

109 reviewer rep
66 forum posts
My fiancé, his dad, a friend and I left the Oregon coast t 8:00am on Sunday the 18th. After a 14 hour drive with four stops we arrived to Wyoming at 1:30am. We slept in our pickup and then went to the local store for the guys to get their conservation stamps for their mule deer hunting tags. We then drove 18 miles into the backcountry and set up camp at 6,300 ft.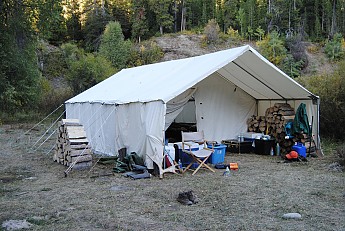 The next morning we went scouting for deer. You just about break your neck looking up to the top of the mountains there. We ended up walking up a canyon in the evening and we saw 6 bucks and 2 does. The wind was ripping like no other. Our hike was about 21/2 miles. Gained about 2,000 feet in elevation. A few of the bucks were monsters, so my fiancé was all pumped up about getting to the top of the mountain at 10,000ft to camp and shoot a monster mule deer. 
Here is a view from the camp: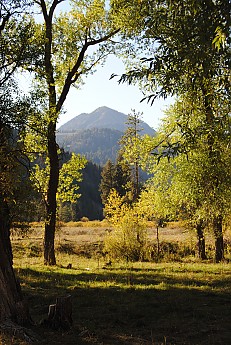 Day two we decide to head up the mountain to the "monsters." I'm just excited to do some backpacking and get to use my new tent I made. Here we are about half way into our hike. We started at 6,400 feet and this was at about 7,800 ft.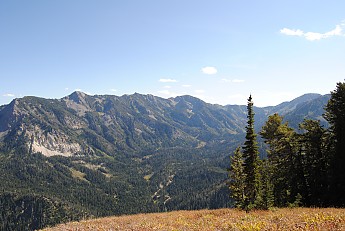 Continuing up the hill we jumped a 4-point buck and my fiancé shot at it, but missed. I was glad he missed, because it wasn't very big and that was the whole point of hiking up the mountain....to shoot a big one. Anyway, this pic is from slightly higher and just to the left of the pic above.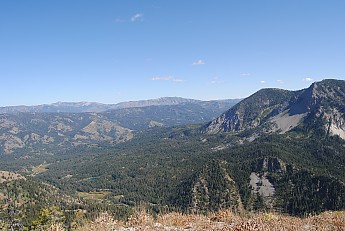 This is looking even further left across the river and canyon.
The terrain was quite difficult. We had to do some rock climbing and most of the walking was actually crawling, because the ground was like sand with softball size rocks in it. Kind of the one step forward, two steps back deal. No trails anywhere up here.
This shot is on the backside of the ridge we climbed up. We're on top of the ridge at about 9,400 feet. As we walk the ridge we gain another 300 ft and ended up making it to just over 9,700ft.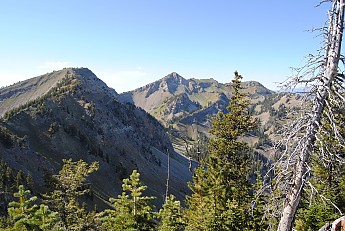 The mountains and canyons seem never ending. As we walk the ridge we came across 8 HUGE Blue Grouse, but I didn't have my camera out. We also jump a forked horn buck. 
This next pic is further up the ridge at about 9,700ft.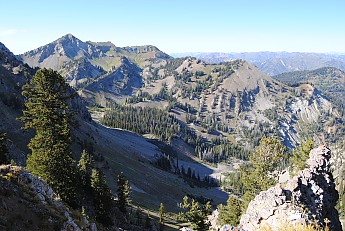 We walk about another 50 yards to the left of where this picture was taken and my fiancé spots another 4 point buck. In the mean time I'm admiring the Grand Tetons you can see from where we're at. (I didn't get a pic, because my fiancé shot the buck). 
See the small grove of trees in the middle of this pic below? That's where the deer ended up rolling to and dieing. It rolled down the hill almost 500 yards from where it was shot, that's how steep it was. The pictures don't do anything justice.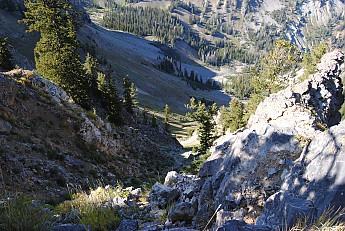 The hike down to the buck was interesting. It was so steep that standing almost upright you can keep your hand on the ground. Now add loose dirt and sheer sharp rock. We couldn't walk without sliding about 20 feet. My fiancé is very afraid of heights, so it took us almost 45 minutes to hike down about 800 yards. Here is his buck: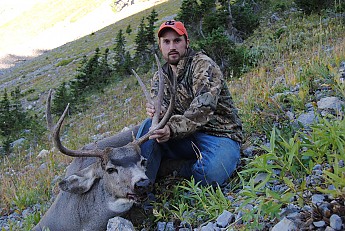 It flattened out a bit here, but I still had to cram rocks under its body for the picture, because every time you touched it, it would begin to slide downhill. Now you may be wondering, a four point? I only see two points on the left side. That's correct, because the nice big fork in the back there got broken off during it's 500 yard roll down the mountain. 
We got the deer all cleaned up and hung the meat in a tree surrounded by emergency blankets and glow sticks (works very well for keeping bears from eating it). Instead of going back up to the top of the ridge we walked out the bottom of this one and down into a canyon to a horse trail. It was about a 31/2mile walk. We made it back to camp around 10:30pm. Here is my fiancé packing the head out that night.
The next morning my fiancé and I hiked back in to get the meat. He packed the back end and I packed the front shoulders, back strap, and neck meat. We made it about a half mile and my fiancé's feet started killing him from walking through all of the rocks in the avalanche slides. (The buck was killed in an avalanche slide and we had to cross three other ones on the pack out). They hurt him so bad he ended up sliding down the 3/4 mile timbered horse trail on his butt. Four hours later we made it to the pickup and back to camp. Then his dad said "guess what?" Well, he killed his buck while we were packing out the meat. So the next day we went to pack out his deer. It was a pleasant half hour pack.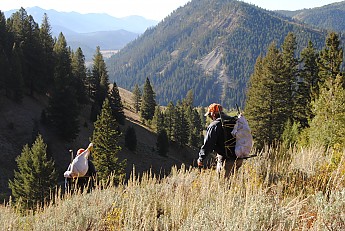 While packing out his dads we ran across a guy herding his sheep to the sheep trucks to take them back to Utah.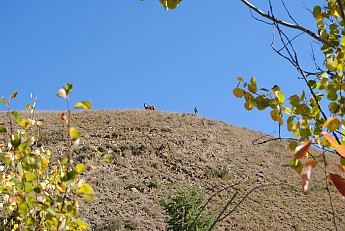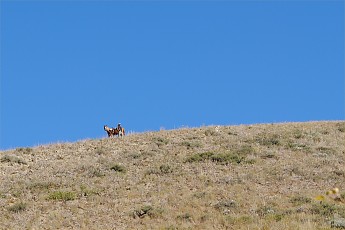 There were thousands and thousands of sheep, but here are a few: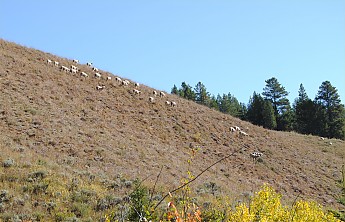 Then our friend that was with us, killed his buck. 
Here is my fiancés and his dads: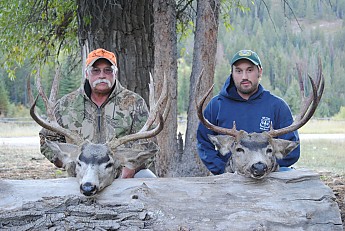 Look at the size difference in the heads. My fiancés is 28" wide and his dads is 25". Our friend killed a small four point, all three pictured here: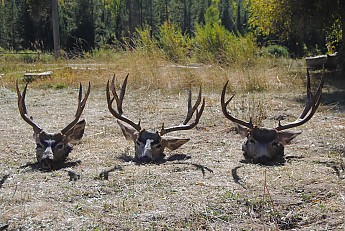 And that's it! THREE DAYS and it's all over. We were supposed to be gone until Oct. 3 and I didn't even get to use my new tent and only got one day of backpacking in. LAME!
For those of you who hunt, while we were packing all of this meat, my sister in-law killed this 25" 4-point with her bow in Oregon.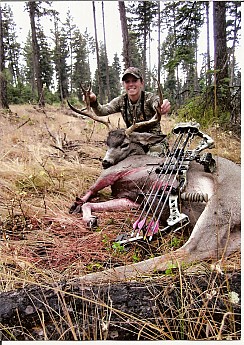 She also shot a 6 point bull elk and my brother got a forked horn mule deer with his bow and he also shot a cougar with his bow. They didn't find the cougar. He was cow calling for my sister in-law and he heard a twig snap behind him and when he turned around a cougar had layed down 20 yards behind him, so he stood up and made himself big. The cat didn't do anything, it just stared at him in a pouncing position, so my brother wasn't going to mess around and shot him in the chest (He had a cougar tag). It jumped straight up about 8 feet and ran, they followed the blood trail for a while, but never did find it. The entire arrow shaft went up it's chest and they found his fletching, but no cat.


So, since I didn't get much backpacking in, I'm planning a few trips here in Oregon and I will have to post some reports on them.