Patman
REVIEW CORPS
3,278 reviewer rep | 2,325 forum posts
6:24 p.m. on October 5, 2011 (EDT)
The beautiful weather inEastTNhad me salivating to get out. Like always (for me) the plan coalesced at the last moment. I had told my wife's uncle that I was going to check out the North Carolina side of things more this year and perhaps work in a trip to Hazel creek to see the Hall cabin (built by my wife's Great, Great, Great Uncle Alphonzo (Fonzie) Hall) which has been preserved in the Great Smoky Mountain National Park up in Bone Valley.
So I called for permits on Friday afternoon and planned a loop: the Friday night access hike would take me from Clingmans Dome south on the AT to Double Spring ( 3 miles / night 1), day 2 would be south again on the AT to Welch Ridge, west on Hazel Creek ( 4 mile side trip to the family cabin in Bone Valley + 12 miles getting to Bone Valley/ night 2) , up Jenkins Ridge, North on the AT to Derrick Knob (16 miles/ night 3), and then North on the AT back to Clingmans (exit hike / 10 miles). So a nice 45 mile loop on a long weekend.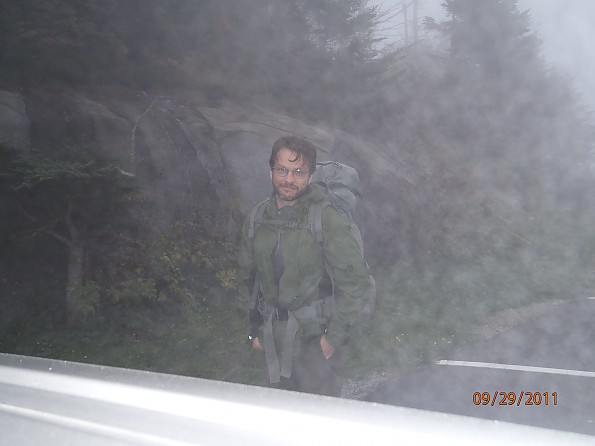 And so it began about 6:20 PM on a cold, foggy evening at Clingmans Dome parking lot.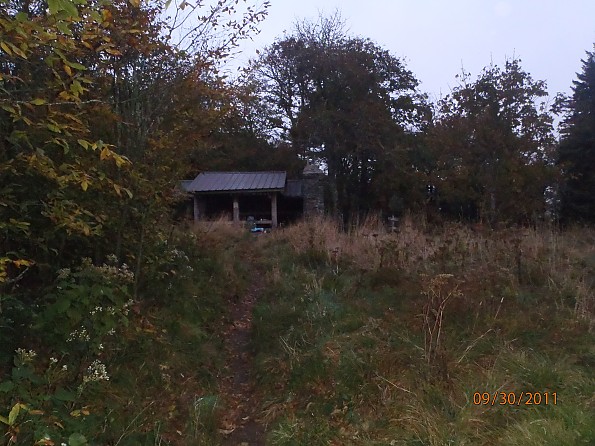 I made quick time to Double Spring Gap shelter where I found about 6 folks already settling in for the night. They made a nice fire and we talked a bit and everyone bedded down pretty early as is the norm for that kind of weather / place. I learned that Hawk (from Alabama) was also going down Hazel Creek the next day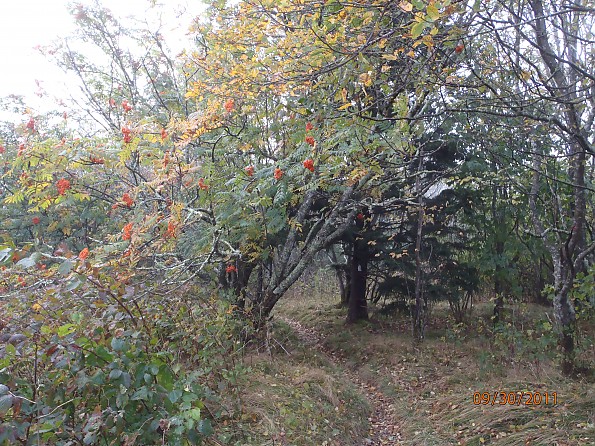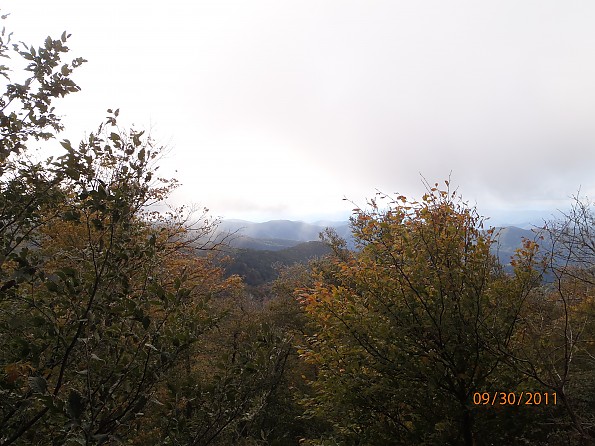 The next morning was very cold and I was glad to get started hiking. Hawk caught up to me pretty quickly and we fell in together for the trek down the mountain (a 3000 ft elevation loss over 11 miles).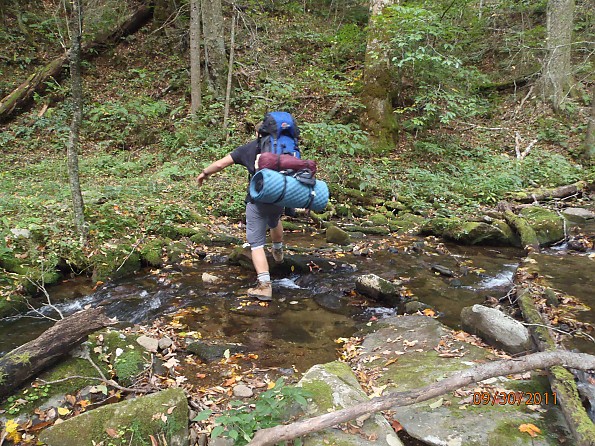 Here is Hawk rock hopping across the first small creek crossing. Neither of us had seen the Hazel Creek area before; the creek crossings became progressively larger and it became a pretty fun game trying to make the 12 (or so) crossings without de-booting. Had I been alone I probably wouldn't have tried all the ones we did but you know how it is when two men get stubborn about something. In fact, Hawk was so stubborn he made one too many quick jumps and made a bit of a splash on his backside, lol. But he's a young dude and popped up out of the water like lighting (so fast he was barely wet). Nice recovery.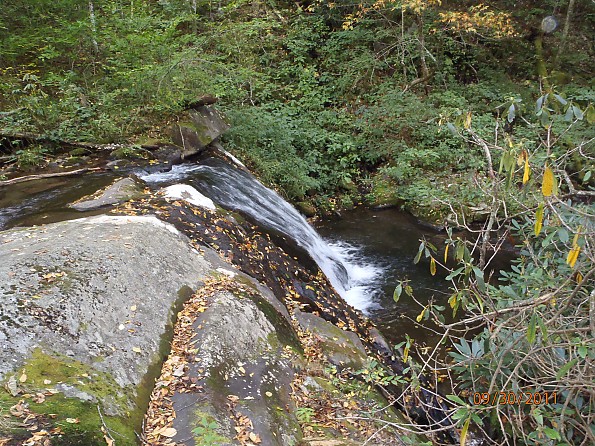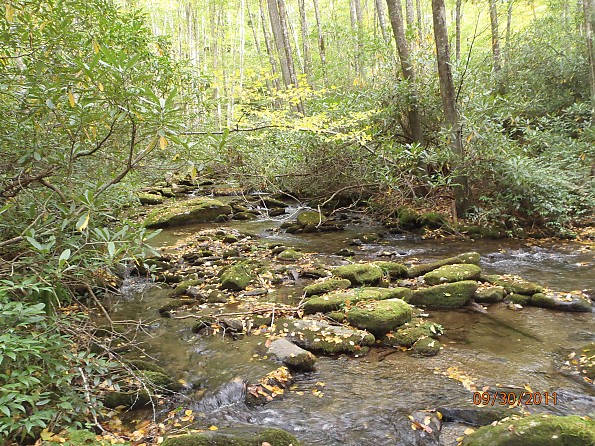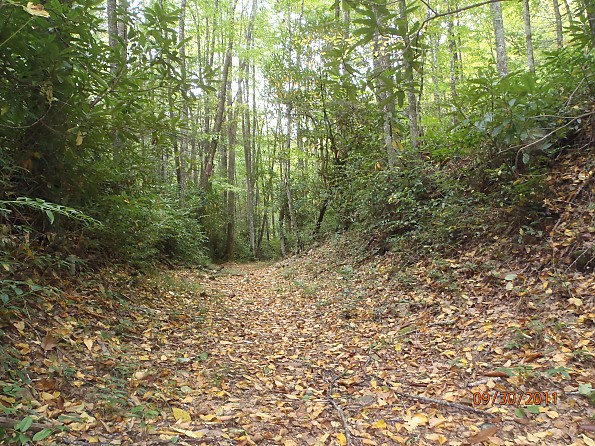 Hazel Creek trail was beautiful. After a while it became an old road bed and well graded.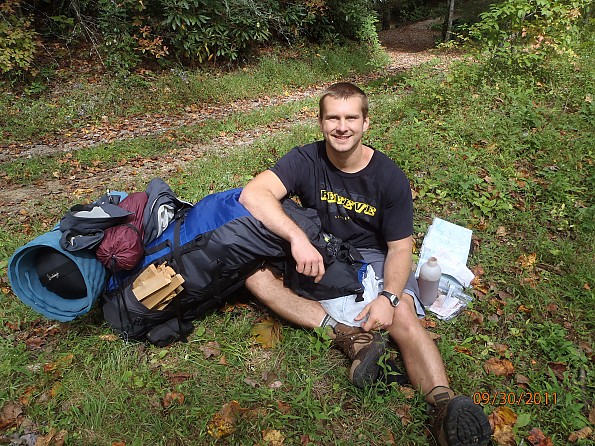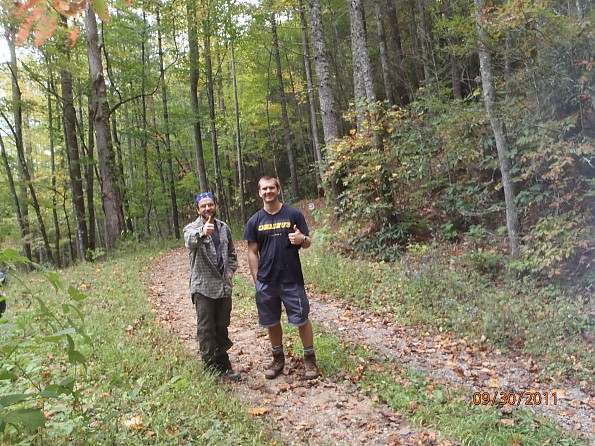 I enjoyed talking and trekking for the 11 miles off the mountain and we went as far as Bone Valley before our paths diverged. The bottom pic was made with timer-set camera sitting on a tree limb.
I took off up Bone Valley and wouldn't you know it, I had to de-boot four times for wide creek crossings!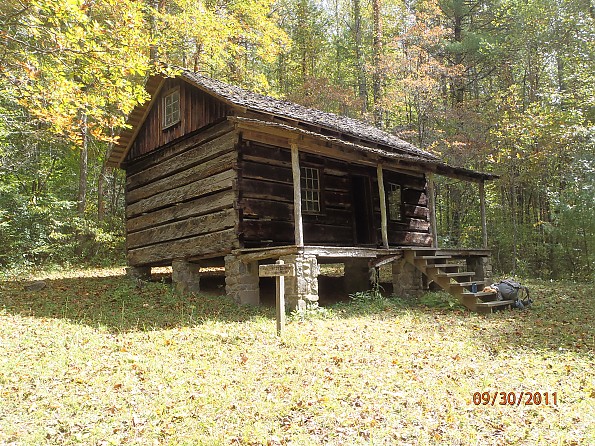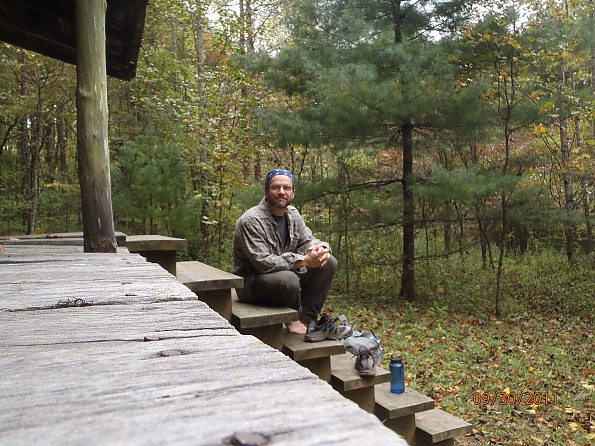 I made it to the family cabin and snapped a lot of pics to show the folks back home.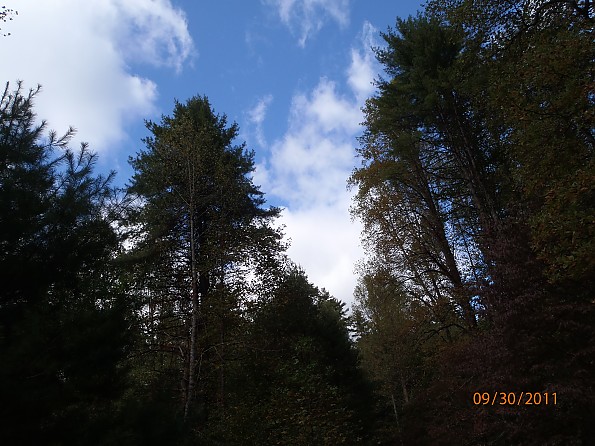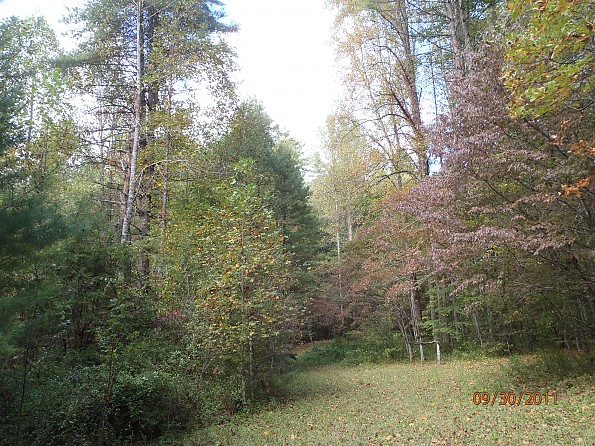 This is the view from the porch; I tried to imagine that place being home.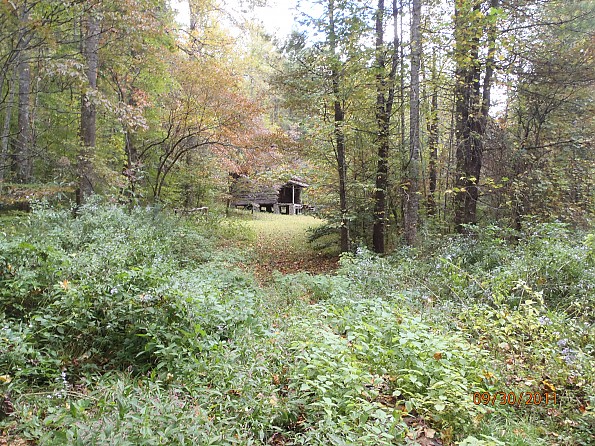 A parting picture as I began the trek back downBoneValley.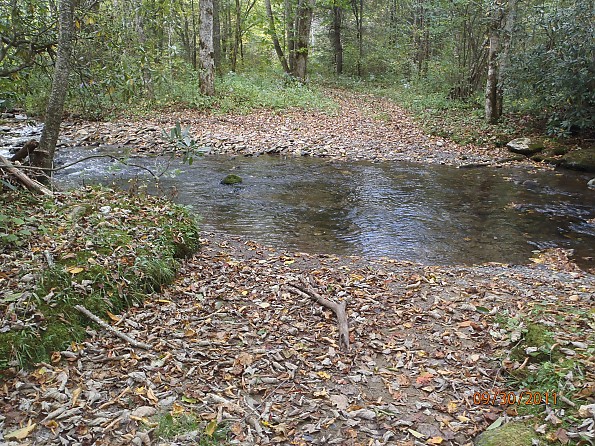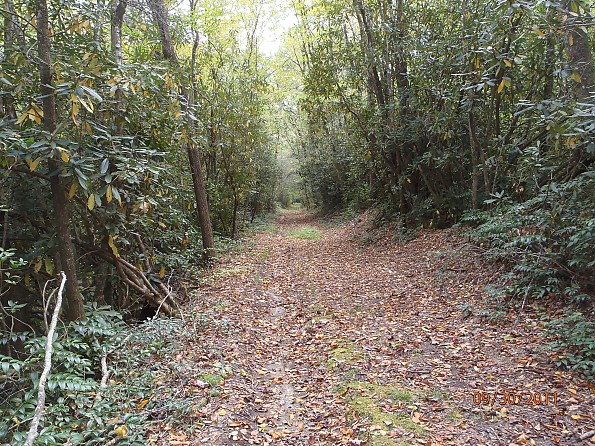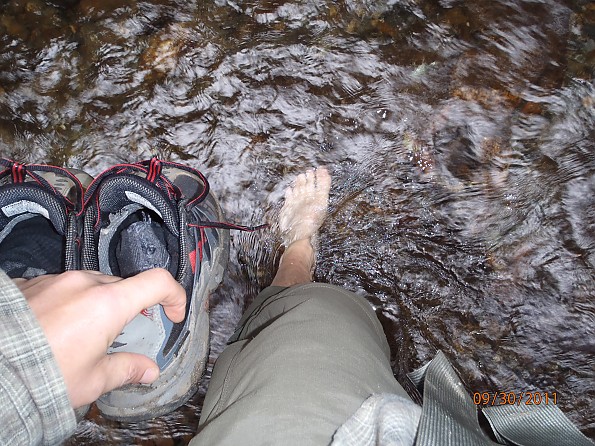 The top pic is one of the four required creek fordings; the middle is an example of this long old country road (now a "trail").
When I got back to Hazel Creek and started checking out campsite 83 (where I had a reservation), I saw that it had a lot of folks already there and one came out to greet me. As it turned out the group was comprised of student volunteers performing trail maintenance for class credit. They were from Warren Wilson College in Swannanoa, NC. The outing was led by their History Professor.
I thought I had something cool to say when I mentioned that my wife was a descendant of the Hall family whose cabin was preserved in the park. Well, he proceeded to bombard me with information about them! This fellow knew more about my wife's family than I did! It was very cool. He whipped out an old map from before the park existed and started pointing out features, told of family interests, Civil War attitudes and much more.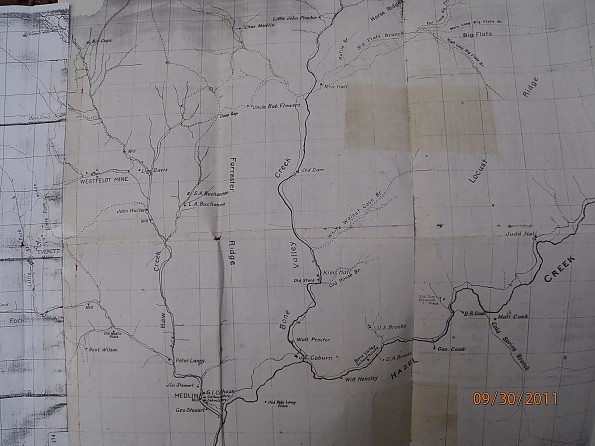 I took a picture of the map but you may not be able to see it here.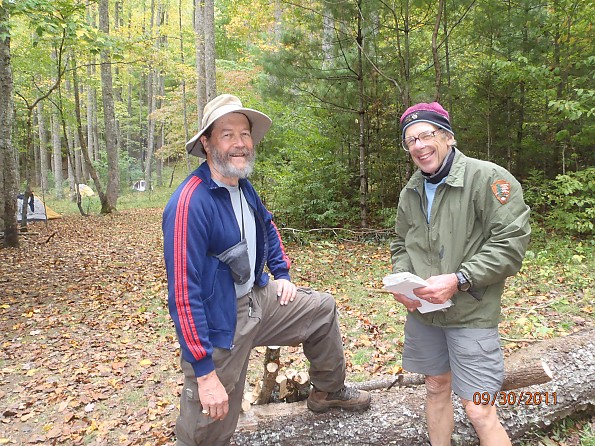 These are the two group leaders. The fellow on the right is the history professor. I didn't catch either of their names.
They helpfully informed me that the next backcountry site about a mile down the trail was empty and they had just cleaned it up (seeing that I wasn't too keen on camping with 15 eighteen-year-olds).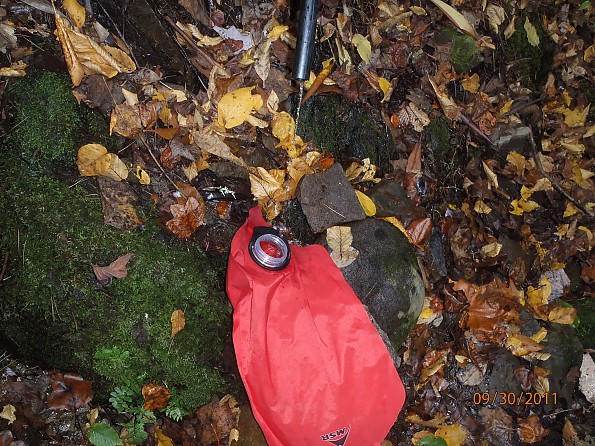 They also showed me a spring to fill up at before leaving that is known-good and doesn't need filtering.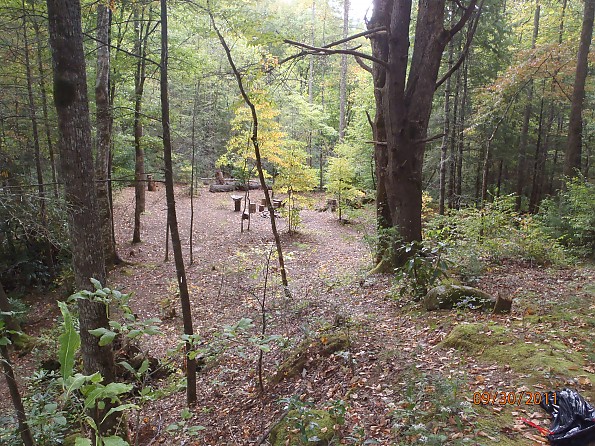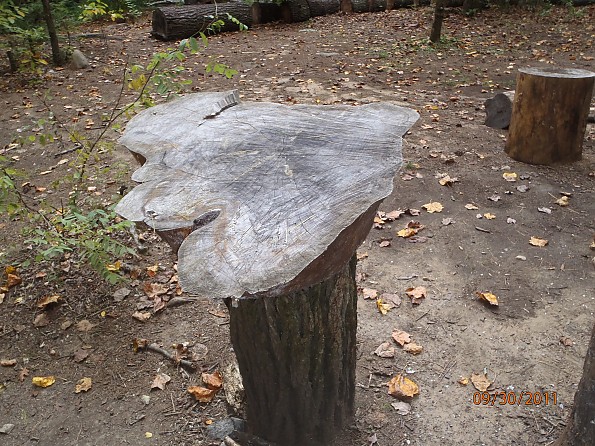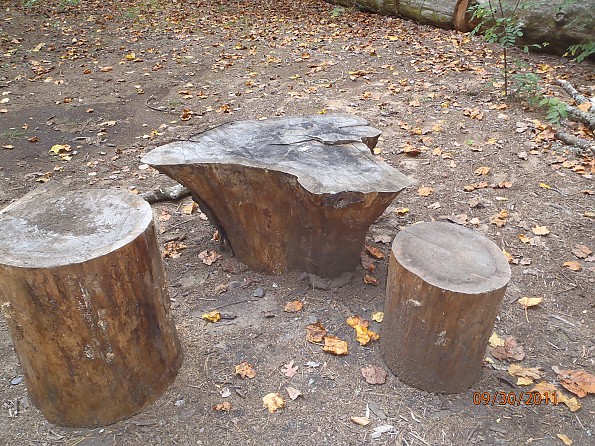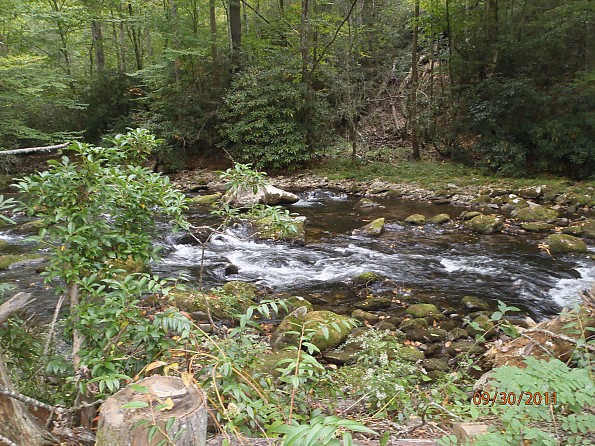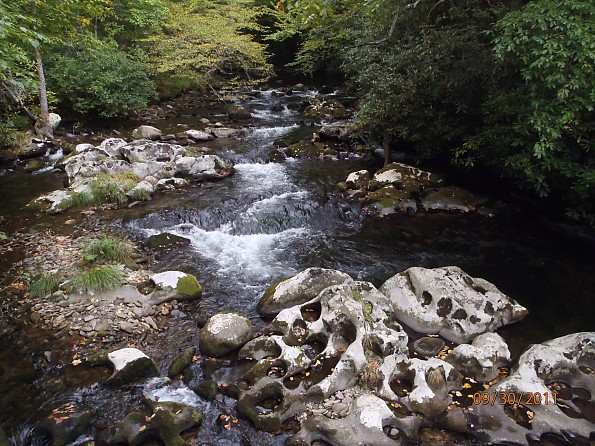 Well campsite 84 was even better than 83; thanks guys! Looks like the students even picked up the micro-trash. And whoever made the tree furniture had their mind in a good place while holding a chainsaw.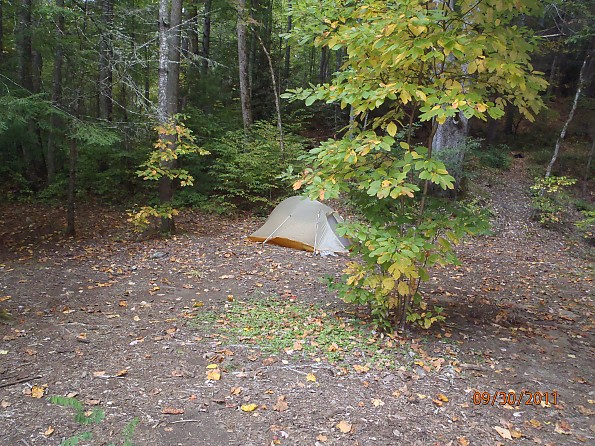 After setting camp (my Big Agnes Fly Creek pictured) I went down to the creek to take a bath with my Dr Bronners peppermint soap; and yeah it was super cold. When I came back up, I saw that Hawk had returned much to my surprise! He was supposed to miles down the trail by now but it turned out that he had some trouble finding the correct trail junction near the Lake Shore trail and thought he need to come back this way to pick it up. After conferring for a while we realized his map was wrong! Yikes…hard to navigate with a bad map. He pulled a bit over 20 miles because of it, I think.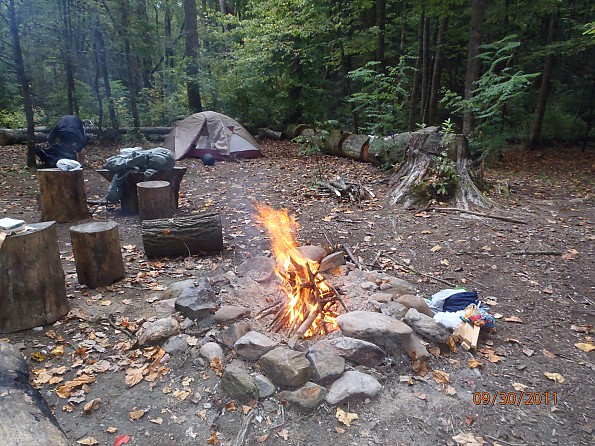 Here is Hawks Kelty tent in the background and the fire I made.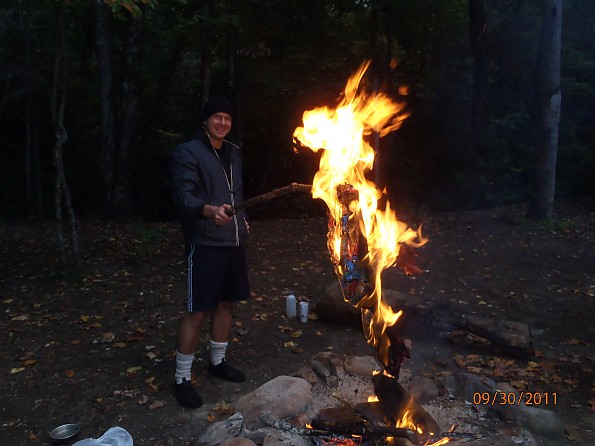 This is one of my favorite pics from the trip: Hawk wanted to lighten his 60+ pound pack and decided to burn some extra old clothes! I must say it was quite cathartic to get in on that and it wasn't even my clothes! Good times….
We sacked out pretty early after the burning that evening.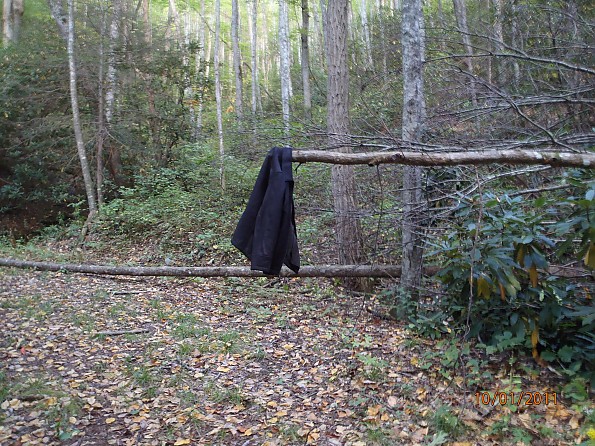 Here was a left-behind jacket on Jenkins Ridge trail (more widely known as Sugar Fork through here). I wonder if anyone ever goes back for such things? I bet that jacket hangs until it rots or a trail worker happens by. This is the trip of garments.
I started up Jenkins Ridge in earnest (the last section between Pickens Gap and the AT) and that must be one the longest 6.5 mile sections of trail in the park! Most of it was just "up" and on a poorly formed horse trail. I had some issues managing the "sweat shuffle" through there. I must have stopped 8 times to adjust layers trying to minimize sweating but stay protected from the chilling wind. Even after many years of this, I'm still trying to figure out the best way to manage sweat in the cold.
I finally made it up to Spence Field just south of Thunderhead Mountain! Whew, what a pull…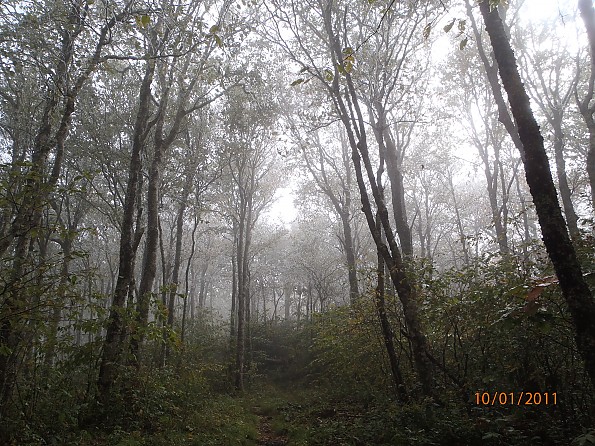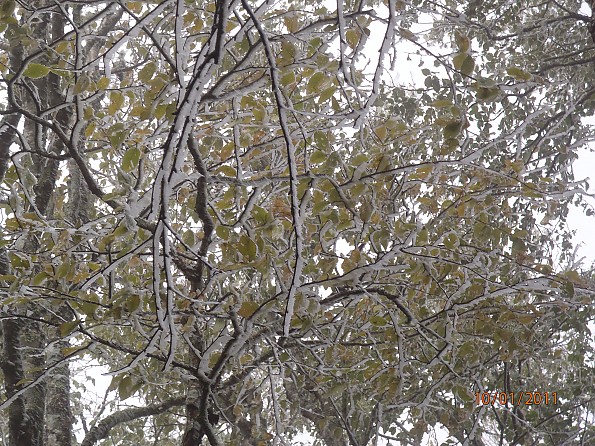 Hey the trees were all white up there and I kept hearing a sound like glass breaking into tiny shards as the wind blew the ice from the trees.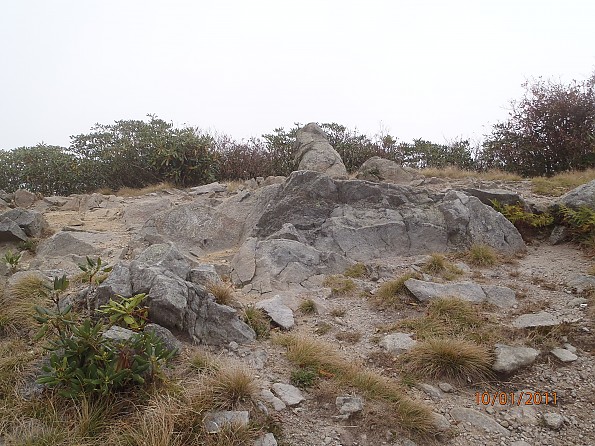 Ever heard the song Rocky Top? Here it is. It is too rocky by far, true dat.
And this was the view south into NC from Rocky Top (albeit on a foggy cold morning).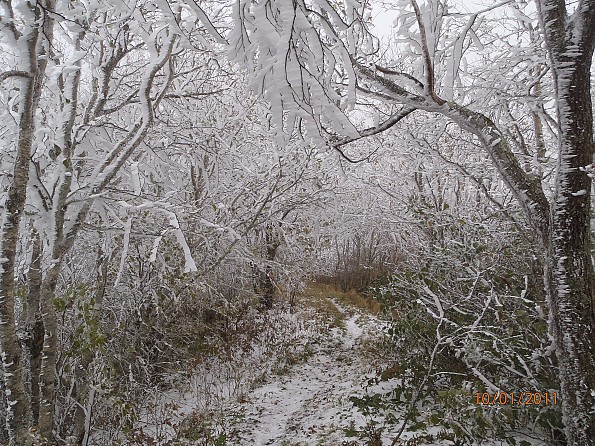 Passing over Thunderhead, the route was mostly an ice tunnel. It looked cool but after a few minutes I was tired of getting pelted with ice shards by the strong wind.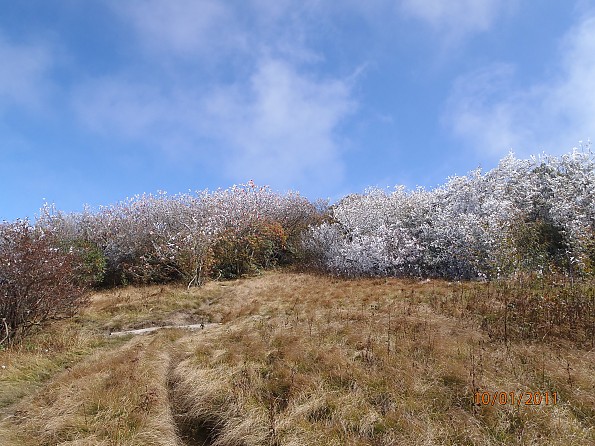 This was the view approaching the second peak of Thunderhead (Rocky Top is the first and lowest of three peaks as you go north on the mountain).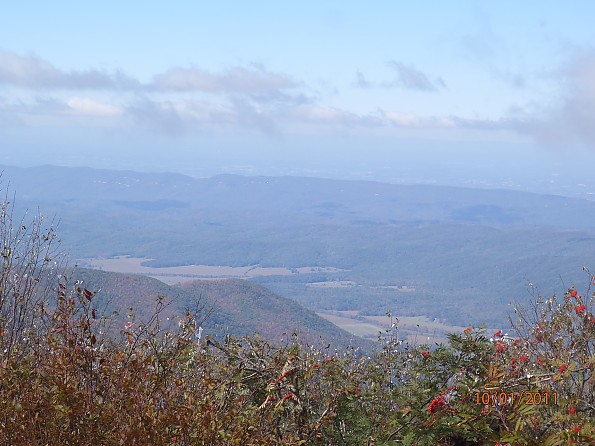 This was the view looking North West into TN and Cades Cove from Peak 2.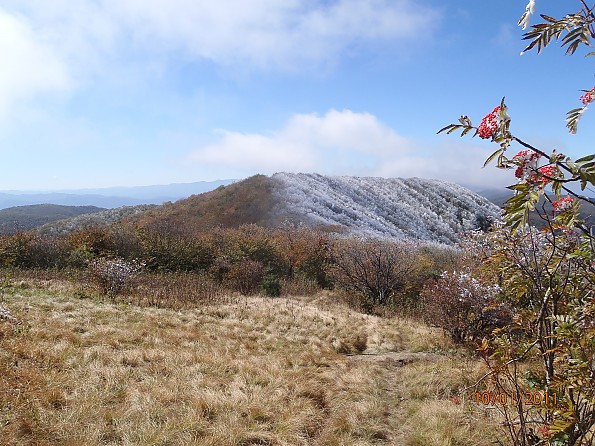 This was looking back at the ice tunnel I trekked through. Natures icy air-brush was just beautiful.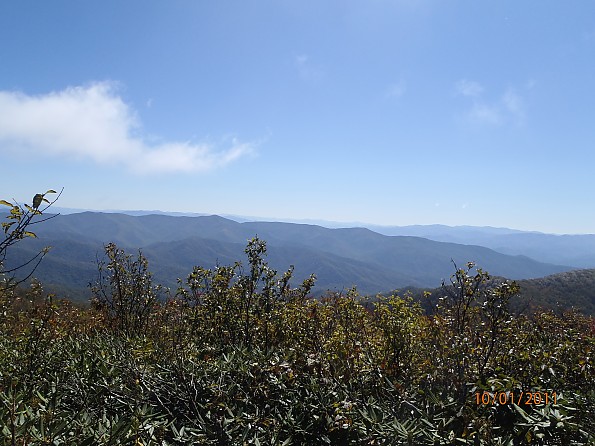 And finally a view from the highest of the Thunderhead peaks. (I had to stand on a rock).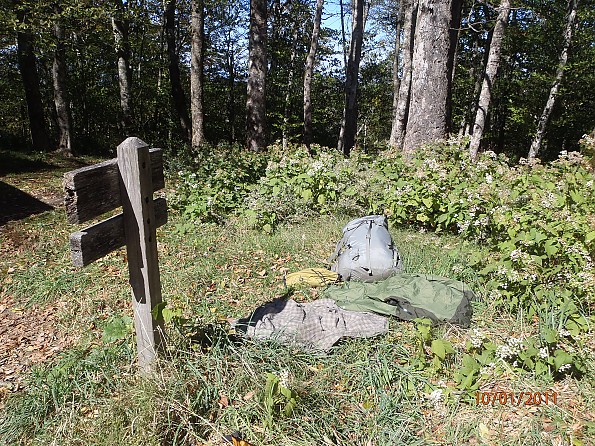 I had finished my 16 miles (and 4000 feet of gain) that day and laid down in the grass there at Derrick knob for about an hour to recover.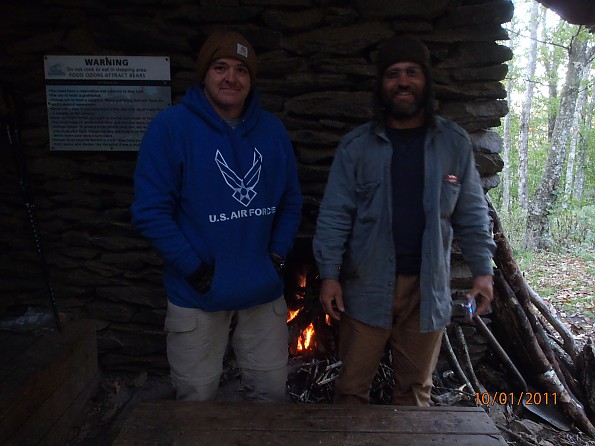 I thought I was going to have the shelter all to myself but eventually a group of two and a group of three pulled in all aching and sore. The two guys pictured were from Indiana and really fun guys to meet. We all gathered wood and talked and laughed (shared some whiskey from a Louisville Kentucky group of three also) until dark-thirty.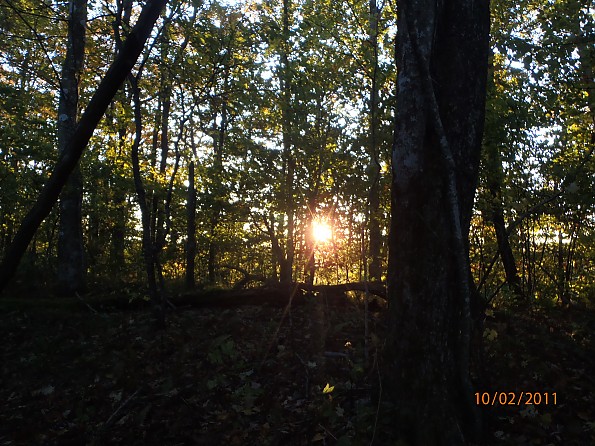 Here was sunrise from somewhere north of Derrick Knob but south of Miry Ridge on the morning of my last day.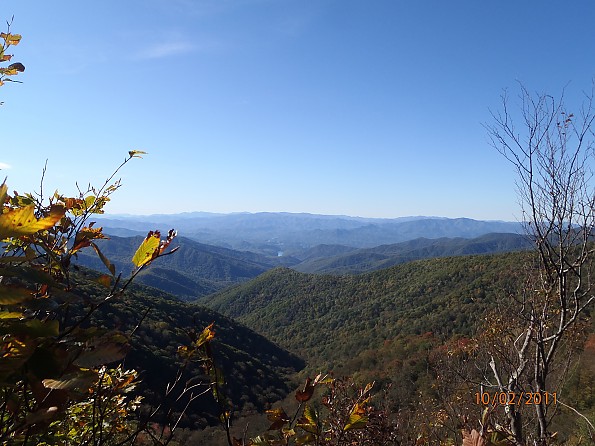 This was my lunch-spot view as I approached Clingmans about 9 miles later.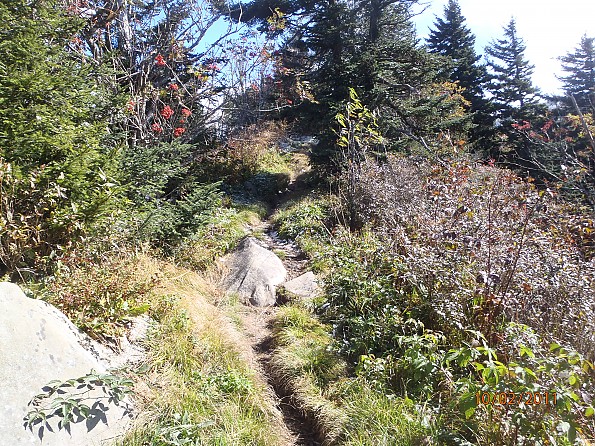 The Ash berries always make it seem like Christmas up here.
The trail had many more frosty spots.
I was trying capture the hawk (I think) in the top of this photo.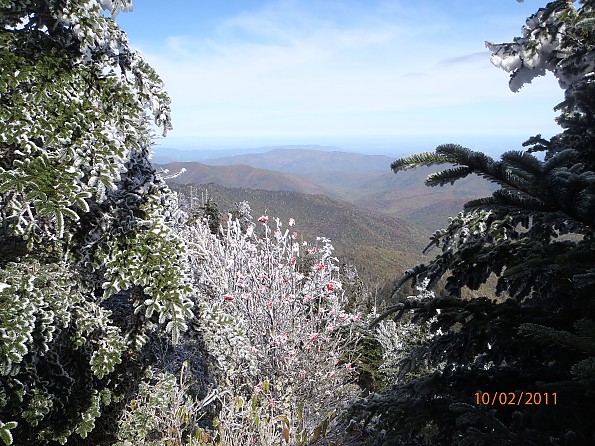 This was the last picture before my camera battery died.
Another great trip for me and effective mental therapy!
As always, my little photos aren't really capable of taking you there. You MUST go see it in person! Fall is here and the time is right!
Hope you enjoyed the report…
Happy trails!