BigRed
TOP 10 REVIEWER
REVIEW CORPS
6,998 reviewer rep | 1,240 forum posts
3:13 p.m. on October 6, 2011 (EDT)
(This is a belated report about a trip from last June -- with a special nod to Gary for tipping me off about BG).
When my older daughter came form Norway to visit for the last two weeks in June, we decided to show her some of the desert'n'canyon areas that are so different from Norway (and Vermont), even though we had already done a similar loop in April. I lined up permits for the Zion Narrows, but before we left we found out they were closed because the river was still high even in late June. So we did an overnighter on the East Rim, came back down via Echo Canyon, camped frontcountry for a night, then my older daughter and I took an early morning speed hike up Angel's Landing before we headed on to Bryce. There we watched a full moon rise and had a good long day hike amongst the hoodoos. Then we headed off for the BLMs Whitehouse Rock campground on the Paria to get in position for Buckskin Gulch.
It was hot enough for us when we got there, and it looked to be just as hot the next day. We were too late to get overnight permits so had to do it as a 20-mile day hike. We contacted a local outfitter (that's him, not me, on the right below) for a ride to the Wire Pass trailhead so we could just hike through back to Whitehouse, where we left our little Prius.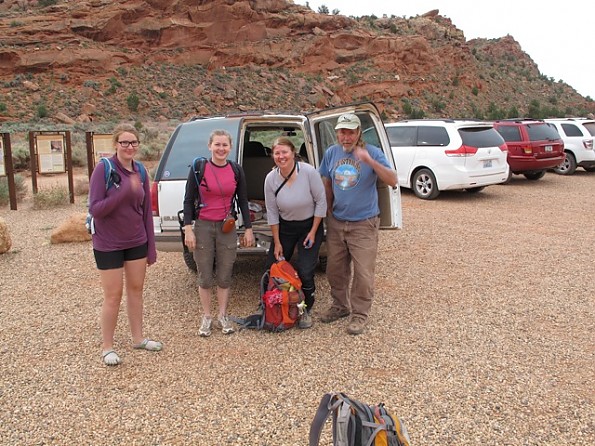 The morning was cloudy so the day didn't heat up too fast. There's some open dry wash before it drops off into Wire Pass, a narrow slot tributary to the Buckskin -- this variant cuts off about 4 miles of the upper Buckskin which my sources said isn't all that exciting. But Wire Pass provides a great intro: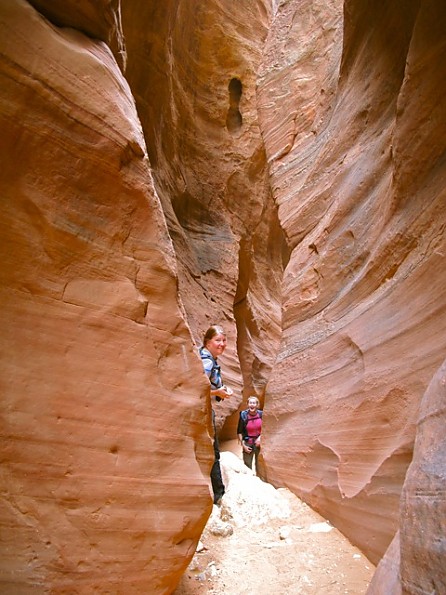 From where Wire Pass joins the Buckskin there's about 12 miles of continuous slot with only one escape route about halfway through -- you definitely don't want it to rain in the area or upstream towards Bryce while you're in there. It was dry and mostly sandy except for one last muddy pool and maybe a few mud patches when we went through.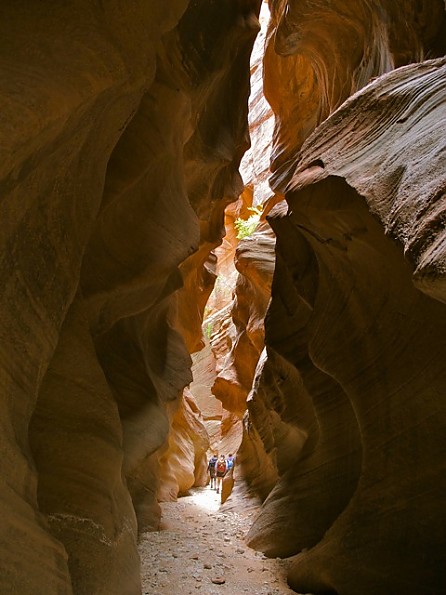 It's pretty lifeless down there for long stretches. The width and depth and sculpturing vary quite a bit so even though it's a bit relentless it changes enough to keep it interesting. Here's an overhanging passage: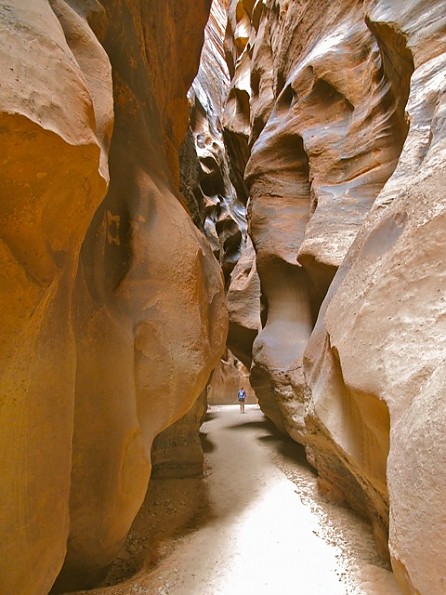 Some good sculpturing:

A deep, straight section: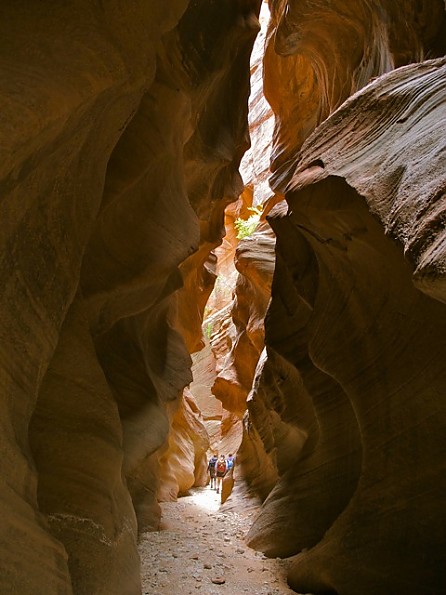 Finally some green relief in a more open section: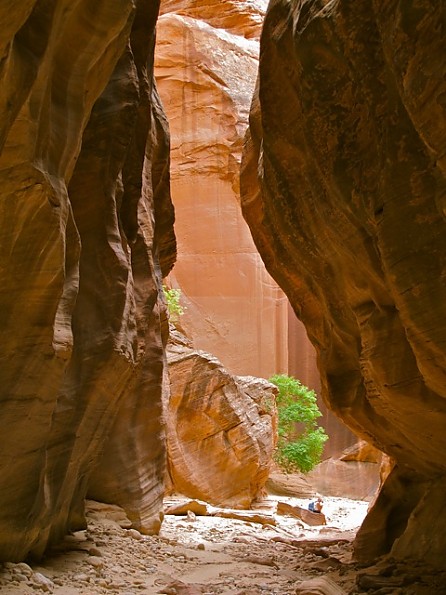 (I'm having some trouble uploading images, so I'll finish later. Meanwhile, there's a full gallery including some pics from Zion, Bryce, and the GC here.)