4:54 p.m. on October 16, 2011 (EDT)
Patman

3,278 reviewer rep
2,320 forum posts
My first trip to this forest area didn't include a stop at the "Hangover" (as recommended by Bob, Gonzan and Tipi), so I aimed to make amends.
Once again I found myself with the backpack loaded and ready in the car while I waited for the "whistle" on Friday at work.
The start didn't go smoothly this time. I ran into a traffic jam as I headed South from Knoxville which cost me about 45 minutes. I was using a trailhead that I had never driven to before; I took a wrong turn down an old country road that could have turned out much worse than just costing me time. The old road was so poor that my car bottomed out several times and I nearly got stuck. Luckily I ran into some hunters that knew the area and they pointed me back in the direction of the trailhead or I might have continued in the wrong direction for quite a ways.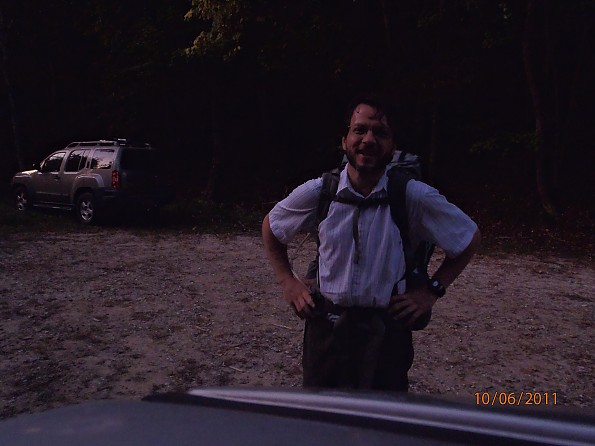 So it was 7:30 PM and nearly dark as I got ready to depart from Big Fat Gap in the Slick Rock Wilderness. Well, that gap is an intersection of four trails; I had intended to go down trail 41 (Big Fat Gap Trail), but having never been there before, having no sign posts at all, and in the failing light (ok, is that enough excuses?), I took the wrong trail (I went down trail 400 by mistake).
I had to turn on the headlamp within 10 minutes of hiking and almost immediately lost the trail. I wound up back tracking until I found it; such things are a little stressful on a solo hike at night. I realized that I was on the wrong trail when I came to sign post at Windy Gap and the junction of Nichols Creek trail 44. I had been there before and knew that I should turn south to go back towards my intended route. I made it somewhere near the intersection of 44 and 41 and lost the trail again (with the leaves down it was hard to see the route at night). This time I just moved towards the sound of the creek which was getting louder. I eventually stumbled into a fire ring and decided that would be home for the night.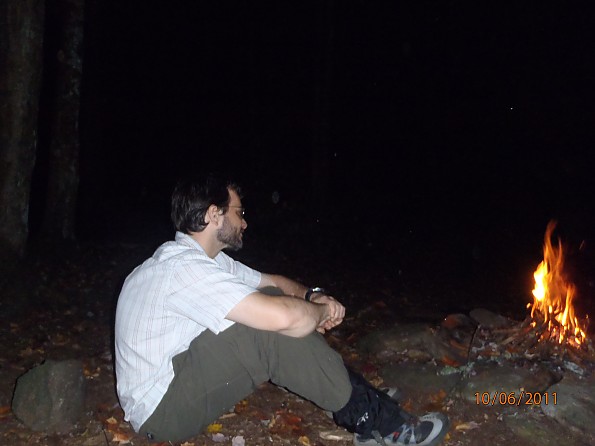 I made a small fire and didn't stray far from camp that night. It was a nice temperate evening and the sound of the rushing creek was hypnotic.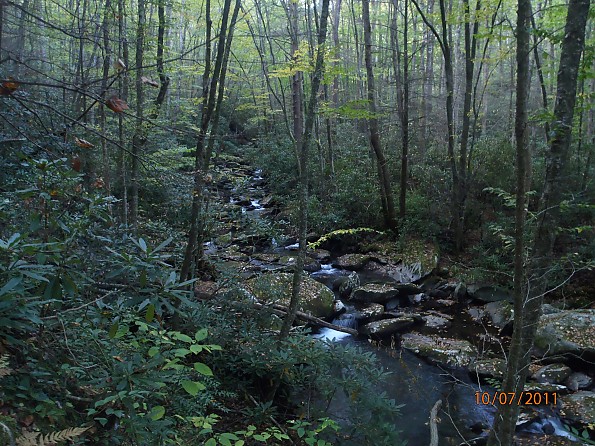 After striking camp I eventually figured out where I was and started up trail 42 back on track. This is Slick Rock creek as seen on my way up the "Nutbuster".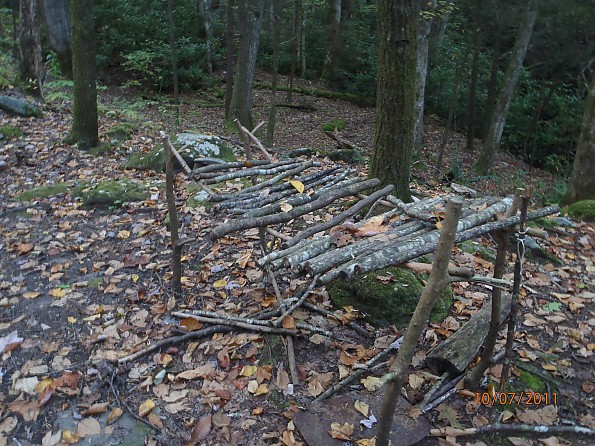 Well, another wrong turn on the trail took me to this campsite and this weird structure (I'm not sure what this was supposed to be). I found the correct route crossing a creek and continued.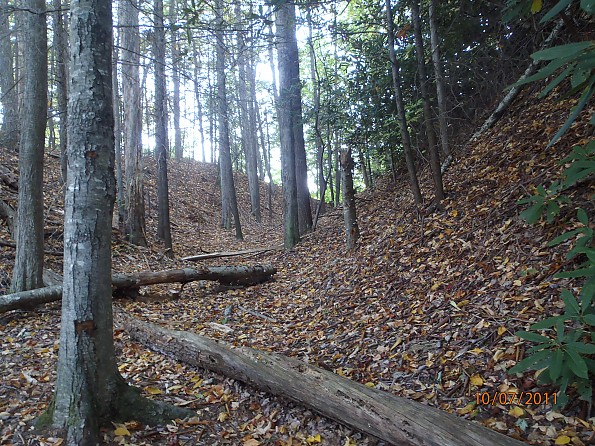 I remembered this little valley after a switch back from last time and knew I was on the right route.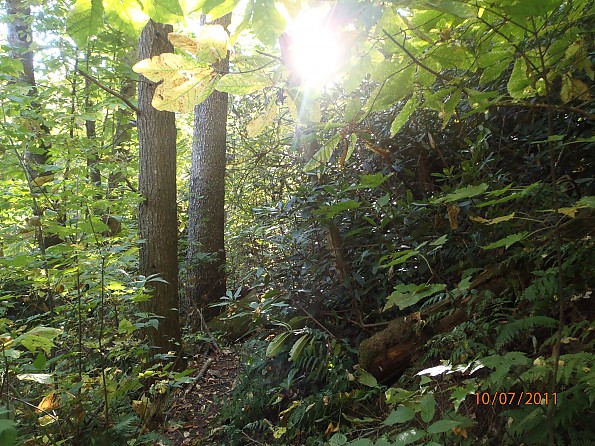 This was near somewhere near the area that I got stung on the head last time. That morning was nice weather-wise and unlike my first rainy/foggy trip on that trail, I was able to appreciate its beauty.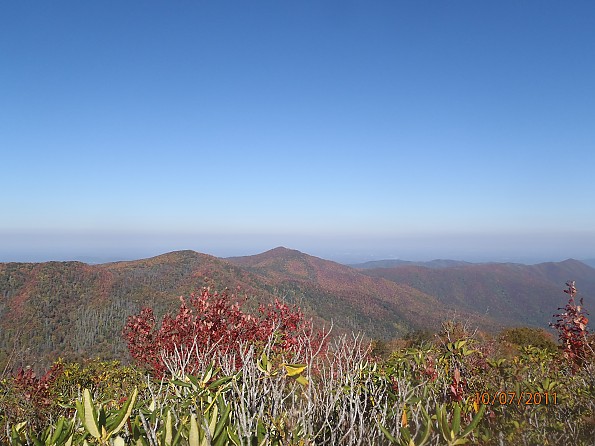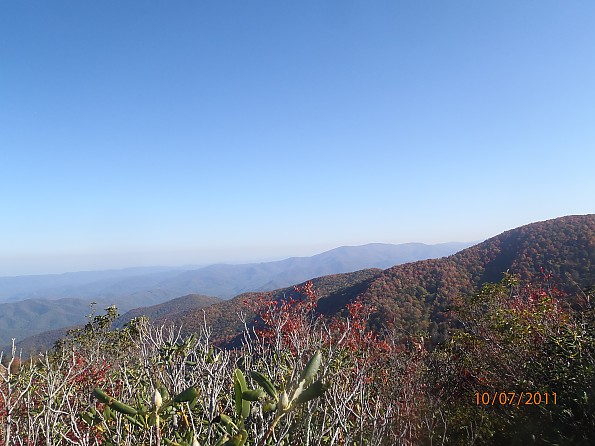 These pictures were taken from a heath bald near an area known as Naked Ground.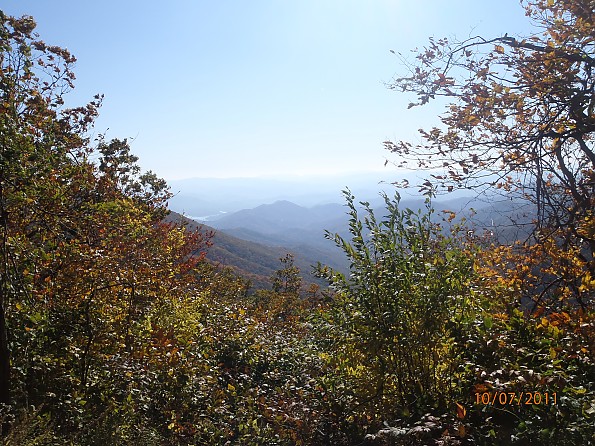 This was a view into North Carolina from the large fire-ring campsite at Naked Ground. I rested here and filled up my water from the spring I found on my last trip here. That really is a tough climb with a pack on.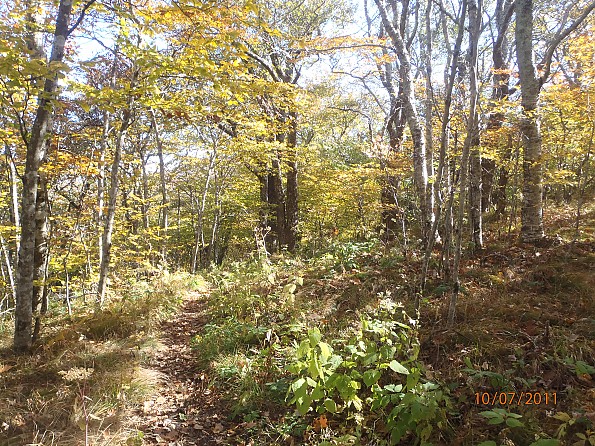 This was an example of the beautiful ridge top trail as I continued on trail 53.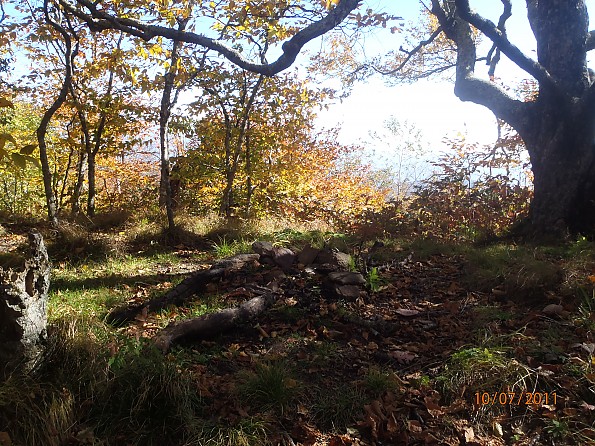 Here was Saddle Tree Camp. As it turned out, I would return to that spot next week, but didn't know that at the time.
After that camp I came to a trail sign on which all I could make out was "Hangover lead" and assumed that was the was to the overlook, so off I went (even though it didn't exactly make sense based on my map).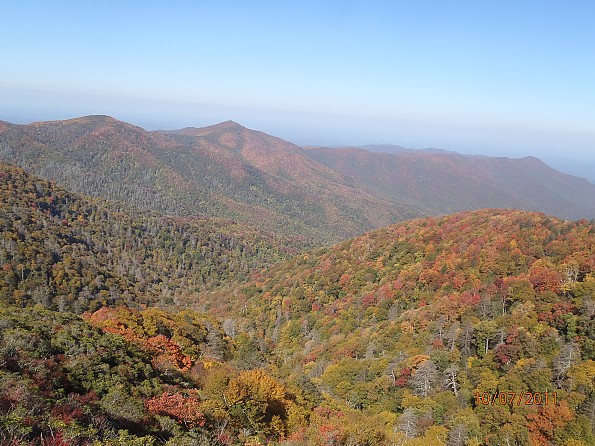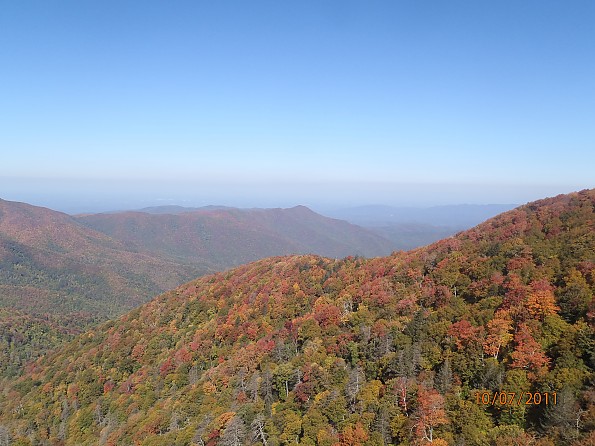 Well, that trail took me to a heath bald and a spur trail to an overlook that had amazing views. But I knew from Gonzan's and Tipi's pictures that that wasn't the Hangover. So I figured it must be farther along.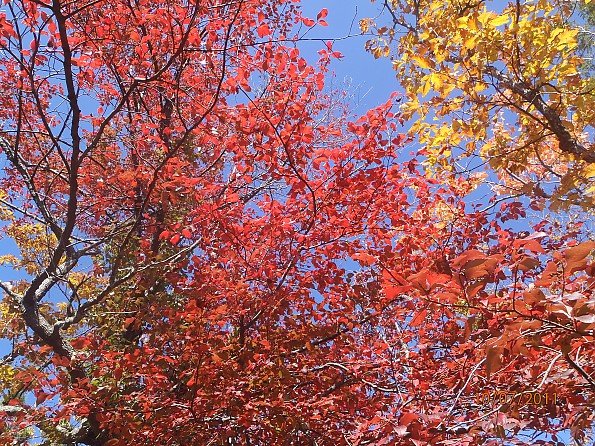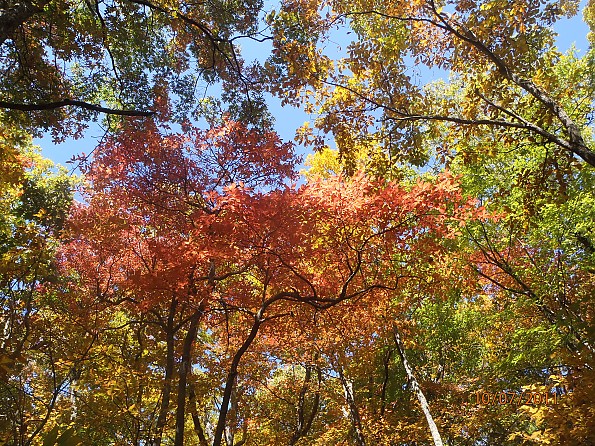 I passed through some beautiful foliage areas but before I knew it I was back to Big Fat Gap and my car. Having responsibilities that weekend I went ahead and headed out, beaten but not defeated I vowed to return to find the Hangover!
OK, it was a week later and I was able to get off work a little early in hopes of avoiding a night hike. I had corresponded with Gonzan on Trailspace during the week and discovered where I went wrong. I also learned that Tipi might be up at the Hangover to visit with the "Southern Highlanders" (a hiking group whom I don't know much about). Again I started from Big Fat Gap but his time I would hike up the Hangover Lead trail on a more direct route.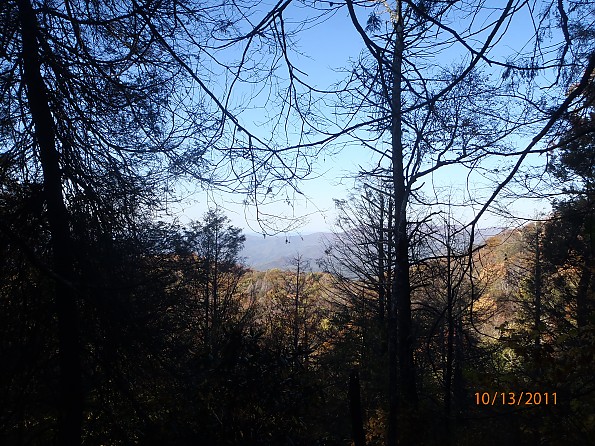 Here a peek at a peak on the way up.
I made it up to Saddle Tree Gap and I recognized that tent…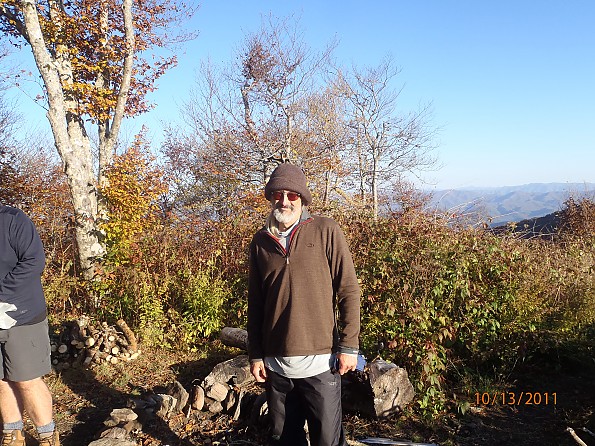 And here was Tipi Walter visiting with the Highlanders! He was on day 11 I think. After making our greetings, I went on up to the Hangover and checked it out. Wow what a cool place! It was getting late so I came back down to find a place to make camp. Tipi graciously offered to let me find a spot near his camp and also mentioned that the Saddle Tree camp was open so I went up there.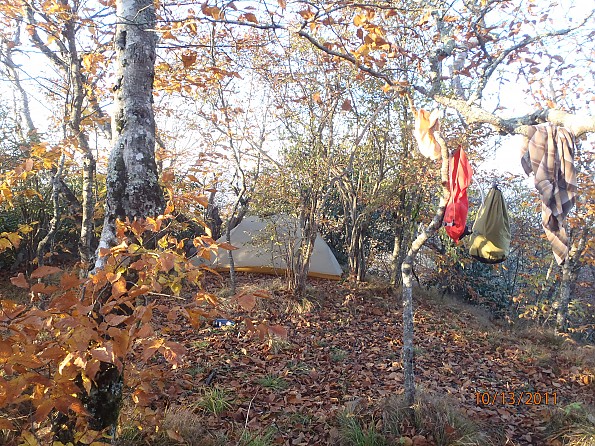 This was my camp at the Saddle Tree.
After getting my camp stuff done, I started to head back down to the Gap and visit with Tipi and ran in to him coming up to say hello. We sat around my camp shooting the breeze until the sun went down. It was so very cool to finally meet the legend!
It was a beautiful but cold night at the Saddle Tree Camp, and the wind became fierce. My little BA Fly Creek tent was guyed-out pretty tightly but still flapped like crazy that night.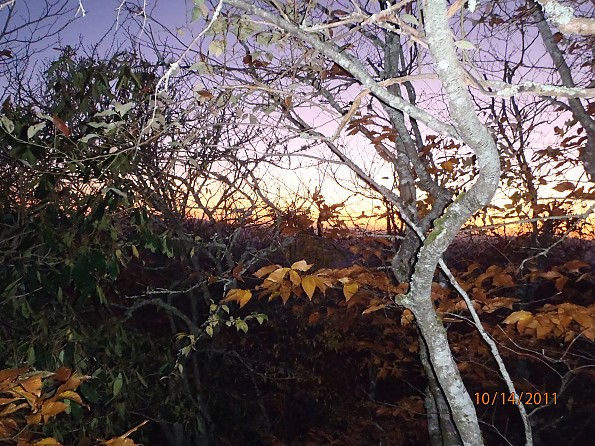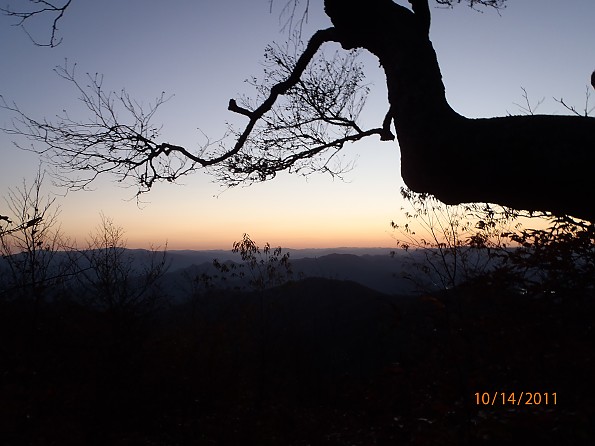 Sunrise from camp…I couldn't really capture it, but the moon was still visible well after sun rise.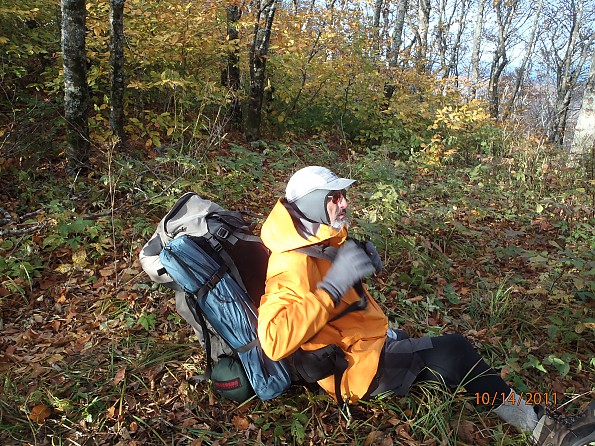 After striking camp I came down the trail just in time to catch TW about to perform the gravity defying power lift needed to get that massive pack up in the air. Lol, I hefted it just once myself and that whole no-resupply-thing is no joke! Whew, what a beastly load.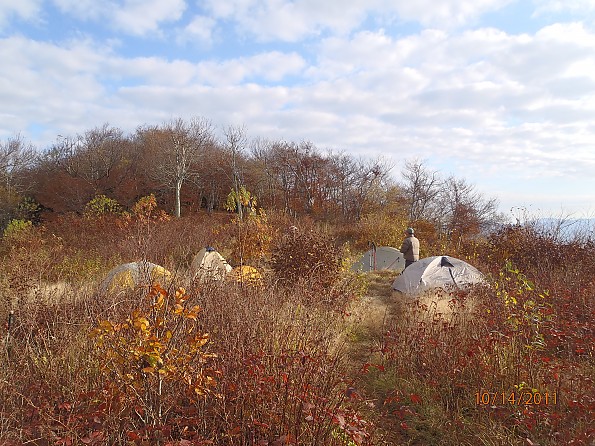 This was the recovering clear-cut on the way to the Hangover. I think most of the tents were from the Southern Highlanders and it made a neat picture; "tent city" as it were.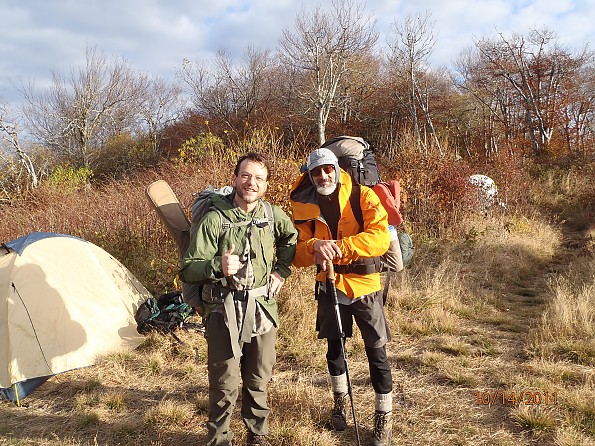 And I asked one of the other campers to get this pic of me and Tipi for posterity as we hiked up to the Hangover.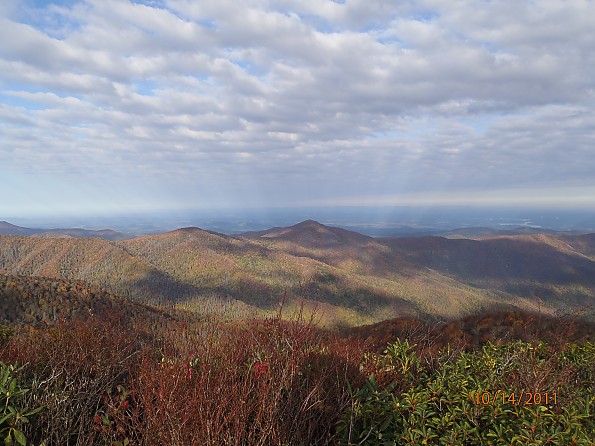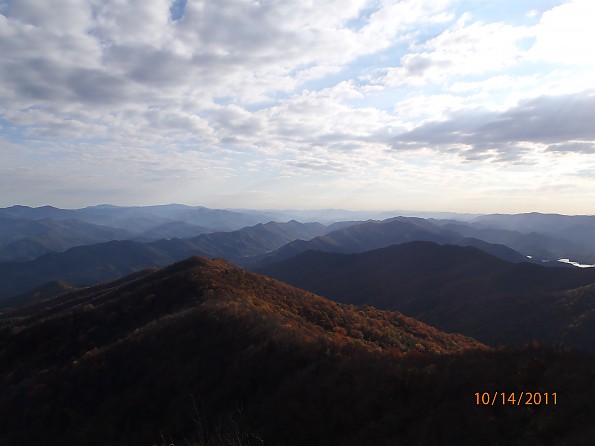 I took many photos but this spot has been pretty well documented so I just posted a few. It was an awesome morning to be up there.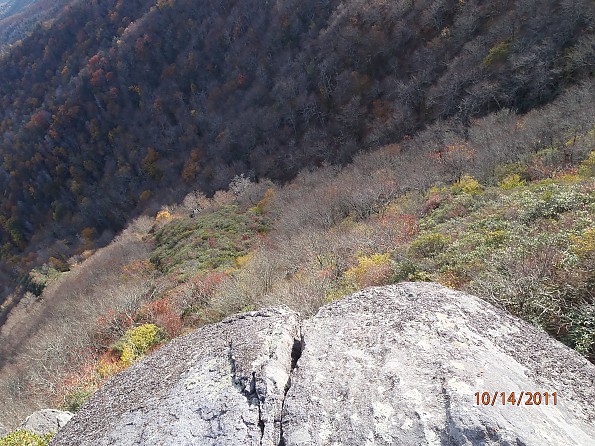 I scuttled down to the "sub-overlook" or what the Highlanders called the "Holy of Holies".
This was my favorite picture of the trip; Tipi silhouetted against a glorious autumn sky.
After hanging out on the overlook and visiting some more we hiked back down to the Gap where Tipi stopped to visit with another fellow he knows and I headed out. I had obligations that weekend also and unfortunately couldn't stay.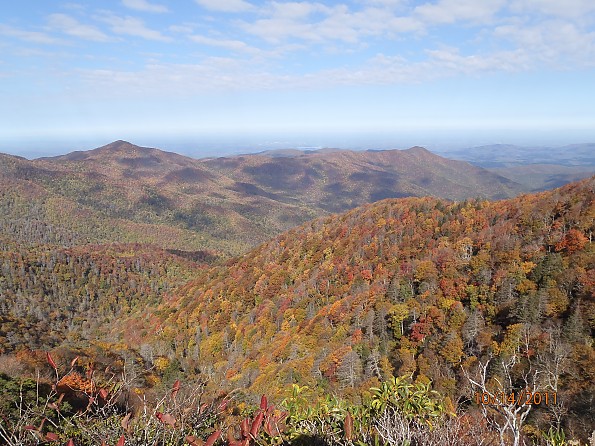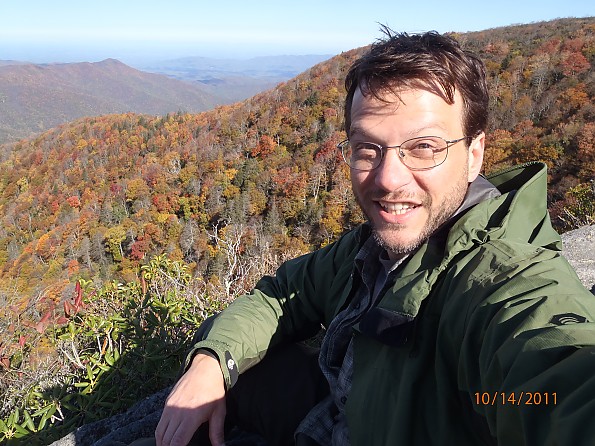 Again, I took the spur trail down to the heath bald / rock overlook off of the Hangover lead trail…yep it was still gorgeous.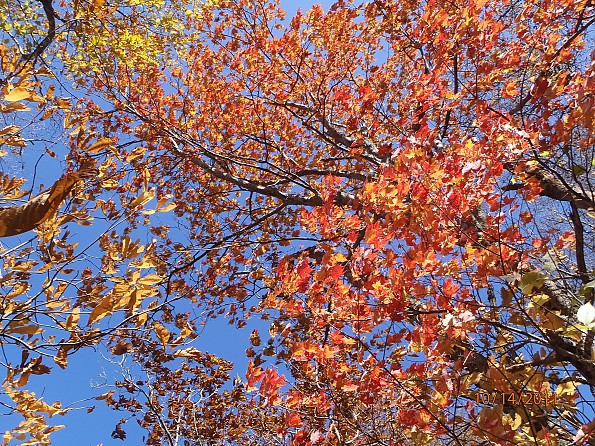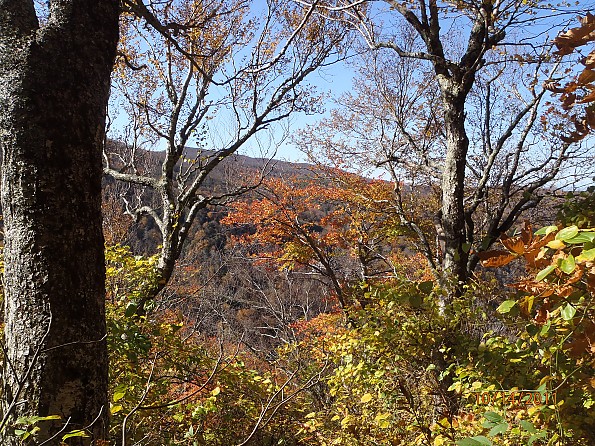 That section back to Big Fat Gap had some rockin' color happening…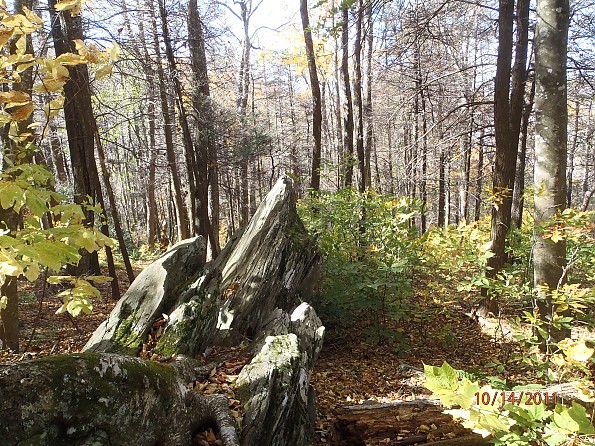 I stopped at a nice campsite for lunch and while wandering found those cool rocks that seemed strangely out of place.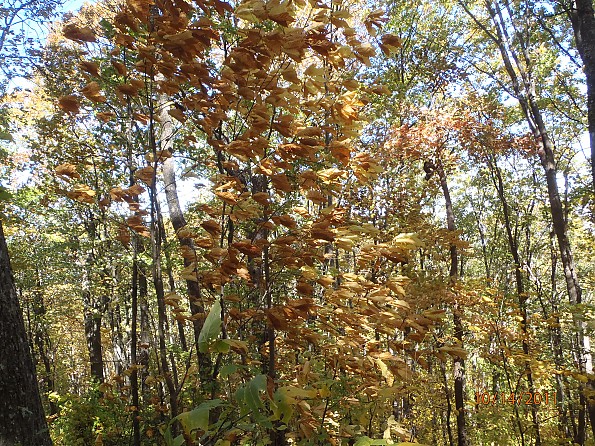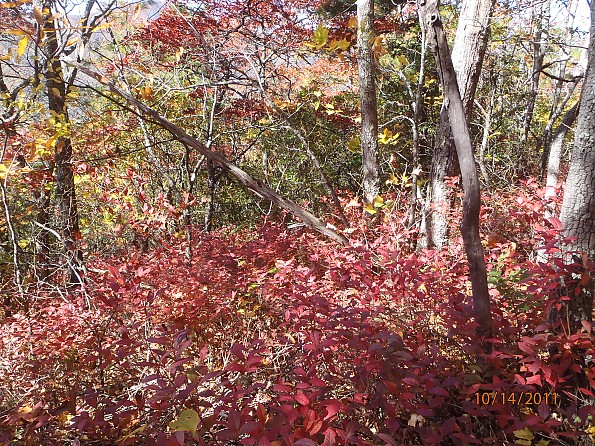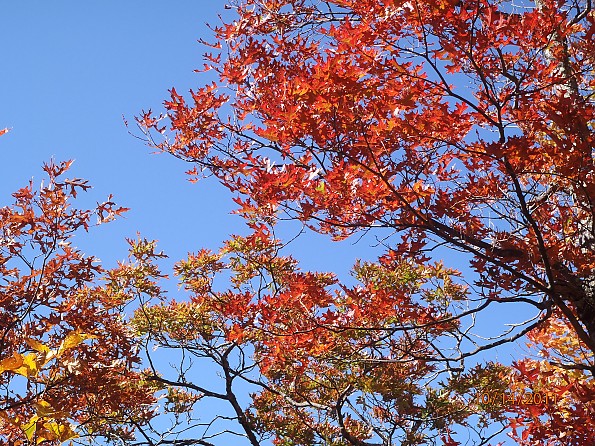 Man that place was so pretty I really didn't want to go…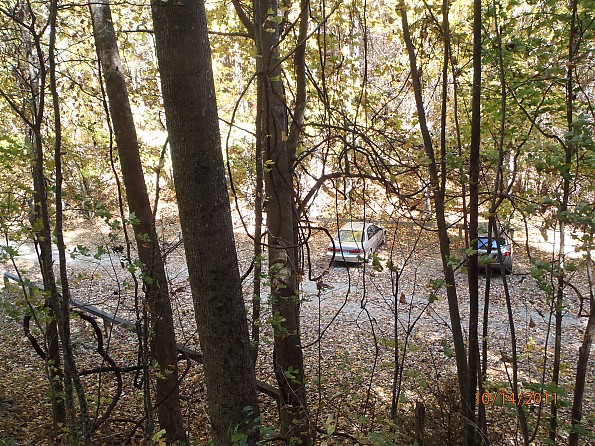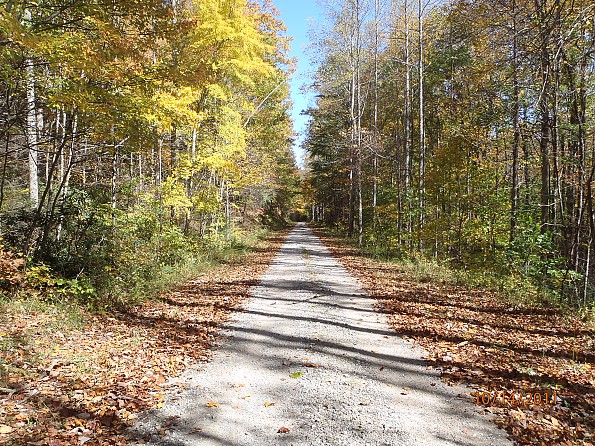 All trips must end eventually and I was back to the car before I wanted to be.
This was a great paring of quick hitting trips and even though the first weekend didn't start well it was very much worth any troubles. I finally got to see the Hangover and a cool bonus was to meet the man who inspired me to start writing my trip-reports! I came away even more inspired to get out there! Tipi is a special person and his love of wilderness is effervescent, awesome, and quite infectious. I hope to one day experience the feeling of heading out on a 20 day trip with the trail and wilderness laid out before me….hope springs eternal they say.
Happy Trails!